Is breakfast time crazy and chaotic at your house?
We all know that breakfast is the most important meal of the day, so doing something to make a breakfast that will stick to your ribs for the day is something we all need to do.
My husband loves a bowl of oatmeal.  It's quick to fix and can be topped with all kinds of yummy toppings.
To make those few breakfast minutes more organized and special, I created an oatmeal toppings tray.
It was super fun to do.  Costs very little.  And you can customize it to match your decor or go crazy with whimsical colors and patterns.
My pretty oatmeal topping organizer consists of a cake pan that I purchased at the thrift store as a set of 3 for $2.  (This is actually the third tray I've created from that purchase.  The first was for a desktop organizer and the second was for a countertop organizer.) On the tray, I have a Dollar Tree napkin holder… to hold napkins, a repurposed Himalayan salt container… to use as a sugar shaker, a small cute jar that formerly held strawberries… now holds Craisins, and a jar that once held cayenne pepper and now holds cinnamon.
It's so satisfying to pull items from the recycling bin and repurpose them into something pretty and practical.  And what's better than a lovely breakfast table organizer to make your morning start just a little bit better?
Let's Make a Pretty Oatmeal Topping Organizer
Supplies:
Inexpensive or Thrifted Cake Pan
Clean empty jars for holding toppings
Knobs to top jars
E-6000 glue
Dollar store napkin holder
Scrapbook paper (I used 2 – 12×12 sheets)
Spray paint
Ruler
Pencil
Scissors
Mod Podge
Paintbrush
Instructions:
Spray paint the lids, knob, and cake pan.  (You don't need to fully paint the cake pan… just make sure you cover the sides and an inch into the rounds of the top as it will be covered with paper.) Allow to dry for a day or more.
Lay your painted cake pan on your scrapbook paper and trace around the bottom of the pan with your pencil.
Cut out the circle and paint the back side of your pretty paper with Mod Podge, carefully center it, and press firmly onto the inside of your tray, try to remove any bubbles under the paper.  Once it's in place, coat the paper with more Mod Podge and allow to dry.  You can use additional coats if you wish.  This will protect your paper and make it easier to clean.
To give that dollar store napkin holder a decorator look, cut your scrapbook paper to fit the two outside faces of the holder.  Brush the back sides of the paper with Mod Podge and firmly attach, being sure to push out any bubbles in the paper.  If you wish you can coat the top of the paper with one or more coats of Mod Podge to further protect the paper.
Create a pretty sugar shaker by repurposing a large salt container.
Measure your container and using your ruler, lay out a rectangle on your scrapbook paper that will cover the plastic container and cut it out with your scissors.
Cover the back of the scrapbook paper with Mod Podge and adhere it to the new sugar shaker.  For extra protection, paint Mod Podge over the scrapbook paper and let it dry.
Take a simple jar lid that you spray painted and embellish it with a knob.   E6000 (affiliate link) glue is the BEST for permanently and easily attaching the knob.
Repeat the steps above for giving your cinnamon shaker a decorator look as well.

We love our pretty oatmeal topping organizer on our breakfast table.  It's a great way to store everything together so that you can grab it and put it on the table in an instant.  And since we don't do instant oatmeal, at least we can almost set our table in an instant.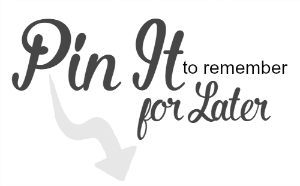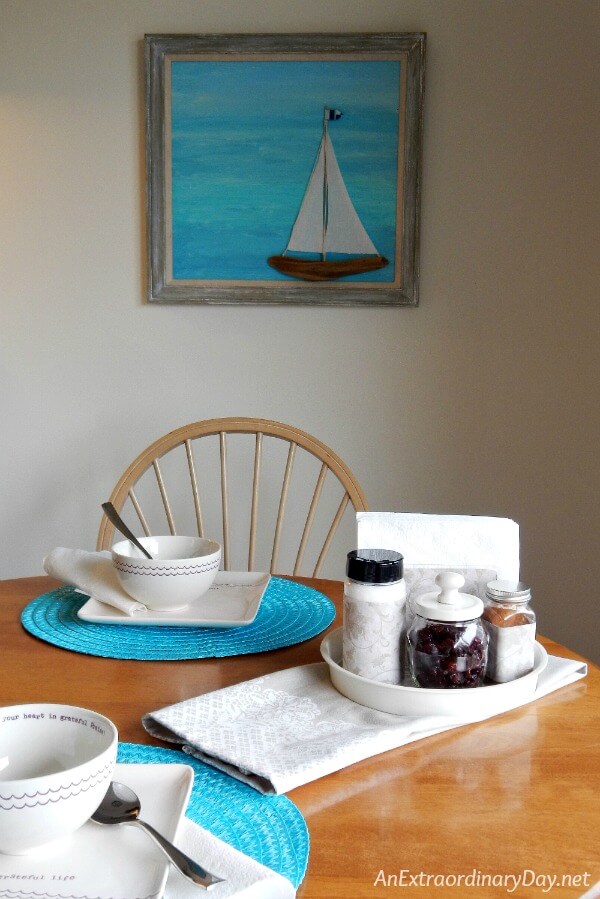 Have you been inspired to make a sweet breakfast table organizer like this?
What would you put in your organizer?
Do you have any tricks for making breakfast quick or at least less stressful in the mornings?
Thanks so much for popping by today!
If you enjoyed this post would you please share it with your friends and "pin it," too?

Receive FREE inspiration like this in your inbox!