When we need relief NOW, there is a practical plan to free us from the overwhelm.
When was the last time you were overwhelmed by your to-do list?
I occasionally pick up little side jobs.  Lately, it's been painting or cleaning a rental between tenants.
The thing about these little jobs is that they are physically taxing and usually don't fit into my schedule very well.  I find it challenging when something quickly comes up and I need to drop what I'm doing to accommodate someone. Especially when I have my own deadlines and projects.
We aren't supposed to live with overwhelm.
If we can't change our overwhelming circumstances… how can we get the relief we so badly need?
"Walk with me and work with me—watch how I do it. Learn the unforced rhythms of grace. I won't lay anything heavy or ill-fitting on you. Keep company with me and you'll learn to live freely and lightly." 
Matthew 11:29-30
Do you feel your body relax, just a little, reading these words of Jesus?
When we're overwhelmed, when we need relief, NOW… there is a practical plan to free us from the overwhelm.
Thankfully, God made a plan for us to get our lives back.
He wants us to learn his "unforced rhythms of grace."
I'm not suggesting that God will give you a vacation from your job or make your to-do list or your family go away. But, what he will do is to help you see each of those things through his eyes.  Life is hard… but it's not meant to be a burden we shoulder on our own.
Jesus wants us to walk with him.  Not ahead of him.
He wants us to clear some of the noise from our lives so we can hear him tell us when to stop… when to run… when to pause… and when to rest.
God doesn't force anything on us.
Yet, we take on more than he desires for us because we're problem solvers, doers, goers, achievers, fixers.
We work at being good. We work for approval. We strive for attainment rather than contentment.
We try too hard.  We think too much. And that's where we get ourselves in trouble.  It's there we become burdened and crippled by all the stresses of life.
In living this way we find ourselves overwhelmed…. it's not what God wants for us.
I love how simple he makes it for each of us…
Walk with me and work with me—watch how I do it.
Learn the unforced rhythms of grace.
If you're overwhelmed, tired, worn out, and guilty of trying to do it all, don't beat yourself up for it.
Instead, ask God to forgive you for trying to do it all, for not leaning on him, for leading rather than following, for not watching him.  And then receive his forgiveness and get in step with him.  Keep an eagle eye on him.
The best way I know to watch Jesus is to read the Bible.
When he says to walk with me… it's imperative that we open our Bibles (or Bible apps) to his word each day.  Just like you put lemons into your water to infuse it and have fresh lemon water to drink each day for refreshment… the time you spend reading God's word infuses your days with him.  That's walking and working with him.
After being infused with God through his word we are more available to him.  Our ears are inclined to him as well as our eyes.  And as the day progresses, we should be hearing God's whispers.
All of this is a learning process.  The more faithful we are to take time to infuse our days with him… the more we understand his ways and the more we are open to learning his ways.
Somewhere in the midst, you'll discover relief.
God's way fits perfectly.
I'm not suggesting that you won't walk through tough times.  I certainly have walked a difficult path.  But, walking with God and working with him is so much better than trying to do it all on my own.
If you're feeling overwhelmed, tired, burdened down…
Get away with me and you'll recover your life.
Infusing our lives with him, just as we infuse our water with lemon or fruit is life-changing.  Tasteless water becomes lemony or cucumbery or fruity.  The water of our lives becomes Godly.
That's how it is when we get away with God.
He doesn't mean for us to live plain Jane lives.
He also doesn't mean for us to be overwhelmed with life.
I won't lay anything heavy or ill-fitting on you.

I love this promise…
Keep company with me and you'll learn to live freely and lightly."
Are you tired? Worn Out? Do you feel overwhelmed and burdened with life?
There's relief!  Real relief.
Keep company with Jesus and let him teach you to live freely and lightly.
It really is an amazing way to live.
It's JoyDay!
I'm so glad you stopped by today.  Let's begin this new week in gratitude, filling up our hearts with joy.
Please join me in thinking back over the past week and counting seven things for which you are thankful.  God's word tells us that we are to give thanks in all things… the good and the not-so-good as well.  It's an amazing exercise.
The best part of doing this….we get JOY!  And I just know you need some joy. [wink]
I'll start!
Thank you, God…
that you intimately care for every detail of our lives and have a plan to lessen our loads
for the opportunity to bless our friends.
that all the tenants loved the color I picked for their front door and rallied to let the owners know they loved it, too.
for answering my prayer and giving me much-needed stamina.
that the gluten-free mix made delicious waffles (with a few extra tweaks).
for a lovely time with Tim today and providing the best parking spot ever!
for your faithful love and care, which I take for granted too often.
Now it's your turn!  
Please join me by tapping in your 'seven' in the 'share your extraordinary thoughts' section below. I dare you!
Thank you for stopping by and taking time to leave your sweet thoughts.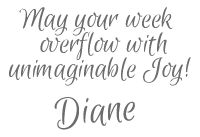 Receive FREE inspiration like this in your inbox!
Sign up Now.
Did you enjoy this post? Use the sharing buttons to let your friends know & "pin it," too.