Do you choose a Word for the Year?
Lots of people choose a word rather than make resolutions.
Last year my Word for the Year was JOY.  You can read about it here.
If you've been following on Facebook you might have picked up that I decided to skip on choosing a Word for the Year and choose a Verse for the Year.   Okay….I changed my mind.
Instead….
I decided to do both.
Sorta.
The verse isn't just a verse…it's several verses…okay….a whole section of scripture.
But before we go there let's visit my Word for the Year.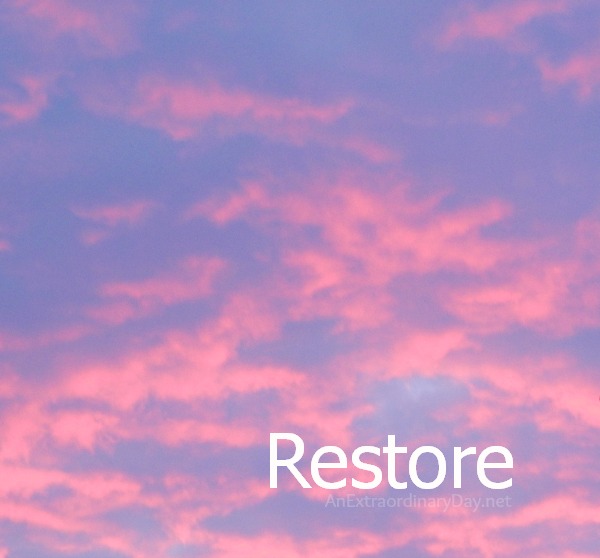 Restore.
It isn't what you expected is it?
This past year hasn't been what I expected either.
From my husband losing his position on January 2 last year, to putting our "house" in storage, to moving a few states away and in with friends, I've grown.  A lot.   (This is the second time I've been in this position.  The scenario is not exactly the same.  Then, we both lost our jobs, picking up odd jobs here and there, had health issues, and went two years and four months before moving to a new beginning.)
I've learned to believe more, trust harder,  pray more powerfully, dive deeper, and lean harder on God the second time around.  It's been a good thing.
Through it all, I've come to a point where I'm expecting God to display his goodness and glory.
I'm sensing that we are nearing the end of our current challenge.
We lost a lot these past four years.
I believe God has plans to restore…not only the work…but our reputation and our platform…not just our income….but what was lost on so many levels.  And that's just for starters.  I believe God has plans to restore all kinds of things.  It's pretty exciting.
Lately, a number of scriptures have come to mind or before me in reading and have led me to this point.
I'm quite aware that these scripture verses do not directly speak to my situation, and for some of you might seem like a stretch.  But, these are examples of God doing amazing things for his people.
1 When the Lord restored the fortunes of Zion,
it was as if we were dreaming.
2 Then our mouths were filled with laughter
and our tongues with joyful songs.
Then the nations said,
"The Lord has done spectacular things for them."
3 The Lord has done spectacular things for us.
We are overjoyed.
4 Restore our fortunes, O Lord,
as you restore streams to dry river beds in the Negev.
5 Those who cry while they plant
will joyfully sing while they harvest.
6 The person who goes out weeping, carrying his bag of seed,
will come home singing, carrying his bundles of grain.

Psalm 126:1-6 God's Word Translation
You may be struggling with what has been lost.
Why not join me in expecting God to restore what was lost or taken?
I love how the psalmist says that the Lord restored the fortunes of Zion as if they were dreaming.
Does it seem unimaginable?  It's no problem for God.
The psalmist says their tongues were filled with joyful songs.
We can do that now.   Let's praise and thank God NOW for what he will do.
The psalmist continues…the  Lord has done spectacular things for us.
He has.  We may not have seen it yet.  But for us to see the restoration, he has already been at work on our behalf.  He has fought for us.  He has gone before us.  He is making a way for us.  It will be spectacular when things are restored.  Let's give God the glory now for the unseen spectacular things he has done.
You can be sure, that when things are restored…we won't be the only ones rejoicing.
Let's live and pray and believe in such a way that everyone around us will surely say, "Look at what the Lord has done!"
Restore.
It's a word full of promise and expectation.
If you want to get a glimpse of where my heart has been living….you might want to read these scriptures:
Do you have a word for the year or a verse for the year?

I'd love to hear about it.
It's Joy Day!
It's the day when we look back over the past week and count our gifts.  We type out our words of gratitude….for the blessings and good things as well as…the things we don't feel especially grateful for or wish had not happened.  We count it ALL joy!
Join me in counting just 'seven.'  I'll begin.
I'm grateful for…
a warm cozy bed.
an interview on Tuesday. (Pray for clear roads and no snow.)
power tools and the kindness offered to let me use them.
a wonderful New Year's Eve party with friends old and new.
patterns in the snow from the strong winds.
my sweet friend who let's me take over the dining room table to create.
knowing all HIS promises are YES! in Christ Jesus.
It's your turn!!
Scroll down to the "Share your extraordinary thoughts" below and tap in your 'seven.'  Seriously….your heart will fill with JOY!   If you enjoyed this exercise…you'll want to take the Joy Dare here.
Thank you for stopping by today.
I appreciate you and your sweet comments make my day.
Joyfully,
Diane
P.S.  Regarding the photos.  The other evening…these were the colors at sunset.  Weren't they stunning!!  I wish I was able to capture it as spectacularly as they were displayed in the clouds.  The camera lens cannot see as well as the human eye.
To receive FREE bits of inspiration like this
in your inbox or reader, 

subscribe now

.
 Let's connect!  Facebook  ::  Pinterest  ::  Google +  ::  Shop-Longaberger Lifestyle
I'd be delighted if you'd share the goodness here with your friends.
Click any of the sharing buttons at the bottom.
If you're a business owner or blogger…I am now selling sidebar ads.
Please contact me for a great introductory offer.
Sharing with these Extraordinary Spots:
The Wellspring + Imparting Grace + My Freshly Brewed Life + Renewed Daily