Thankful.
Today I got up and chose to live a thankful life.  Funny thing is… I did that unconsciously.  And with abandon.
I wanted to go down to the lake to see the waves.  The wind had been howling all night, there were snow squalls, and winds were said to be gusting 40-50 mph so I knew there would be big waves. But, first, I need to purchase a new baking dish. It's a thankful dish.  A name brand  9×13 baking dish that was all of $6 at the dollar store.  At least half the price of the supermarket on steroids. Why is it a thankful dish?  I'm so glad you asked.
Yesterday I baked a pumpkin pie spice cake in my 9×13 and left it to cool on the stove.  When my husband got home, we jumped in the car to hit the lake to see the big waves at sunset.  Except there were no big waves.  And the sky was so dark and gray that there really wasn't any sunset to speak of.  Just a little button hole of pink in the clouds.
But, on our way home, just as we turned the corner, we saw pink in the sky.  It wasn't just a button hole of color, it was as if a whole bucket of pink got splashed across the southwestern sky. You know that deep pink that plays around pretending it's fuschia?  Breath-taking.
Back at home, I had a couple of things I wanted to do on my computer and Tim suggested that he could warm up the leftover spaghetti sauce.  I wasn't planning to eat much as the pumpkin pie spice cake was coming along with us to small group later in the evening and I had plans to enjoy a BIG piece of it.
When I finished my little computer chore, I went into the kitchen to help.  About 5 seconds later Tim exclaimed, and picked up my 9×13 pan filled with the wonderful aromas of pumpkin and spice and said, "This is hot, where should I put it?"  The little bit of counter space we have was full and then he said, "How about the oven?"  I immediately opened the door to the still warm oven for him and we proceeded to work on dinner.
Suddenly, there was an explosion in our oven.  The glass 9×13 baking dish shattered. We stood there stunned.  And then realized that if that baking dish, which had been additionally heated by the electric burner that was mistakenly turned on, had been placed somewhere else in the kitchen, we could have been injured by the explosion of glass, and the sharp mess that would have ensued would have taken forever to clean up and we would always be on the outlook for glass shards.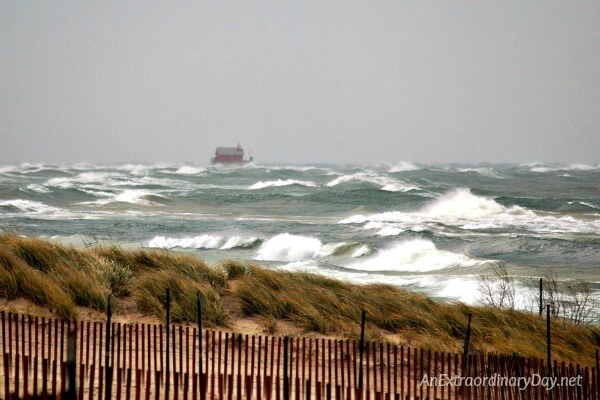 Turning on the wrong burner was a mistake.  Not listening to the Holy Spirit's nudge to place the glass pan in the oven would have been an even bigger mistake.   An even bigger mistake would have been to have missed the opportunity to sit in gratitude and to share our blessing.
This morning after purchasing my replacement baking dish for such a great price, we went to the coffee shop where we had a coupon for a free drink.  Since it was bitterly cold… 33 degrees… and the winds were gusting 30 to 40 to 50 mph… and there was snow… and snow squalls… hot chocolate sounded delightful for two non-coffee drinkers.
We took our tall hot chocolate and two muffins to the lake to see the waves.  What a difference from the night before!  As we sipped our drink and enjoyed our breakfast of muffins, I felt so grateful.  Grateful that no one was hurt, that the replacement dish was so reasonably priced, that we had a coupon for a free hot drink, and that we were so blessed to be less than 2 miles from our home, sitting in our car, watching these incredibly awesome and ferocious waves roll in.
After the cocoa and muffins were consumed, I had to get out of the car and brave the wind and snow to take some pictures of the waves for you.  I just had to share my amazing blessing with you.  So I walked arm-in-arm with Tim into the fierce wind to the pavilion at the beach and leaned on one of the columns to brace myself.  I could hardly hold still because the wind was so strong.  It took our breath away.  I wanted to walk down to the water, but the wind was whipping the sand in our faces.  So we decided to drive another mile from the beach to the channel where Grand River rolls out into Lake Michigan.
There were a few more braves souls there, mostly with cameras, perched above the channel, safely on high ground.  Braving the wind, I found a spot that was a little lower, and quite close to the tips of the fingers of the waves and their spray, and stooped low to the ground to take some photos.  They aren't the best… but it doesn't matter.  I was there.  There where the lake rolled and rollicked and the wind bore down on me.  There I experienced the beauty of creation.  There I experienced a tiny glimpse of God's power.  There my life came back.  All that had earlier in the week drained out of me was refilled.
As I reflect back on my experiences of the previous 24 hours I come to this conclusion…. Gratitude is the fuel of life.
Somehow when we take the time to be grateful for the little and the big things we experience each day something happens.  Something unexplainable.  Something life-changing.  Our gratitude somehow makes us come alive.  It helps us see… and experience… and be.  Just be.  So we can be… fully. beautifully. undeniably. alive.
Earlier in the week I had been more grumbly that grateful.  And… you know… my energy reserves were pretty low.  Today… I accomplished much… and I was more creative… and more fun to be around, too.
Take a minute and reflect…  Do you have joy?  Are you fully alive?  Or are you trudging through the mire and muck of life?
My situation didn't change one iota. The only thing that changed was that I chose gratitude.  And that.  That alone.  Made the difference between barely surviving and thriving.
Maybe you're like me.  I've spent a lot of time in the past filling journals with my lists… things for which I was grateful.  But, my journal was filled and I didn't start another.  Each week here I count for JoyDay! things for which I've been grateful for during the week… but it hasn't been a purposeful daily practice lately.  I wish I could tell you otherwise.  I'm sorry.  I've let you down… and I've let God down.  And… really… I've let myself down too.
So today… won't you join me for JoyDay!?  And after you have counted your blessings here… make a plan to count them daily… so you can live.  So you can be… fully… beautifully… undeniably… alive!
Let's live as fully and beautifully as we can.   Let's daily exercise our gratitude muscles so we can experience all that God has dreamed and planned for us.
This is Thanksgiving week… the beginning of a crazy hectic holiday season.  Don't let the hard and difficult of the season ruin your joy.  Choose instead to jump into God's grace with gratitude.
Will you join me?
It's JoyDay!
And time to get our joy meters soaring!
Please join me in thinking back over the past week and counting seven things for which you are thankful.  This simple exercise of counting and giving thanks together in this space is something we do each week to reset our compasses and put our eyes back on the Lord.
I'll start…
Thank you, God…
for being able to live so close to this amazing body of water.
for this beautiful mild fall that lasted until mid-November… what a blessing in so many ways.
for my loving, caring husband who puts my needs before his.
for protecting us from the explosion of glass. 
that you are good. Always. 
for my small group and their "real-ness."
that You are our redeemer, restorer, and rebuilder and that you really do have a plan for us.
Now…it's YOUR turn!
List your 'seven' in the 'share your extraordinary thoughts' section below.  You'll be glad you did.
Thank you for stopping by and leaving your sweet thoughts.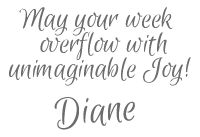 Receive FREE inspiration like this in your inbox!
Sign up Now. 
If you found this post helpful….please pass it on to your friends.