It's hard to believe.  Memorial Day celebrations begin in just a few days.  
It's the official weekend to kick off everything summer.
One thing is for sure, many families and friends will be gathering to enjoy delicious food.
With that in mind, today I wanted to share with you a few…
Patriotic Tablescape Ideas
It's easy for me to set a patriotic table because I have dinnerware in red, ivory, and blue.
Red and white is great for Christmas and Valentine's Day.
Blue and white is terrific for the snowy days of January and Hanukkah and Thanksgiving.
And then, I confess, I wish I had a set of plain ivory or white dishes.   I do prefer that for spring and late summer.  Regardless I am blessed with my abundance of dinnerware.
For some visual interest I added a cloche to the center of my tablescape.
This is no ordinary cloche.  It's a Grandma Bonnie's Pie Plate in Classic Red turned up side down with a hurricane also turned upside down over it.
For fun I placed three cobalt blue jars that I filled with some blossoms gathered nearby.
And then I topped it off with a little cobalt blue bird.  I think it looks like my 'cloche' has the cutest handle.
I just might have had a little too much fun with this.
When you are thinking of patriotic tablescaping ideas, think outside the box.  And upside down. [wink]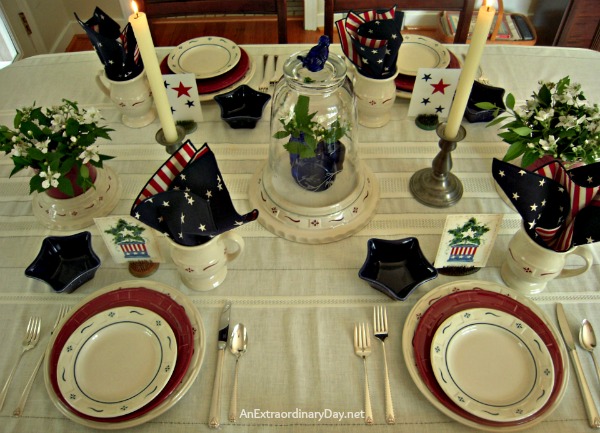 This is a casual table setting with a large mug that reminds me of a tankard.  It can just as easily be filled with lemonade or sweet tea as well as coffee.  And for the tablescape, filled with everyone's stars and stripes napkins.
The star dishes complete the red, white, and blue them nicely.  Plus they are just plain fun as well as perfect for that fresh fruit salad.  Yum!
Just for fun I added some place cards to each place setting.
These were actually stationary cards that I have had and rediscovered the other day when I was looking for my miniature American Flags which I have yet to locate.  And just as I tapped that in, I remembered that I had some little cupcake flags that I was going to add to the little cobalt bottles. Oh well.  Next year?
Anyway, I cut the backs off the cards and set each in a vintage floral frog.
It's the little details that make it more fun for our guests.
Behind the cloche you can see a card with red & blue stars.  I have two star punches and punched out the stars and glued them on the backs of the place cards so they would be fun to look at from the back side as well.  And add to our stars and stripes theme.
In case you had not noticed, we do have a stars and stripes theme.  It's subtle, but it's there.
Stars with our blue star bowls, and stars and stripes both played out with our two sided napkins and the place cards.
I should probably mention that except for the vintage frogs, the silverplate, the place cards, and the candle sticks, everything else is from Longaberger.
Every table needs fresh flowers.  And since I am on a zero spending budget, I gathered a few sprigs of forsythia for my filler and more of the wild berry bushes….which were really thorny….to create fresh arrangements in our color theme.   I used 1-pint crocks in the paprika red for the arrangements and set them on top of small pie plates turned upside down.
Are you getting some inspiration as I share my patriotic tablescape ideas?
If you are, be sure to let me know in the comments what sparked in your mind.
The star dishes even have stars.
In the background are some pewter candlesticks.  I actually bought those for my mom shortly after I was married.  They are taller than the ones I got as a wedding gift which works out great sometimes.
The hurricane turned cloche has a lovely etching on it.  Unfortunately it makes it difficult to see the cobalt bottles easily.  One of the jars in front has Milk of Magnesia embossed on it.
You may notice the place card has a prayer on it.
It might be a good thing to have everyone gathered for the meal pray for our country and her leaders.  And for each of us as her citizens as well.   May we all consider the words of John Kennedy, "Ask not what your country can do for you, but what you can do for your country."
And let us give thanks for the men and women, and their families, who have sacrificed life and limb for our freedom and liberty.  And may our good country be truly free from tyranny.
Hopefully these patriotic tablescaping ideas will be useful for this week, or maybe for your Independence Day celebrations.
How are you celebrating this important weekend?

Do you decorate your house in red, white, and blue?

Do you set a patriotic table?

Do you hang a flag for the holiday….or the whole summer?
Wishing you an extraordinary Memorial Day….filled with remembrance and celebration.
Diane
To receive FREE bits of inspiration like this in your inbox or reader, subscribe now.  
Let's chat!   "Like" An Extraordinary Day ~ A Place of Joy & Inspiration on Facebook.
*   *   *  *  *  *  *   *   *   *  *   *   *   *   *   *  *  *  *  *  *   *  *  *  *  *  *
Sharing with these Extraordinary spots: 
A Stroll Through Life + Cuisine Kathleen + No Minimalist Here + 52 Mantels + Yesterday on Tuesday + Stone Gable + Beyond the Picket Fence + Live Laugh Rowe + The Taylor House + All Things with Purpose + The Shabby Creek Cottage + Katherine's Corner + Between Naps on the Porch + My Repurposed Life + Craftberry Bush + Jennifer Rizzo + Redoux + The Thrifty Groove + French Country Cottage + The Charm of Home + Imparting Grace + Common Ground + Made in a Day + Glimpse Inside + Artsy Fartsy Mama + Homespun Happenings + + 504 Main + Liz Marie Blog + Chic on a Shoestring + Shabby Nest + Crafts ala Mode + Reasons to Skip the Housework + The Thriftyness Miss + The Answer is Chocolate + The Home Girl + Romantic Home + Whipperberrry + A Night Owl + Tatetots & Jello + Cheerios & Lattes + Funky Junk Interiors + It's Overflowing + Tutus & Tea Parties + The Taylor House + Natasha in Oz + Too Much Time on My Hands + Twigg Studios +  Nifty Thrifty Things + The Tablescaper + Life on Lakeshore Drive + i heart nap time + Flamingo Toes + DIY Showoff + The Self-Sufficient Home Acre + Finding Silver Pennies + Three Mango Seeds + A Lived in Home + Sew-licious + I Should be Mopping the Floor + One More Time + Alderberry Hill + Sew Can Do + Frugal Foodie Mama + The Dedicated House + Mod Vintage Life + by Stephanie Lynn + Inspire Me Monday + Making the World Cuter + DIY Home Sweet Home +  Cedar Hill Ranch-The Scoop + A Stroll Through Life + Our Delightful Home + Coastal Charm + Creative Cain Cabin + Cupcakes & Crinoline + Kathe with an E + Today's Creative Blog + The Gunny Sack + Home Stories A to Z + DIY by Design + Savvy Southern Style + Rose Chintz Cottage
CLICK TO SHOP An Extraordinary Day's favorites on Amazon and watch for the latest editions.