You are so very blessed.
I'm not talking about the roof over your head, the family that sits around the table with you, or any of the "stuff" of life.
It's all good.
But there's better.
As we embark on the season of Thanksgiving I am so taken with the knowledge that God takes joy in doing good to us.
I will make an agreement with them that I will not turn away from them. I will do good to them, an agreement that will last forever… I will have joy in doing good to them.
Jeremiah 32:40-41
Our good is His good.
Our joy is His joy.
It is His forever promise to do good to us.
As much as that truth really blesses me and encourages my heart.  Frankly, it also gets a little messy, doesn't it?
We know God is good.  But, how do we measure good when it's played out in our lives?
On any day, there are any number of situations we are in the midst of that we could say are NOT good.
So how is it that God is not only doing good to us… but taking joy in the doing?
And we know that God causes everything to work together for the good of those who love God and are called according to his purpose for them.
Romans 8:28
The challenges, the injuries, the hurt, the lack, the abundance, the joy, the healing, the victories… ALL of it God works in and through for our good.
I am reminded that when it comes to our lives, God is "crunchy" and "green." He does not waste the bad or the good.  He uses every. single. moment. to bless us and mold us into His likeness.
I don't have much "pot throwing" experience, but as a creator, I have lovingly crafted and shaped and worked on many projects to make them into something beautiful in my eyes.
You are our Father. We are just clay, and You are the potter.
We are the product of Your creative action, shaped and formed into something of worth.
Isaiah 64:8
You may not see it… but God is actively doing good in your life and taking great joy in it.  He is molding you into a person of great worth and value… in His eyes.
For we are his workmanship, having been created in Christ Jesus for good works that God prepared beforehand so we may do them.
Ephesians 2:10
He has plans for you… He wants to give you every gift, every skill, every experience, every opportunity to become uniquely you.  And it is His joy to take the good and bad of living in this fallen world and use it for your benefit.
Never think for a moment that God has turned His back on you, that He is too busy for you, or anything else that the enemy hints.
You are loved beyond imagination. There isn't a detail in your life that goes unnoticed by the eye of God.
Whether your day has been good… or not so good.  God is good and He is taking great joy in doing good to you.  
Yes… doing good to you.
That. is. the. blessing.
That is the impetus for gratitude.
All for His joy…  and ours.
It's JoyDay!
And time to get our joy meters soaring!
Please join me in thinking back over the past week and counting seven things for which you are thankful.  This simple exercise of counting and giving thanks together in this space is something we do each week to reset our compasses and put our eyes back on the Lord.
I'll start…
Thank you, God…
the incredibly mild weather and sunny weekend, especially for November.
the reminder that not only are You good but that you are continuously doing good in me.
for my husband and his wonderful servant heart.
for such a productive week.
the fun of having the edge of the Lake Michigan waves wash over my feet… in November!
that You are faithful, loving, kind, and always with me.
that You are our redeemer, restorer, and rebuilder.  Trusting you for good things ahead.
Now…it's YOUR turn!
List your 'seven' in the 'share your extraordinary thoughts' section below.  You'll be glad you did.
Thank you for stopping by and leaving your sweet thoughts.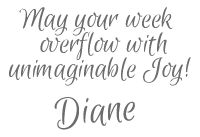 Receive FREE inspiration like this in your inbox!
Sign up Now. 
If you found this post helpful….please pass it on to your friends.