The other evening Tim and I went for a stroll.
I no doubt needed a power walk.  But, I can't leave home without my camera and then that power walk ends up becoming a stroll.  Yes, I married a man who has incredible patience with me and my camera.  On this particular night I came across these lovely yellow wildflowers.  I haven't yet discovered what they are.  I think they might be a variety of  Coreopsis.  Do you know?
 As I was going through my photographs this stunning bit of yellow inspired this post.
Years ago my dear friend Kaye gave me a book, Creating a Beautiful Home, about decorating written by Alexandra Stoddard.   In the book she suggested that every room needs a bit of yellow.  At the very least we can fill a bowl or basket with bright yellow lemons.   I've never forgotten that suggestion.  A bit of yellow really does give life to a room.
Yellow really does make our world come alive!
Source
A cheery vignette of yellow is a creative way to create instant sunshine in any room.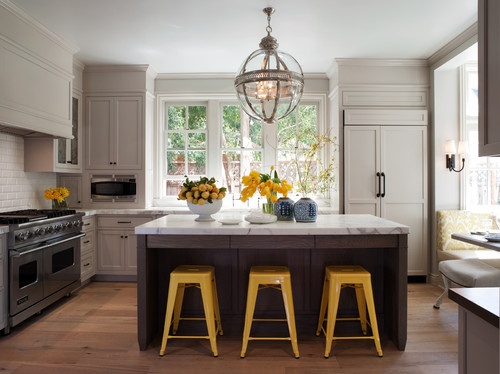 Source
This cottage kitchen comes alive with modern yellow stools and the always perfect bowl of yellow lemons!
Without the yellow pops it would be ordinary.  With yellow.  Extraordinary!
Source
This bedroom is a WOW with the yellow bed and the blue jar filled with yellow posies!
Source
Don't you just LOVE this stunning YELLOW front door!?!
Source
Every neighborhood needs a sunny yellow house!
Source
If your house isn't yellow nor your front door, add a pop of yellow with a lemon wreath!
Yellow!  
What are you inspired to do with yellow?
Wishing you An Extraordinary Day!
Diane
*   *   *   *   *   *   *   *   *   *   *   *   *   *   *   *  *  *  *  *   *   *   *   *   *   *   *   *
 Thanks so much for reading!  
Please stop by Longaberger Lifestyle 
There's a great SALE every Tuesday & Wednesday at Noon EDT.
Don't miss it!
Flameware.  It's here!!  Healthy cooking made easy.
Revolutionary Ceramic Cookware!