A few days ago, my little neighbor, who is nine, asked me if I knew how to make a cooty catcher.
Except… she didn't say cooty catcher… she held up her hands and moved her fingers and asked me, "Do you know how to make one of these?"
I confess… at first I wasn't sure what she wanted…
And then I guessed, "Cooty catcher?"
I told her I did.  Though really I couldn't quite remember… it has been a FEW years since I made one.
I knew I could do a quick Google search and my memory would be restored.
Next thing you know… I got out a piece of paper and whipped one up to give to her.  She was thrilled and flabbergasted all at the same time.  It was a win for sure.
I was really busy, so I didn't have time to sit down with her and show her how to make one at that time.  I told her I would do that soon. But, in the meantime, she could study the one I made her and see if she could try to duplicate it.  You never know.
This morning she knocked on my door a little after 8 and wondered if I could teach her how to make a cooty catcher.  I had a slow start to my day and wasn't ready to entertain guests, so I asked if she could come back later.  "10 o'clock?" she asked.  10 o'clock it would be. If her dad would give her permission to come into my house.
I got out the card table and chairs, paper, scissors, and made apple cinnamon tea, and put out napkins and cookies.
And then came the quick tapping on my door.
We sat down and I had her follow me each paper-folding step of the way.
I had a stack of paper available so she could get lots of practice. With only a little coaching, she remembered each step on her own.
At nine, this was the first time she had tea and exclaimed… "This is REALLY good!"  She even mentioned my pretty dishes. So, of course, I told her the story.  And then I asked if she had a good story to tell.  And the conversation was off and running. Sometimes she forgot she was sitting at my table to learn how to fold cooty catchers.
In the midst of our conversation, she asked where I went to church.  (We had not talked about anything church related.) I described the location, asked her if she knew where that was, and then she asked, "Will you take me to church with you?"
When I was nine, the cooty catchers I made usually involved colors or numbers and questions and answers. I didn't tell my little neighbor about that.  It seems that life hasn't been all that kind in her nine years, so I wanted her to invent her own play.  I told her she could color the different sections and write little stories in the blanks. And then she wanted to know if we could play puppets with the cooty catchers.  And yes… we did.
After about 2 hours, her little brother came to get her and begged her for a cooty catcher.  She didn't want to give him one.  But, I suggested that she give him one from her burgeoning bag… because he smashed a bug which terrified her.
Later in the day, I saw him with a cooty catcher, too.
Who knew what would become of that simple question, "Do you know how to make a cooty catcher?"
It's easy to pass by kids… ruffle their hair… give them high fives and walk on… or brush them off in some other way.
You'll never know where things might have gone if you'd taken the time to bend down and listen.
They just might invite themselves to go to church with you.  
The king will answer, "Whenever you did it for any of my people, no matter how unimportant they seemed, you did it for me."   Matthew 25:40
It's JoyDay!
And time to get our joy meters soaring!
Please join me in thinking back over the past week and counting seven things for which you are thankful.  This simple exercise of counting and giving thanks is something we do each week to reset our compasses and put our eyes back on the Lord.
I'll start…
Thank you, God for…
a good interview.
safe travels.
your faithfulness.
little girls who are strong enough to ask for help.
the deer who regularly comes to munch on the foliage across the street.
deep soaking rain.
knowing you have plans for us… 
Now…it's YOUR turn!
List your 'seven' in the 'share your extraordinary thoughts' section below.  You'll be glad you did.
Thank you for stopping by and leaving your sweet thoughts.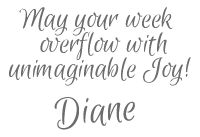 Receive FREE inspiration like this in your inbox!
Sign up Now. 
If you found this post helpful….please pass it on to your friends.
Click any of the sharing buttons at the bottom.