Do you ever long for a quieter life?  A more fruitful life?  A joyful life?
Do some days, weeks, maybe even months seem to breeze by?
Do you ever feel like those days are… not great… nothing special… just okay?
Are you tired of the ho-hum?  Do you want more?
The only way I know for us to have more quiet, fruit, and joy in our lives is to choose it.
We need to be purposeful.
Oh great!" you're thinking.  "Just heap on my to-dos. Make me feel inadequate when I already don't feel like I measure up."
Actually, that isn't my intention.
Summertime is a great time to reorient.
For me,  summer is the time when I strive to release some of my many self-imposed pressures.  If I want to enjoy the beauty of creation and the nearby beaches for the three brief months of summer… something has to give… choices need to be made.
If you sense any pressure from me today, it's simply my encouragement to do a little self-assessment and ascertain if you're comfortable staying on the "okay" path or if you would prefer to reset your "quadrants" or "navigational devices" for summer.
Recently I had a few little health issues that set me back.  In addition to visits with my natural healing practitioners, I decided that there were a few additional things that I needed to do to get back my health and energy.
For me, this has been a process.
The first thing I did was resign from the responsibilities of my part-time job.  I didn't give the usual 2-week notice.  It was an open-ended resignation that went on for several months.  One day, I sensed I needed to be done on June 1st, so Friday the first was my last day.  Maybe I should have given a firm date in the beginning, regardless, I finally followed through on what I knew I needed to do.
Another thing I have done is give myself permission to "sleep in."  Some nights I sleep poorly and then get up like normal to start my day.  Typically driven to have fully productive days, I am choosing to allow myself to stay in bed.  Sometimes I doze… many times I just quietly lie in my bed and pray.  Whether I sleep or not, my body is receiving additional rest.
When you work for yourself as I do, there are a multitude of tasks to accomplish in a day. Over time I started to prioritize the "musts" over the "shoulds."  And over time there became fewer of both.
You probably noticed that I haven't been publishing as many posts.  In a couple of instances, I re-wrote or polished a few old posts that didn't get much traction originally and added new photos.  It was a double win for the blog and for me.  The funny thing is that I didn't remember those old posts (I have well over 1,000 published posts!) before I updated them, and I bet you wouldn't have either.
This reduced publishing schedule gave me breathing space which I didn't realize I so badly needed.
With low energy and malaise, my creativity has been at a low, so taking off the pressure to come up with new creative ideas was a big deal.  It has allowed me to relax a bit and hopefully, I'll see a resurgence of creativity, soon.
If this sounds like I've made this "reset" all about me, I can assure you it is not.
Daily I post spiritual inspiration on my Facebook page, along with whatever else I might like to share. I thoroughly enjoy the engagement there and I love that I can make a difference by encouraging whoever needs a little lift.  In real life, I've had some fun blessing friends by doing some unexpected things.  Tangibly loving others not only breathes life into my friends, but it's benefited me in some very unexpected ways as well.
This may sound a little odd, but I also have been working at closing the lid on my laptop between 8:30 and 9:30 each night and watching a short, but funny DVD with my husband for the sole purpose of laughing, before getting ready for bed.  Proverbs 15:13 tells us, "A glad heart makes a happy face." There is no doubt that I want a happy face and a happy heart, so this little routine is definitely a good one.
Recently on Facebook, I reshared a little inspiration for living well.  The context of the post was around the idea that each of us is holding a cup.  Whenever life jostles us… for good or bad… whatever is in our cup splashes out on those around us.
That begs the question… What is in your cup?
Is your cup filled with busyness, bitterness, self-indulgence, anger, selfishness, fear, and harsh words?
Or… is it filled with the fruits of the Spirit… love, joy, peace, patience, kindness, goodness, faithfulness, gentleness, and self-control?
We get to choose what we pour into our cups.
What is it you want filling up your cup?
This summer… propose to slow down… to be purposeful with your heart and time.
Decide to be gentle with yourself and more loving with others.
Fill your time with quiet, laughter, contemplation, and friends… fill your soul with more of God and scripture and his creation… and splash your world with love, joy, goodness, and grace.
Slow your spirit and your summer… ride your bike, dip your toes in the waves, read, rest, laugh, and be restored with the goodness of God and his amazing creation.  And from all this good… pour yourself into those God wants you to love.
Keep in mind… all this goodness won't just happen this summer… it's up to you to make the choice to choose more.
What is the "more" you need to choose?

What will it take to make YOUR summer purposeful and joy-filled?
It's Joy Day!
Let's begin this week with gratitude and fill up our hearts with joy.
Please join me in thinking back over the past week and counting seven things for which you are thankful.  God's word tells us that we are to give thanks in all things.  It's an amazing exercise.
The best part of doing this….we get JOY!  And I just know you need some joy.
I'll start…
Thank you, God for…
the love that You keep lavishing on me.
helping me pull off a fun getaway for a dear friend and her family.  My heart is so full because Your goodness, Lord.
showing me in big and small ways how to live more fully and more joyfully.
gorgeous flowers from the farmers market and at such a good price, too.
a fun Saturday morning with my sweet friend.
a wonderful teaching about our mouth and the power of the tongue.
a walk along the shoreline this morning in the cool quiet with my love.
Now…it's YOUR turn!
List your 'seven' in the 'share your extraordinary thoughts' section below.  You'll be glad you did.
Thank you for stopping by and leaving your sweet thoughts.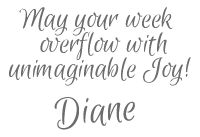 Receive FREE inspiration like this in your inbox!
Sign up Now. 
If you found this post helpful….please pass it on to your friends.
Click any of the sharing buttons.