This year my cozy apartment is living large with a stunning new blue and silver Christmas tree courtesy of Balsam Hill.  Here are some tips for decorating a tree beautifully filled with sparkle, color, and a touch of the dramatic.
Growing up, decorating for Christmas was a big deal in my home.  My dad was all about hanging lights on our front porch and creating gorgeous swags filled with miniature lights. My mom always had a DIY Christmas decor project and could be counted on to cover our tree with lights and ornaments and garland until it looked like one huge sparkly Christmas ornament. Seriously it took work to find the greens.
Although they really weren't too keen on the idea, when I went away to college, I made my parents promise to not do any Christmas decorating until I got home for Christmas break.  I didn't want to miss all the fun.
You would think that at some point I would grow tired of decorating my home for Christmas, but I enjoy it as much as I did in my college days, if not more than ever. That's why I lept at the opportunity to partner with Balsam Hill.  Renowned for their exquisite trees and decorations I couldn't wait for my Balsam Hill packages to arrive.
Notice the size of these boxes.  That's because the ornaments I choose are huge.
A few months ago, we purchased a large area rug for our apartment.  We needed something that was more "us" to give our space a bit of color and style. The rug's pattern and dark blue and gray tones nudged me towards decorating in a French country style.  It also influenced my ornament choices.  I almost flipped when I saw the Midnight Frost ornament collection. The dark blue ornaments were perfect and the whole collection set the stage for that gorgeous dark blue.  They are the largest ornaments I have ever used on a tree and definitely create more visual interest and drama on my narrow tree.
Trying to stay on theme, I fell in love with these etched French country ornaments.  Their reflective quality adds sparkle to the tree and compliments the frosty feeling of the other ornaments.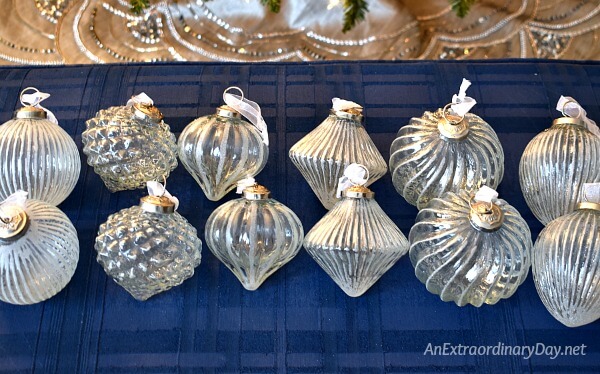 My next ornament choice was a traditional ball.  Described as "medium" in size, these Polish handblown ornaments are large and have the most beautiful finish.  I chose the matte white because their simple style does not compete with the other ornaments and they add more brightness to the tree.
The 6.5 foot Berkshire Mountain Fir Tree with clear lights which I selected is narrow at 42 inches in diameter.  It gives the shape and feeling of a large full tree without taking up a lot of square footage… something that's super important in an apartment.  At first, I wasn't sure of the tree's placement.  We experimented by moving around all the furniture but in the end, we broke the "rules" and moved the rug close to the wall,  popped out a small occasional chair, scootched my chest closer to the door and had more than enough room for the tree.
So often small apartment dwellers choose small trees and small ornaments. Don't fall into the trap of small thinking.  This tree is definitely more dramatic because of my oversized ornament selections.  It definitely is a presence in the room and yet absolutely perfect in scale.
The crowning touch of the tree is this incredible 60″ silver Elizabeth beaded tree skirt.  Oh, my goodness, the sequins reflect the light beautifully and add another layer of sparkle.
From the moment I opened the box, I was impressed with the attention the detail Balsam Hill had given to the Christmas tree.  Everything I could possibly need was thoughtfully placed in the box.
Clear pictorial directions are included in a booklet for safe keeping. Each section of the tree is wrapped in bubble wrap and tied up with ribbon.  I might have started doing the happy dance when I discovered that the tree came with a foot switch.  Once the tree is up and the skirt is in place there's no hunting for the plug or creating some other sort of system to turn the tree on and off.  All I do now is run my foot over the tree skirt and give the button switch a little push and there is light… or darkness!!  Voila!
There were even two pairs of gloves… one for small hands and the other for larger hands… for handling and fluffing the tree.  This is such a great idea, it's amazing how they protect your hands from scratches, getting dried out and making the fluffing process all that much easier. And everything needed for replacing fuses and lightbulbs is included as well as extra caps for the stand and hooks for the light wires.  I was also pleased to see that a sturdy vinyl storage bag was included.  I'm about the details and no detail was overlooked.
Assembly of the tree and lights was straightforward and quick.
Decorating Tips to Make Your Tree Sparkle
Style TIP 1 :: Place a piece of foam core board under your tree stand before you begin fluffing.
Once the tree was assembled, prior to fluffing it, I cut a piece of foam core board and placed it under the tree stand.  This is something that I've found has been so helpful to me in fluffing artificial Christmas trees.  It's especially helpful when the tree stand is placed on carpet, but wood floors have small cracks that can be challenging to turn as well. I have found that I can rotate the tree as I fluff, easily moving the tree on its board while I stay put.  This is especially helpful when working on the lower branches.  It also means that I can work on the tree away from the wall and other furniture and then easily skootch it in place when I'm ready to decorate it.
Style TIP 2 :: Decorate the inside of the tree as well as the outside.
I'm a firm believer of decorating the inside of the tree as well as the edges.  It gives more visual interest, depth, and dimension to a Christmas tree.  To facilitate the process, I will use some inexpensive ornaments on the inside.  You can see that I actually hung them on the branches BEFORE I fluffed.  If I have a lot of ornaments I often will add more in the middle of the lower branches between those near the trunk and those on the branch tips. It's also a great way to use the ornaments you're not crazy about, but don't feel right about leaving off the tree.
Style TIP 3 :: Take Your Time Fluffing the Tree
For me, the hardest part of having an artificial tree is fluffing it. However, it's one of the most important steps, so be sure to allow plenty of time.  Put on happy music that will help you work quickly. Be sure to look at the photos online to see how your tree is supposed to look AND keep in mind how Mother Nature's needled branches are arranged. I want my tree to look natural and to achieve that I need to give attention to fluffing.  I always start with a single branch and arrange the individual needle branches closest to the trunk and work my way out.  This Berkshire Mountain Fir Tree has branches grouped together… usually in threes.  Sometimes it's easy to miss these branch groups.
Style Tip 4 :: Adding Ribbon Gives Another Layer of Visual Interest to Your Tree
This was the first time I've used 4 inch ribbon to decorate a tree.  This is not a large tree so at first glance I thought I should have paid attention and chosen a narrower ribbon.  However, the same techniques hold true for a wide ribbon as a narrower ribbon.  First… don't shoot for perfection.   Ribbon adds life and movement to your tree so relax as you tuck the ribbon among the branches.  Second… don't be afraid to cut your ribbon.  I make cuts with ribbon lengths between 3 feet and 5 feet long.  This allows you to play with your ribbon and it's less wieldy to take around the tree.  It also helps your ribbon go farther.  Feel free to use a branch as a wire to hold your ribbon in place if necessary.
I'm quite smitten with this Platinum Pleated Lamé Ribbon I chose. It's a wee bit warmer in tone than I thought it would be, but in the end, I couldn't be happier. I didn't select the paint color for my walls here in the apartment which is a warm white as is my loveseat, so it takes what would otherwise be a cool blue and silver look and softens it.
Style TIP 5 :: Forget What THEY Say… Place Your Tree Skirt BEFORE Hanging the Ornaments
Once the ribbon has been arranged, it's time to hang the ornaments.  Well… ALMOST!  Now is the time to scootch your tree in place… just where you want it.  Make sure your light cord and on/off switch are where you want them and THEN… add your tree skirt.  I know this seems early, but trust me, it's easier to add the skirt now without ornaments in place, than later.  If you're concerned that you're going to step on it, etc., just fold it back a bit where you will be stepping.
Style TIP 6 :: Don't Hang ALL the Ornaments on the Tree Tips
How do people have Christmas tree decorating parties?  I mean, there is no way to control where the ornaments are placed or what order they should be hung.  By now you've figured out that although I would LOVE to have a Christmas tree decorating party it would just stress me out and I'd have to take all the ornaments down and start over after everyone had left.  Because you now know that about me, you'll totally get my ornament hanging process.  I hope. 😉
Remember how we placed ornaments "inside" the tree?  My goal is to not have all the ornaments hanging around the outside of the tree.  I'm not aiming for perfection… my goal is always visual interest.  With that in mind, I took the gorgeous matte white ornaments and tucked them further into the branches to start off.  These ornaments are simple and beautifully reflective, so they are perfect for tucking back into the branches a bit.
TIP 6 :: Think Outside the Star or Angel Box for Your Tree Topper
Personally, I don't think every tree needs a tree topper and I also don't think that a fluffy bow, angel, or star are required tree toppers for the more traditional trees.  When I selected my tree's decorations, I couldn't decide on a topper, so I decided that I would just go with the flow and see what happened.  It was the best choice I could have made.  Instead of hanging all the finials on the tree, I turned them upside down and stuck them on top of the tree.  It feels regal, gives an icicle look, and is a bit whimsical too.  All that was required was a light touch, patience, and some lightweight wire, though you could also use ribbon. Because these ornaments are handblown glass they are fragile.  They feel very sturdy, more so than any glass ornaments I've previously decorated with, but still, I was extremely careful in "hanging" these.  They were individually and carefully wired to the top stem of the tree.  They aren't perfectly arranged, but perfection is overrated I keep telling myself.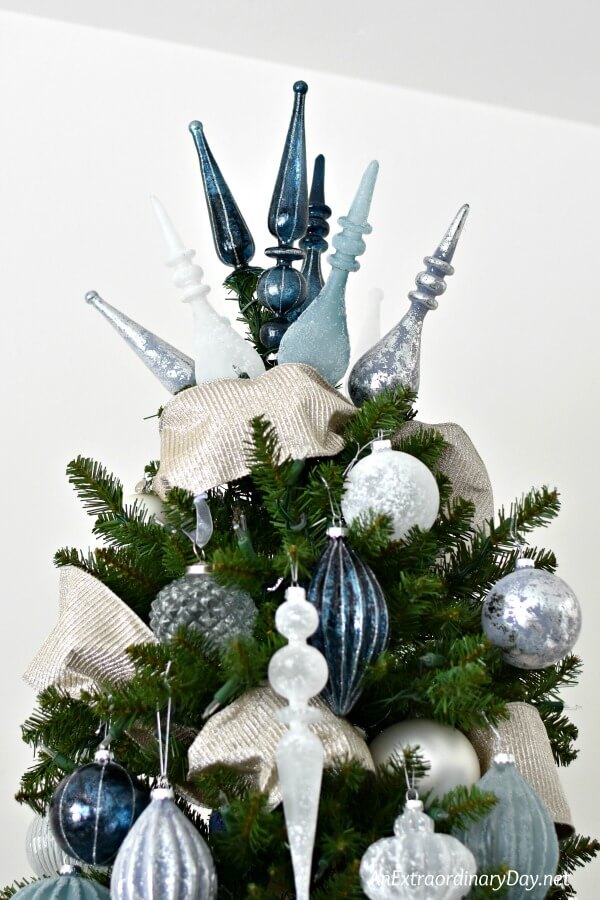 Style TIP 7 :: Hang Your "Featured" Ornaments Early for Maximum Exposure
I know that sounds funny, but if you have ornaments that are special, you want to make sure that they are evenly placed on your tree for visual interest.  You don't want to squeeze them in wherever they fit.  Hanging them early you can place them exactly where they will fit and look the best.  I wanted to make sure the lovely finials from the Midnight Frost Set would dangle from the branches perfectly so I chose to hang them first.  There weren't many left over after I used the majority of them as a tree topper.  Still, their placement was important to me and I wanted them to hang straight.
Style TIP 8 :: When you have an assortment of ornaments, choose to hang them according to color or style.
I selected 3 collections of ornaments for my tree.  Earlier I hung the beautiful Polish white matte ornaments, nestling them into the branches, plus hanging the few finials.  I have two collections left. The Midnight Frost set has four color groups and approximately 8 ornament styles so I decided to disperse them through the tree according to color.  First dark blue, then silver gray, then frosty white, then the sea glass blue. And finally, the clear etched French country ornaments are the finishing touch.
The photos below show each the tree coming to life with each ornament addition.

Reflection ~ Color ~ Sparkle
I couldn't be more delighted with how my tree turned out.  The ornaments are exquisite and I achieved the look I was after… a modern French country style.
Ornaments as gorgeous as these aren't just for the tree.  I reserved two rounds balls for my end table.  They add color and drama to an otherwise tone on tone styled vintage French provincial table.
And I couldn't resist creating a swag for my shutters with fresh greens and the Midnight Frost finials I'm so smitten with, topped off with a gorgeous bow made from the Platinum Pleated lamé Ribbon.  This is one of those quick and easy decorating projects.
Did you notice how the pleating of the ribbon in the bow replicates the louvers in the shutters?  And the color of the ribbon and the shutters blend beautifully.  I couldn't have planned it better.  This was a very happy coincidence.
Decorating with blue at Christmas can be so very tricky as there are so many shades of blue.  It's important to have a light touch and balance the blue out with other complementary colors and tones.  My rug, as beautiful as it is, has a blue that is less common.  Can you believe how well all the details came together?  I feel so very blessed and I'm so grateful to Balsam Hill for providing my tree, ornaments, and tree skirt.
I hope you were inspired to look at small space Christmas decorating in a new way.  Be sure to pin this post so you can refer to my style tips next year when you get ready to decorate your tree for Christmas.
Click here for more Christmas decorating ideas and Advent inspiration.
 Thanks so much for popping by today!
If you enjoyed this post, please use the sharing buttons
to let your friends know and "pin it," too.

Receive FREE inspiration like this in your inbox!
Sign up Now.