I love the morning….especially the first light of the morning.
A few days ago I awoke very early and looked out the window where I was greeted with a most beautiful sight.
Imagine the sky as I saw it, still colored in twilight while being gently blushed with a transparent orange cast rising ever so gently from the horizon.   And to my right…a huge brilliant star sparkled.  At that moment, I was in awe and humble adoration of Creator God.
In the morning, O Eternal One, listen for my voice; in the day's first light,
I will offer my prayer to You and watch expectantly for Your answer.
Psalm 5:3 
Just like that soft light that pushes over the horizon, which I anticipate each morning, is my expectation for God's answer to my morning prayer.
If you believe, whatever you ask for in prayer will be granted.
Matthew 21:22
In the Gospel of Matthew, there is an account where Jesus spoke to a fig tree and it withered.  He then told his followers that if they had faith, and didn't doubt, they could do much more than that, they could tell a mountain to jump into the sea and it would.
Now I have never heard of a mountain jumping into the sea by a person telling it to do that.  Seriously, the consequences could be highly detrimental to both whatever/whoever lives on the mountain and the sea.  But, I think we all can agree that we all encounter difficulties or challenges that feel mountain-sized.
I think that Jesus was telling his followers that whatever challenges they might face, even mountain-sized problems, if they had faith they would receive what they asked for in prayer.
This faith or belief that Jesus was speaking of was beyond a hopeful anticipation, instead, it was more like a signed and completed contract that guarantees delivery.
Do not worry about anything, but pray
and ask God for everything you need, always giving thanks.
Philippians 4:6
In his letter to the Philippians, Paul admonished the Philippians to pray for everything they needed, giving thanks.  It almost seems odd that he would have to tell them to thank God.  Yet, I think there is a progression to effective prayers.
We need to have expectant hearts when we pray.  
We need to pray prayers that expect God to do really big things.
I hear people pray all the time, "God, if it is your will, please do __________."  If we spend time with God on a regular basis, we should have some idea that what we are asking is or is not in his will.  God does not keep everything wrapped up in secret boxes.  We may not know all the details, but we should sense in our spirit the direction we should go.
In my thinking, when we pray asking and end with, "if it is your will, God" we are in essence praying without faith.  And since we are to always give thanks when we pray, then how can we give thanks for something that we wonder about?  If we wonder whether God will answer the prayer we asked, we just might not be praying in faith.  God is not honored by that prayer, either.   Oh, yes, it sounds very humble and spiritual, but really, God is more honored when we ask him to do the impossible.
When was the last time you asked for a mountain to jump into the sea?
When we pray a great big audacious prayer we also need to wrap it in gratitude.
If you call a friend to ask if they'll drop you off at the airport and they say, "Yes," what is your response?  I have no doubt that immediately you will reply with thank you.  You might even say it several times in different ways.  If your friend tells you that it won't work in her schedule, you will still say, "Thank you," won't you?
About midnight Paul and Silas were praying
and singing songs to God as the other prisoners listened.
Suddenly, there was a strong earthquake that shook the foundation of the jail.
Then all the doors of the jail broke open, and all the prisoners were freed from their chains.
Acts 16:25-26
Not only is God honored by audacious prayers, but when we give thanks and praise God, we move his heart.  I don't think that it is any coincidence that Paul and Silas and all the prisoners were freed from their shackles while Paul and Silas were praying and praising the God.
Have you been praying BIG hairy audacious prayers?
If you thought God could do anything (and I believe he can)… what would you ask him to do?
Ask… and then thank God for the answers and keep praising him while you wait.
While Paul and Silas were waiting AND praising God the doors of the jail broke open.
What breakthrough do you need?
Ask…
Give thanks and praise Jesus…
Keep watching… waiting… and praising.
It's JoyDay!
I love JoyDay!  There isn't anything better than each of us sharing the good things God has done in our lives this week.  Both in the happy and in the challenges.
Will you join with me in counting 'seven' from the past week?
I'll start!
Thank you, God for…
sunshine after all the rain.
prayers that are always answered… even if they don't meet my expectations… and sometimes exceed them.
the unexpected "gift" of a second bedside table.
Your goodness of putting pedals under our feet again.
Your incredible faithfulness through the good and not-so-good.
summer and warm days and cool breezes and the beginning of a vacation.
Your lavish love and how You care for the people I love.
Now it's your turn!  
Please join me by tapping in your 'seven' in the 'share your extraordinary thoughts' section below. I dare you!
Thank you for stopping by and taking time to leave your sweet thoughts.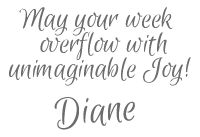 Receive FREE inspiration like this in your inbox!
Sign up Now.