Adventuring… it's my very favorite springtime activity.  There's nothing like the exhilaration of discovering tiny whorls of spring green pushing through the thick decaying blanket of brown covering the woodland floor or spying the first marsh marigolds in the wetlands or catching sight of the elusive Baltimore oriole that beckons us with his melodious song.
My husband and I love to get out in the early light of the morning.  It's the best for picture taking, but it also feels like we are on a holy adventure.  There's something extraordinary about the world waking up for the day and being a part of it.
Most spring mornings here in Michigan have a chilly start, so between that and the exercise of balancing on branches fallen across little streams and climbing the damp and slippery wooded hillsides, we usually come home ravenous from our hikes and want something that's delicious to eat and simple to prepare, like an
Amazing Roasted Asparagus with Ham and Gruyère Sandwich.
Not only is it warm and tasty, it's easy to prepare in mere minutes.  Spring asparagus in Michigan is so good.  It's the quintessential spring vegetable filled with wonderful earthy flavor which makes it perfect following a morning of adventuring.  Because this is an open-faced sandwich it looks a little fancy, which makes it a fabulous choice for a spring brunch with girlfriends. Between us, I think it's delicious for breakfast, lunch, and supper.  Although it is a light sandwich, because it has plenty of protein, I find it's very satisfying, which is wonderful following any busy springtime activity.
There are plenty of places to hike in our area where we're free to roam off the beaten path.  But, one day, I climbed down an embankment to snap a few pictures and a little boy shouted out, "What's that woman doing down there?"  My husband replied that I was taking photos.  And the boy replied, "Doesn't she know she's supposed to stay on the path?"  I'm pretty sure he's getting ready to be an adventure guide.  You know, the kind that keeps everyone safe and on the straight and narrow.
One spring day stands out in my memory. We were adventuring off the path in an area adjacent to some wetlands.  We heard the songs of several birds, some unfamiliar until I heard the song of a Baltimore oriole and suddenly he flitted through the bright green leaves for me to discover him in all his orange finery. What a treat!
While standing there looking up, I was unaware of a quiet little party across the marsh. While I was snapping photos of the oriole Tim was watching several deer lounging behind a thicket on a newly sprouted carpet of bright green grasses. As we stood frozen, the deer slowly got up and meandered along.  They seemed to notice us but were disinterested.  I so badly wanted to capture that moment with my camera, but with brush in the way, I had to be patient, and move slowly to position myself.  Finally, one member of the herd stepped into an area where I could get a shot of him with my camera.  Never have I been so close and gotten such a clear image of a Whitetail Deer.
In the spring I'm always looking for Canada geese and their fluffy goslings along wetlands.  Those golden puffballs are in constant motion, such a contrast from their elegant parents who appear to calculate every movement while observing and preserving the safety of their offspring. As I stood motionless, a small family paddled near me occasionally indulging in the delicacies which can only be found in a watery marsh in spring. What a treat to watch those babies zoom forward as little independents only to quickly turn and retract into a pile of fluff on the water as if mom had them on a spring to keep them close.
For us, the adventure is in the discovery.  We return home with hearts overflowing with joy and gratitude.  In those moments of wonder, we sense we have been walking with our Creator. Time seems to have stood still. Our bodies, souls, and minds are fully refreshed and we emerge energized and ready to re-engage in our busy world and very hungry.
Let me suggest that you keep the following items regularly on your shopping list so you'll be prepared to whip up a simple spring sandwich on a whim….
To make a stellar sandwich like this you'll want to be sure to stop by your Walmart for a few things… like the incredibly delicious Pepperidge Farm Farmhouse™ Hearty White Bread, Hellmann's® Real Mayonnaise, Hillshire Farm® Thin Sliced Honey Ham, a bunch of fresh Asparagus, fresh eggs, and whatever cheese strikes your fancy.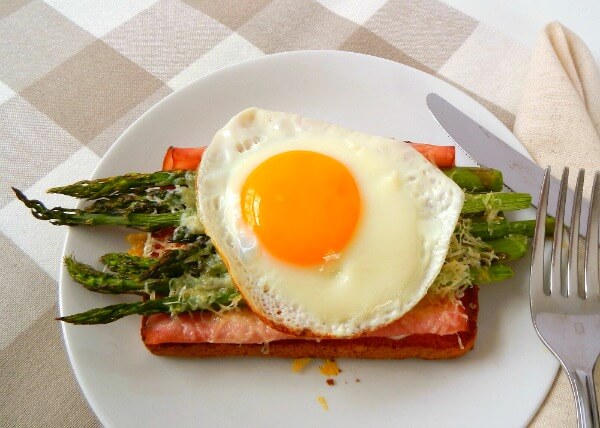 Roasted Asparagus with Ham and Gruyère Sandwich

Ingredients for 2 Open Faced Sandwiches

Pepperidge Farm Farmhouse™ Hearty White Bread
Hellmann's® Real Mayonnaise
Hillshire Farm® Thin Sliced Honey Ham
1/2 Bunch of Fresh Asparagus
1/2 Cup or more Gruyère Cheese (or cheese of your choice)
2 Fresh Eggs (or more if you wish)

Method

Preheat oven to 400 degrees
Wash dry and snap asparagus and arrange on baking sheet.
Place two slices of bread on baking sheet.
Roast and toast together 3-5 minutes, turn/flip, and continue to roast and toast for another 3-5 minutes.  The time is dependent on the thickness of your asparagus spears and how toasty you like your bread.
Remove from oven and spread mayonnaise on the toast.
Top with three slices of ham.
Sprinkle a third of the grated cheese on top of the ham.
Place asparagus spears on top of the cheese and ham.
Sprinkle the remainder of cheese on top of the asparagus.
Place in the oven for 8-10 minutes or until the cheese is melted.
Fry eggs while the cheese is melting.
Remove open faced sandwiches from oven and top with a beautiful fried egg.
Serve and enjoy!
Hungry?  Let's get started…
After you wash and dry your asparagus, fold a stalk at a time until it snaps, with one hand hold the tips and the other hand holding the base of the stalk.  The stalk should break towards the bottom as you can see in the photo below.  I try to direct the break to be lower on the stalk, you'll get the feel if you haven't done this before.  The reason we do this is so that the tough woody part doesn't become a part of your lunch and you get to enjoy the sweet tender portion. Discard the snapped bottoms.
While you wait for your oven to preheat, grate your cheese.  Feel free to use more than indicated.  Can we ever have too much cheese?  I think not.
Lay your asparagus and tasty Pepperidge Farm® bread on a small baking sheet.  The bread is foundational to a terrific sandwich, so never settle.  You'll love the great tasting Pepperidge Farm breads because they are slow baked, hearty, and crafted from small batch recipes.
Here's a tip: If you are typically inclined to butter your bread for toasting, you may coat the bottom of the bread with Hellmann's® Real Mayonnaise for even more wonderful flavor.
Bake for 3-5 minutes and turn asparagus and bread then return to the oven and bake another 3-5 minutes.  If you prefer your bread to be lightly toasted, feel free to remove it sooner.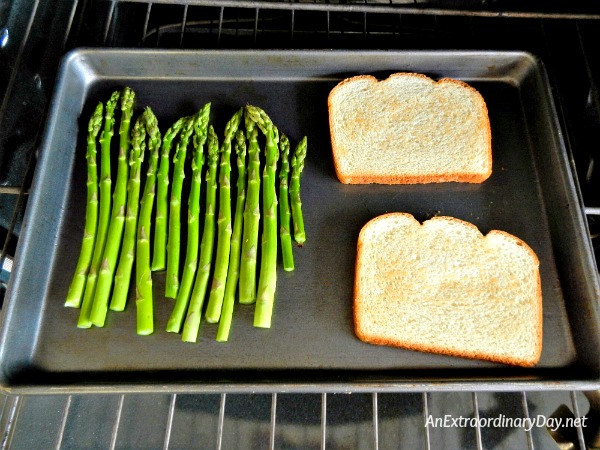 Once everything is roasted and toasted, squirt mayonnaise generously on the toast.
Next lay three slices of Hillshire Farm® Thin Sliced Honey Ham on your toasty foundation. You'll be glad to know that this lunchmeat contains no artificial flavors or by-products. I usually fold the slices in half to give more layers to the sandwich so I can really enjoy all the slow-roasted goodness.
Take about a third of the grated cheese and sprinkle it over the ham and then top with your roasted asparagus spears.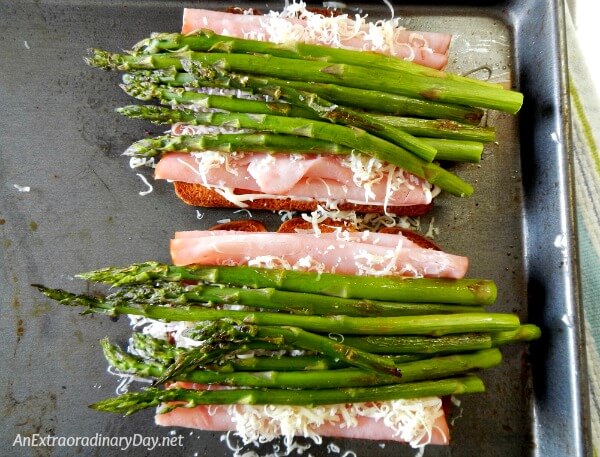 Sprinkle the remaining cheese over the top of the asparagus.
Place the baking sheet with your sandwich back in the oven for about 10 minutes or until the cheese is nicely melted. During that time, fry your eggs.  My burners are anything but level, so I fried my eggs one at a time to give you a better presentation.  I don't worry about that when I'm making sammies for my family and friends.
Once the cheese is melted and your egg is ready, slip the egg on top of your sandwich creation and plate your delicious sandwich.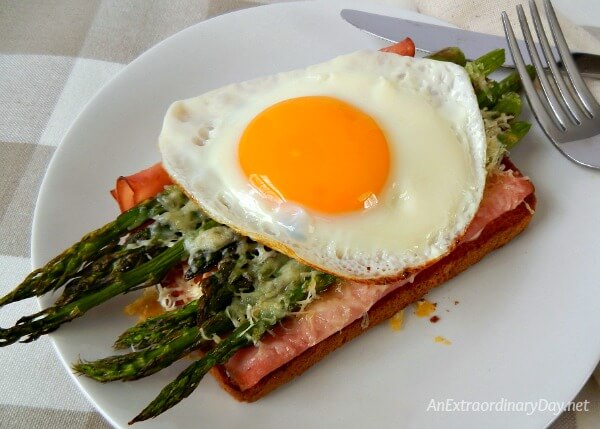 This really is a knife and fork sandwich.  Of course, if you're determined, feel free to pick it up and enjoy.
I love open faced sandwiches and this Amazing Roasted Asparagus with Ham and Gruyère creation would even be perfect for a before church Easter brunch.
It's simple and easy to prepare, and it looks amazing.  How can you top that?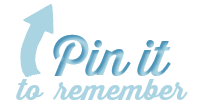 The day after my very fun and tasty photo shoot of this recipe, my husband and I spent some time at the lake, another of our favorite spots in every season. Our time was short because we have so much going right now and he needed to get to work, but we still had to eat, so whatever we decided on had to be QUICK.  I suggested making this amazing roasted asparagus with ham and gruyère sandwich. He was a little hesitant as asparagus isn't his vegetable of choice, but he thoroughly enjoyed this flavor combination.  For fun, I added a few quickly snapped photos of our meal, which included an extra egg on our sammies. So yummy and so satisfying.  What a great but simple spring meal and the perfect punctuation to a little nature time together.
Do you have a favorite spring sandwich or open-faced sandwich that you love to serve?  I always love trying new recipe ideas.  In fact, I might just share yours on the blog!
Thanks for stopping by today… I can't wait to hear your lovely thoughts!

Receive FREE inspiration like this in your inbox!
Sign up Now.