Wouldn't you like to have God's blessing?
One morning, because frankly, things have not been going as we hoped and prayed, I asked the Lord for a word of encouragement. As I opened my Bible it fell open to Jeremiah.  I'm not sure why, but God has often used passages there to speak to my heart in big ways.  I read a few chapters and came to these verses…
But I will bless those
who trust me.
They will be like trees
growing beside a stream—
trees with roots that reach
down to the water,
and with leaves
that are always green.
They bear fruit every year
and are never worried
by a lack of rain.
It was as if the words leaped off the page.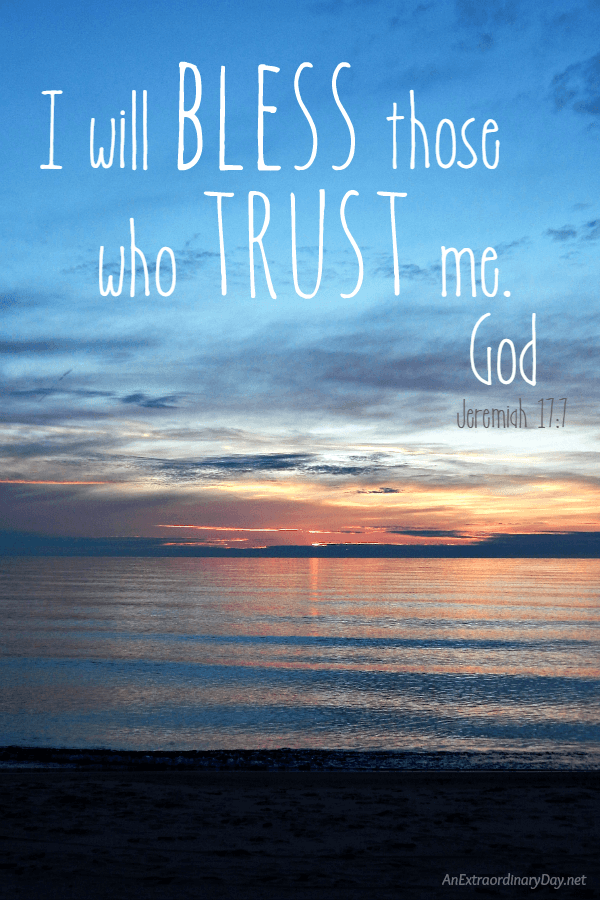 Here it is…how to receive God's blessing.
But I will bless those who trust me.
I want to fully trust God and receive His amazing blessing.
I want to be the person living by the stream, bearing fruit, and never worried.
One thing I've got down is being amazed by God's creation and how He works in the lives of His people.
What I don't have down… is trusting Him.
Maybe each morning as I get a glimpse of the lake from my window, I should consciously tell God that I am putting my trust in Him for the day.
I need to do that.
It's way too easy for me to pull back and attempt to work things out on my own.
When I do that… I miss God's blessing.
He tells us that if we trust Him… He will bless us.  
How about we work on that together this week?
When I asked the question, "Would you like to know how to receive God's blessing?" Did you expect this to be your answer? Maybe not. Usually we think we have to do something to receive God's blessing. He is much less interested in what we do and more interested in our connection to Him. The more we trust, the more connected we are to Him. Hmmmm…
It's Joy Day!
The day when we take a look back on the past week and count gifts.  The good and the not-so-good things.
When we take time to be thankful for it all… and find joy.
Will you join me in this?
I'll start:
I'm thankful…
that You want to bless me for trusting You.
that all Your promises are YES in Christ Jesus.
for a hard week fraught will illness.
that you have plans for us… even when we can't see it.
for the lake and the blessing of being able to see it every day from my window.
for loneliness.
for Your word… breathing new life into me.
Now it's your turn!  
Please join me by tapping in your 'seven' in the 'share your extraordinary thoughts' section below.   Your heart will be filled with joy.  I dare you!!
Thank you for stopping by and taking time to leave your sweet thoughts.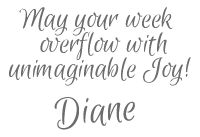 Receive FREE inspiration like this in your inbox!
Sign up Now.