On this absolutely perfect fall afternoon, we took two neighbor kids on a hike.
There was so much delight in discovery that Sarah said, "This place is a palace!"
Not 100 steps from our home and we were in another world under the canopy of oaks and beeches.
We took them on an incredible adventure… it was if we entered Narnia.
As we left the palace of the pines we entered a mighty swath of dune grasses.
At 6 and 10 their imaginations were in full force.
"Where are we?" we heard multiple times.  And multiple times we answered.
Not a half hour into our hike, Tim told them we were still in Michigan.  But, if we told them we were in Minnesota or Madagascar, they would have believed us.
Tim hinted that they should be looking for evidence of dragons as we hiked through the tall beach grass.  I'll let you imagine the discussion that ensued.
We collected pine cones from the soft forest floor covered in a fresh blanket of needles.
We discovered mushrooms.
And more mushrooms.
And another variety of mushrooms.
We ran our fingers over mounds of moss on the forest floor.
We saw the tiniest lichens.
And evidence of deer.
And then as we came through a pine woods, they exclaimed! Our school!  How did you know it was here?
We swang on the swings, we tested all the playground equipment and heard about recess, and then the 6-year-old excitedly showed us the way home via the paved sidewalks.
But, even there, the discovery didn't stop.
There were woolly bear caterpillars on our paved path…
And milkweed pods to blow on…
Honeybees still scurrying to capture the last bits of nectar…
And a new hatch of bugs to be seen.
We hiked for an hour and a half and opened innocent eyes to the beauties and intricacies of God's amazing world.
And we all came home with treasures… pretty leaves… an acorn cap… pine cones… and more.
We were so close to home and yet in another world.
God's world.
A world He created for us…
For our enjoyment…
A world that shouts His glories…
A world that beckons us to be still…
A world where peace is loud in the forest…
A world where we can just be…
A world of hope…
And joy…
God's world!
Who knew that on one beautiful fall afternoon we could enter God's palace by taking a simple stroll through the canopy of the pines?
He did.
All for His glory…
…and our joy!
It's JoyDay!
And time to get our joy meters soaring!
Please join me in thinking back over the past week and counting seven things for which you are thankful.  This simple exercise of counting and giving thanks together in this space is something we do each week to reset our compasses and put our eyes back on the Lord.
I'll start…
Thank you, God…
that Tim starts a part-time job this week!
that another interview has been scheduled.
for a warm fall and a couple of chances to enjoy it.
for sand fences already in place… how hard it is to let go of warm weather.
for hikes through the forests and the dunes and how your creation delights all ages.
for loving friends who pray and listen and care.
that you are are our faithful Lord and provider.
Now…it's YOUR turn!
List your 'seven' in the 'share your extraordinary thoughts' section below.  You'll be glad you did.
Thank you for stopping by and leaving your sweet thoughts.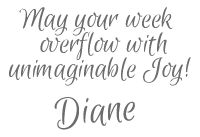 Receive FREE inspiration like this in your inbox!
Sign up Now. 
If you found this post helpful….please pass it on to your friends.