My heart sings for simple doable home decor.
Even more… when it's inexpensive to make.
Oh! And packs a WOW!
Are you ready for a project that's all that and more?
I'm going to show you how to create a flowery book page pumpkin that's extraordinary!
The best part is that it's whimsical…. it delights children… and make adults smile.
I brought one with me when I went to visit a friend and she fell in love with it.
Don't you think it's looks adorable in her tabletop greenhouse.
Sometimes we take seasonal home decor too seriously.
So today….we're going to have fun! And smile a lot too!
Let's Create a Flowery Book Page Pumpkin
Gather Supplies…
(list contains affiliate links**)
Make Your Own Decoupage Glue
Supplies
small, clean empty glass jar
white school glue
water
Make it
Pour a bottle of white glue into your empty jar
Add an equal amount of water (50% glue /50% water).
Put the top on the jar and shake well.
Create a Flowery Book Page Pumpkin ~ Tutorial
Tear strips of book page paper to go from stem to base of the pumpkin. My pumpkin took about 18 strips of paper.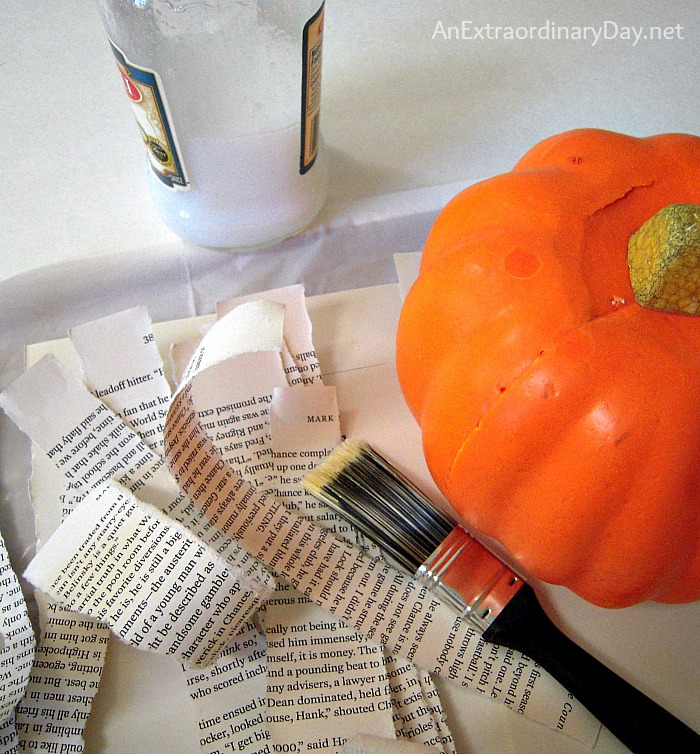 Using a plastic bag to protect your table, covered with a scrapbook page for your working surface, lay the torn book page, face down on your work surface, and paint the Mod Podge or DIY decoupage glue on the back of the book page strip.
Carefully lift it off your work surface and place it on the pumpkin starting at the stem and carefully smoothing it down toward the bottom of the pumpkin.
Apply more glue to the top of the strip of paper with your brush. It will serve to further dampen the paper and allow it to be hand smoothed to the pumpkin.
Repeat randomly around the pumpkin until all the orange is covered.
Allow your wet pumpkin to dry.
Once your pumpkin is dry, cut the stem out of the pumpkin and cover with book page paper if necessary.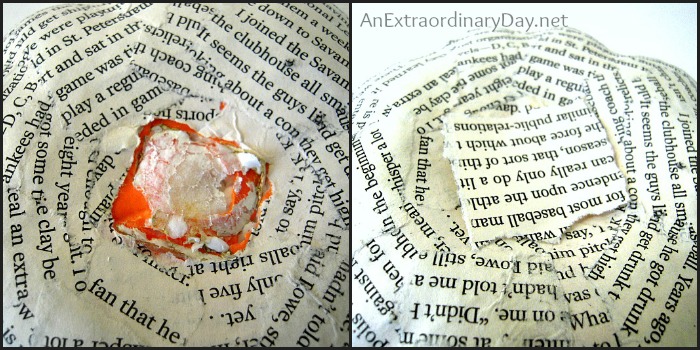 Hot glue your realistic stem on your book page pumpkin.
Prepare your flowers for application to the pumpkin.
First… pull the flowers off their stems.
Second… clip the plastic end off the base of the flower with your scissors.
Create a level guideline for gluing flowers on the pumpkin.
Fold a piece of paper to the desired height and hold it on the table and draw little marks around the pumpkin as your gluing guide.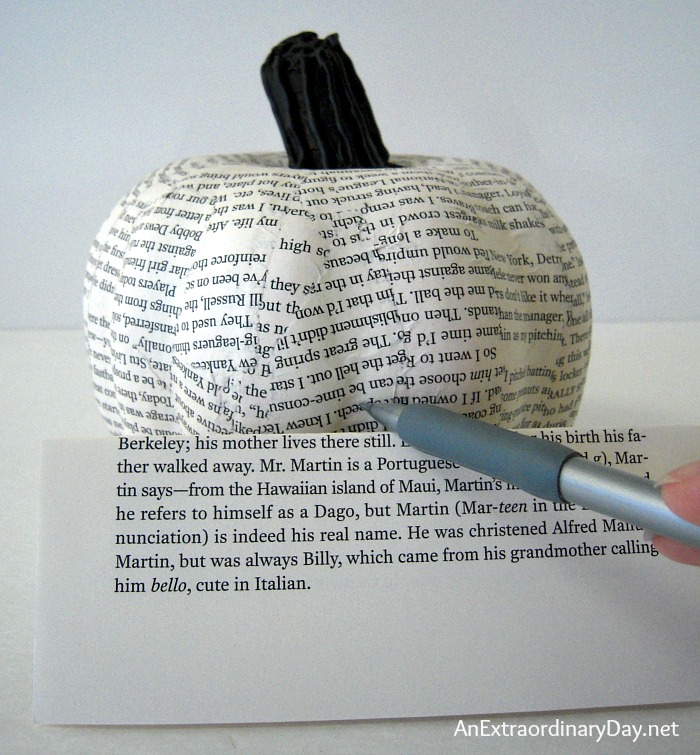 I used two different bunches of flowers for this pumpkin.
The first color was arranged on the table to allow for proper spacing and gluing.
Apply glue to the base of the first group of flowers and glue onto the pumpkin, and on the line, spaced as you had previously arranged them.
Add contrasting flowers to fill in the gaps.
That's all!!
It's fun, quick, and easy to create a flowery book page pumpkin for just $3, plus the hot glue and paint.
Now that I've made one… I want to make more!
One just isn't enough.
These would be so sweet running down the center of a table for Thanksgiving.
How else do you see yourself using these flowery book page pumpkins?
Do you love crafting with book pages?
Check out all my book page projects HERE.
Or click HERE for more creative Fall Ideas.
Thank you for stopping by today.
If you enjoyed this post….please pass it on to your friends.
Click any of the sharing buttons at the bottom.
Best wishes for An Extraordinary Day!
Diane
To receive FREE bits of inspiration like this
in your inbox, subscribe now.
**AnExtraordinaryDay.net is a participant in the Amazon Services LLC Associates Program,
an affiliate advertising program designed to provide a means for sites to earn advertising
fees by advertising and linking to amazon.com