Isn't it a great feeling to start the day well?
To go through the day with a peace and confidence?
To have a day where your feathers don't get ruffled?
Here are 5 tips that help me get my day off to a great start.
1 – Go to Bed Early or on Time
I know that sounds silly… we're talking about starting the day and I begin with telling you to go to bed.  There are too many times when life pushes us out of our planned routines.  Purposely getting to bed early or at a reasonable time each night makes a huge difference in our attitudes and how we feel when we wake up each morning.
2 – Ease into the Day with a Heart of Gratitude
When you do wake in the morning… ease into the day. This may seem impossible to you, but I trained myself to awake before the blare of the alarm clock.  I tell myself what time I need to wake up in the morning and I do.  It's far more pleasant than a jolt.  (If I have a flight to catch or something equally important that I need to be up extra early for… I set the alarm for that… and usually it's not necessary.) It might take several tries, but you can do it too.
Before your feet hit the floor in the morning… thank God for some aspect of His character and for the day ahead.  It's a good way to set the tone for the day and to remember that God is not only the creator of the universe, He is also our shepherd king and we are the people He dearly loves.
3 – Take Time to Pray
My husband and I pray together before we get out of bed each morning.  Later, I sit down to pray in the quiet.  Let me encourage you to carve out a time of quiet each day.  A few years ago, I started practicing quiet which I shared here.
A journal is something I've found helpful for my wandering mind.  Writing out my prayers helped me to focus and it's fun to look back and see how God has worked in my life because of my prayer time.
If you commute… that's bonus prayer time.  In addition to your prayer time before the day starts, pray blessing on your co-workers, employer, and of course your friends and family as you travel to work.  It's a great time to intercede for others. And when you pray… don't do all the talking… ask God to speak into your spirit.  Listen for His whispers to direct you in your prayer.
4 – Feed your Soul
Before you start your day… feed your soul with God's word.  You can read in your Bible, or get an app for your phone, tablet or computer and follow a reading plan.  You can even listen to God's word on your phone as you drive in to work, or go for your walk or exercise.  When we take time to read and/or hear God's word, we're staining our days with Him.  It makes such a huge difference in how we see people, respond to them, and on our general outlook and attitude.  Plus, there's something about it that buoys us through the difficulties of the day and helps us to be more grace-filled and gentle and trusting.
Additionally… take a minute to write down a verse that spoke to you from your reading.  Keep a note card and pen handy for that.  It's amazing how helpful it is to take your card with the handwritten verse to work to put on your desk or put it on the windowsill over the sink if you stay home or by your computer if you work from home.  Place it someplace where you'll notice it throughout the day.
The scratching of the pen will also help bring the verse to mind throughout the day.  You might even consider memorizing the verse (hiding God's word in your heart). It is a wonderful discipline to begin with great benefits.
5 – Take a Few Moments to See Creation
From  flowers in the window box to birds at the feeder to the greens of the trees to the beautiful skies… taking time to open our eyes to creation is another way we can connect with God.  Those small moments of connection feed our souls and spirit and set our world straight.
Slowly over time I've come to realize that we see the glory of God when we take time to admire his handiwork. It's then I join with the psalmist in saying, The heavens declare the glory of God; the sky displays his handiwork.  Psalm 19:1  
It's in those moments that I remember how great God is and how small I am.  It's a perspective that makes all the difference.
These five simple tips to get your day off to a great start really work.
Go to Bed Early or on Time
Ease into the Day with a Heart of Gratitude
Take Time to Pray
Feed your Soul
Take a Few Moments to See Creation
At first they might require a little discipline.  You might forget one or two as you get started… but don't worry… every new day is a do-over.  Stay the course.
Keep it going by touching base with your favorite places for inspiration.  For example, every morning I post a scripture, a beautiful floral photo, and a blessing on the An Extraordinary Day Facebook Page.
Take time to bless others like my friend Debbi who sends me a quick text with a scripture verse or inspirational thought in the mornings.  Or… share my morning Facebook post with your friends.   It's a joy to give and receive God's word.  You might not know it… but the verse you share just could be exactly the encouragement needed at that moment.
It's JoyDay!
I'm so glad you're here to join me for JoyDay!  I love it when we take time to share the good things God has done in our lives this week.  Both the good and the not-so-good.
Will you join with me in counting 'seven' from the past week?
I'll start!
Thank you God for…
the incredible twisted cloud formations moving overhead before the thunderstorm hit
blue, blue skies and intense sunshine for my early walk following the stormy night
the beautiful sunset at the channel and the fun of capturing the moments with my camera
the best day off… enjoying more fun at the channel taking pictures and getting to see ships and boats of all sizes
a simple kitchen post on Facebook that became viral and brought me an increase in followers
a husband who faithfully prays with me each morning
encouraging words from readers… just at the right time
Now  it's your turn!
Please join me by tapping in your 'seven' in the 'share your extraordinary thoughts' section below. I dare you!
Thank you for stopping by and taking time to leave your sweet thoughts.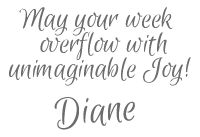 Receive FREE inspiration like this in your inbox!
Sign up Now.