Are you been in that spot where you are looking for answers but can't seem to find any?
There I was in that very spot, trying to make things happen, and being completely frustrated when I came across this verse…
This is what the Almighty Lord, the Holy One of Israel, says:
You can be saved by returning to me.
You can have rest.
You can be strong by being quiet and by trusting me.
But you don't want that.
The morning I read that verse I had no idea that it would be a day where I would encounter an obstacle at every turn. Nothing seemed to go the right way. It was the culmination of several days where I thought I just needed to work harder, work smarter, and push through. I was determined to make things come together. But, it wasn't happening.
I'm blessed to be in an online group with women of deep faith, we support each other in our business endeavors and more. That evening we were group messaging about various topics. At one point I shared my challenge with these gals and one suggested that I step away… take time away… rest.
Those words immediately reminded me of the scripture I had read that morning…
You can have rest.
You can be strong by being quiet and by trusting me.
You might think that my immediate response would be to choose rest. To take a vacation. Instead, there was no question in my heart and mind, I knew exactly what I needed to do… get up extra early the next morning and simply be quiet with the Lord.
That doesn't sound like rest, does it? God's ways are sometimes a bit upside down. The rest He was desiring for me was not a vacation, though I would very much LOVE to take a vacation to someplace beautiful and warm. God wanted me to find rest in Him.
Usually, I get up and start my scripture and devotional reading first thing. This wasn't going to be business as usual. I needed to recenter… recalibrate.
So that next morning I did exactly that. I sat in the quiet of those wee hours with a pen and notepad handy and did absolutely nothing other than to invite the Lord to sit with me. All the answers I had been seeking didn't come. But, I did pick up that pen and jot down a few inspired thoughts as they came. After some time passed, I began praying and thanking God for His goodness, greatness, and presence in my life. It was such a good start to my day.
Trusting God and being quiet with Him… it's so good. It is rest for our spirits.
When we are quiet with Him and rest in Him… we get outside of ourselves. When I get past the… me, myself, and I… it's then I'm more open to God and HIS ways over mine and I am much more at peace.
What is it that you're struggling with?
God doesn't want you to keep struggling and wasting needless energy without results.
He wants you to spend time with Him… alone... and to trust Him.
It may be hard to make the time. Getting up really early when I haven't been sleeping well is a challenge. And yet, once I followed through, I actually felt more rested. God honors us when we stretch ourselves to connect with Him… to be obedient to what He's calling us to do.
Carving out a time of real quiet usually happens best in the early morning hours.
If you haven't done this… try it.
It's a divine appointment.
It's an appointment that God has already made… he is waiting to meet with you.
The answers you're seeking might come. But, even if they don't… you will have started your day with the ONE who creates the day. When you choose to begin the day in this special way with Him you can be sure your day will be off to a great start!
It's JoyDay!
And time to get our joy meters soaring!
Please join me in thinking back over the past week and counting seven things for which you are thankful. This simple exercise of counting and giving thanks together in this space is something we do each week to reset our compasses and put our eyes back on the Lord.
I'll start…
Thank you, God for…
this hard week and opening my eyes to what You desire for me.
good listening and loving friends.
having a chance to spend a little time by the lake taking pictures during the high winds.
a weekend filled with fun and my dear sweet friends.
how You continually work to grow and mold me into Your image.
more sunlight each day and the hint of spring.
Your amazing love and grace that buoyed me through the week.
Now…it's YOUR turn!
List your 'seven' in the 'share your extraordinary thoughts' section below. You'll be glad you did.
Thank you for stopping by and leaving your sweet thoughts.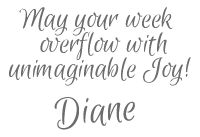 Receive FREE inspiration like this in your inbox!
Sign up Now.
If you enjoyed this post, please use the sharing buttons
to let your friends know and "pin it," too.