If August had an official flower, I think it might be the sunflower.
They stand tall.. stretching for the sun… bravely holding their seedy heads high.
As our days grow shorter and the sun sinks lower in the sky each day, the sunflowers with rays of brilliant yellow brighten our spirits.
If sunflowers had emotions they would surely be happy flowers.
Click To Tweet
How is it that we see emotion in the sunflowers?
Do you think we just might be transferring our feelings?
I know, it's a crazy thought, but we anthropomorphize animals and birds all the time, so I guess doing that with flowers isn't too far-fetched.
Maybe we see happiness in a cheery sunflower because of the pleasure we have in our hearts for our Creator God and the works of His hand.
The enjoyment of God is the only happiness with which our souls can be satisfied. To go to heaven, fully to enjoy God, is infinitely better than the most pleasant accommodations here. . . . [These] are but shadows; but God is the substance. These are but scattered beams; but God is the sun. These are but streams; but God is the ocean.

~ Jonathan Edwards
When we spend time in nature… in full awareness of God… we find ourselves worshiping Him.  And in those sacred moments… we are complete… it's pure bliss. 
You will teach me the right way to live.
    Just being with you will bring complete happiness.
    Being at your right side will make me happy forever.
Our time spent in nature is no substitute for spending time with God in His word and in prayer… but I believe that it is a necessary addition.  God created these beauties for His glory and our pleasure.  He wants us to step away from the tasks of the day… even if it's to gaze into our gardens to delight in the works of His hands… so that we can find our joy in Him and worship Him.
When was the last time you enjoyed your amazing Creator God through His creation?
Click To Tweet
It's JoyDay!
And time to get our joy meters soaring!
Please join me in thinking back over the past week and counting seven things for which you are thankful.  This simple exercise of counting and giving thanks in community is something we do each week to reset our compasses and put our eyes back on the Lord.
I'll start…
Thank you, God…
that Your goodness and mercy never quit.
for Your amazing creation and how it makes my heart sing your praises.
for showing me how to cut down on the peskiness of yellow jackets at the hummingbird feeder.
two priceless hours of chatting and laughter with my dear friend.
a crazy unexpected blessing.
for knowing YOU WILL make a way.
for future grace… keep us strong as we wait on You.
Now…it's YOUR turn!
List your 'seven' in the 'share your extraordinary thoughts' section below.  You'll be glad you did.
Thank you for stopping by and leaving your sweet thoughts.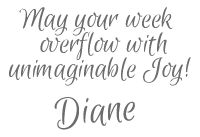 Receive FREE inspiration like this in your inbox!
Sign up Now. 
If you found this post helpful….please pass it on to your friends.