When things go wrong, what do you do?
More times than I can count, I'll talk to someone close to me.
I'm not suggesting that there is anything wrong with that…. except that GOD should be our FIRST go-to person/place.
You see… we need others…
even more… we NEED God.
When things go wrong… we need a safe place.
There's only ONE safe place we can count on.
God.
He must be our safe place.
What a stack of blessing you have piled up
for those who worship you,
Ready and waiting for all who run to you
to escape an unkind world.
You hide them safely away
from the opposition.
As you slam the door on those oily, mocking faces,
you silence the poisonous gossip.
Blessed God!
His love is the wonder of the world.   
I'm a slow learner.
Okay… to be clear… educationally I'm not a slow learner.  But, when it comes to following Christ and taking God at His word… yeah… I'm a slow learner.
I know.  
I believe.  
I have faith.
And…
I get stuck feet.  
I'm good at creating my own mud.  It's sticky and like cement.
This doer doesn't do ONE very important thing.  I don't run to Him and hide in Him.
I want to.  I need to.  I ought to.
Little by little I am moving that way.
I've stopped hoarding clay and water to create my own sticky cement-like mud.
I'm working hard at not trusting from a distance.
I'm learning… slowly… to trust from His arms.
It's the one thing He wants me to do.
And I know He wants you to do it, too.
I'm embarrassed to say that I am too much like that little child who is stiff-backed and stubborn while her loving parent is trying so gently and yet strongly to hold her close and help her know she's safe.
"God, forgive me.  Help me to relax in you.  Help me to trust you with more than my hopeful words, but with my heart of hearts. Help me to rest in the shelter of Your love.  Please… Father… I pray in the strong Name of Jesus.  Amen."
Maybe you're like me… wrestling… wanting… working… watching…
You want more than anything to BE in God's safe place.
Forget the garden hose… get out the fire hose… do whatever you need to do to release yourself from the grip of the mud and steer clear of all those imposing obstacles.  God wants you to take your shelter in Him.  Now.
We can do this.
In HIS power… and His strength… not ours.
And HE WILL be glorified in the midst…
And we… we will be blessed.
Let's not miss the holiness or the wholeness of this.
Will you join me?
I can't wait to hear that you, too, are finding your rest and relief in God's almighty shelter.
Blessed are all who take refuge in him.
Without God… we are nothing.
What's in your way?  Whatever it is… it's a cheap substitute compared to what God has for you.
Run.  Don't walk to HIM and His shelter.  Hide there… in HIM.  
And be blessed. 
I dare you!
"We do not earn or merit anything by taking refuge in God. Hiding in something makes no contribution to the hiding place. All it does is show that we regard ourselves as helpless and the hiding place as a place of rescue." –John Piper
 God is our hiding place… He's our refuge… our strength… our hope… and our future.
The moment we get that and stoop down under His wings… in that moment we experience a new kind of safety… one that doesn't worry about the kind of safety the world speaks… but a safe place where we are empowered to live boldly, courageously, full of love and grace.
When things go wrong… and they will… HIDE. 
Run to God… hide in Him… under His wings.  Immerse yourself in His Word… be quiet before Him… trust Him… and then rest in Him.
He will fight your battles… He will heal your wounds… He will suit you up and make you strong and courageous.
But first… stoop down… get on your knees.
Your blessing is waiting….
It's JoyDay!
And time to get our joy meters soaring!
Please join me in thinking back over the past week and counting seven things for which you are thankful.  This simple exercise of counting and giving thanks is something we do each week to reset our compasses and put our eyes back on the Lord.
I'll start…
Thank you, God for…
renewing our hope.
being our provider.
four days of friendship and the beautiful weather you gave us.
this gorgeous world you created and being able to share the beauty with our friends.
the love and influence of one man in the life of a boy and the amazing young man he has become.
Your Word and the life it breathes into my weary soul.
tomorrow… and your blessing that awaits. 
Now…it's YOUR turn!
List your 'seven' in the 'share your extraordinary thoughts' section below.  You'll be glad you did.
Thank you for stopping by and leaving your sweet thoughts.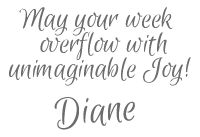 Receive FREE inspiration like this in your inbox!
Sign up Now. 
If you found this post helpful….please pass it on to your friends.
Click any of the sharing buttons at the bottom.