I have friends and family going through hard times right now.
Maybe you're facing some pretty tough days with illness, loss, relationships, or finances?
What do we do when faced with difficult times?
Cling to this verse and remember… The Lord is fighting for ME!
The Lord is fighting for you! So be still!
Exodus 14:14 GW
This verse needs to be our banner.
Our theme song, so to speak.
We need to write it down, post it on our mirrors, on our computer screens, on the fridge, over the sink, anywhere we might see it and be reminded.
The Lord is fighting for you! So be still!
Exodus 14:14 GW
Difficult days come out of nowhere and we need to be prepared for them.
Despair can quickly sweep over us when we are in the midst of overwhelming difficulty. We want answers, we want solutions, we want our situations to change, we want resolution, we want normalcy, we want something other than what we are experiencing.
When you're faced with life's challenges remember…
The Lord is fighting for you!
Right now… in the present… He is fighting for you.
His angel armies have already gone ahead and God is your rear guard.
Though you may not be able to see it… God is fighting for you.
The next sentence in the verse flies in the face of culture.
For me it's so NOT who I am.
You see I'm a doer… I spin wildly around working hard to make things right.
This admonition….
So be still!
This is hard for me.
How about you?
I've been in the process of learning that God delights in working FOR us.
Doesn't that seem backwards and upside down?
We seem to think that we work for God.
To some degree that is true.
The "work" that God desires from us is obedience.
He is fully complete… He doesn't need anything from us… let alone having us "work" for Him.
So if we're not to "work"… what then?
We need to let God fight for us.
We need to quit playing God and let God be God.
We need to trust HIM… no matter what.
God delights in our leaning hard on him.
He delights in our stillness.
For in our stillness…
HE works.
It's in those moments of stillness we, for once, don't get in his way with our own feeble agenda.
It's in those moments we see his greatness. His glory. His holiness.
It's in those moments people who need a glimpse of God's love, grace, and mercy get more than a glimpse.
It's in those moments that we become strong.
Unlike the athlete who gets physically stronger by working out, you and I get spiritually and mentally stronger by being still.
It's God's upside down way of working for us, in us, and through us.
Today, I have a choice. What will I do?
I will do the ONE thing I know to do…
Remember… The Lord is fighting for ME!
And be still.
So what about you? What challenges are you facing?
Here's how to handle those inevitable challenges…
Get out of the way and let God fight for you.
Trust God. And not second guess Him.
Meditate on His word
Be ready and obedient to do whatever He asks you to do.
Are you going to be still and let God fight for you?
It's JoyDay!

I love JoyDay! There isn't anything better than each of us sharing the good things God has done in our lives this week. Both in the happy and in the challenges.
Will you join with me in counting 'seven' from the past week?
I'll start!
Thank you God for…
Debbi's successful brain surgery.
1-year-old Weston getting off oxygen and out of intensive care.
a break from that horrible awful cold virus.
a burst of creativity.
giving me direction.
being able to help my friends clean up following construction.
only having a bruise or two after tripping over an extension cord and falling down.
Now it's your turn!
Please join me by tapping in your 'seven' in the 'share your extraordinary thoughts' section below. I dare you!
Last week I asked you to join me in praying for Debbi and Weston. Thank you for your prayers. Debbi's surgery was successful and she'll be recovering at home over the next six weeks. Weston's mommy and big brother are flying back home to AZ today, leaving behind Weston and his daddy. Baby Weston is being weaned off the strong medication with hopes that he'll be able to fly home on Thursday. My unspoken request remains.
Thank you for stopping by and taking time to leave your sweet thoughts.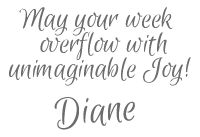 Receive FREE inspiration like this in your inbox!
Sign up Now.