When I was in college I traveled to Europe.  I saw and did some amazing things.  One memorable event was to see "Carmen" performed. Don't be jealous.  I watched it from the nose-bleed section of the Vienna Opera House in the standing-only section.
Have you ever stood in one small spot to watch an entire opera?  Let's just say it was extremely difficult.  I wanted to sit down.  It was painfully tiring to say the least.  There I was, watching this incredible opera after spending a day of sightseeing, shifting from leg to leg.  I remember the standing to see "Carmen" much more than anything from the performance.
Standing still is not something we like to do for long periods of time.
If given a choice, and let's be honest, we'd rather sit down.  Especially to see an opera.
Nearly three years ago, we received some very unexpected news.  It's been life-changing, to say the least.
At that time I very specifically "heard" God tell me that we were to "stand still and watch."
Keep in mind that when we "hear" from God He always uses His Word to speak to us….
…stand still and watch the Lord's victory. He is with you…
Do not be afraid or discouraged…for the Lord is with you!
Through a previous set of circumstances, we learned that God was and is trustworthy.
But… this trust walk we were on took a new twist.
God told us to stand still.  [Groan]  And watch.
I came face-to-face with my weakness.  I could barely stand.  I wanted to sit down.  Yet, it was clear to me that if I sat down I wouldn't get to watch God work.  And believe me.  I wanted to see Him work.  I wanted to see a show of His greatness and His glory.  I wanted to see His power and His might.  I wanted to see His love and mercy and grace.
Since that time, God has continued to teach me that when I am weak I am strong.
The Apostle Paul wrote…
So that I would not become too proud of the wonderful things that were shown to me, a painful physical problem was given to me. This problem was a messenger from Satan, sent to beat me and keep me from being too proud. I begged the Lord three times to take this problem away from me. But he said to me, "My grace is enough for you. When you are weak, my power is made perfect in you." So I am very happy to brag about my weaknesses. Then Christ's power can live in me. For this reason I am happy when I have weaknesses, insults, hard times, sufferings, and all kinds of troubles for Christ. Because when I am weak, then I am truly strong.
It's through my weakness that I have been blessed to see God work in amazing ways….for His glory…and my good.
How about you?  
Are you in a spot where you're discovering your weakness?
What is God doing right now to get your attention?
Could He be nudging you to stand still and watch?

It's Joy Day!
Today is the day we stop and look back over the past week and count 'seven.'  Seven things…the good and the not good…and choose to thank God for it all.  When we do.  Joy will come.
Do you need joy?  Join me in the count.  I'll start:
I thank you God for…
my weakness
blessing me in amazing ways while I'm trying to stay obedient to stand
this mean cold virus that knocked me down
being our Hope
an amazing sunset that you painted and sang your glories
being trustworthy
my husband who takes care of me
Now…it's your turn!
Scroll down to the "Share Your Thoughts" section below and tap in your 'seven.'  It will change you.  I dare you!!
Prayer Requests….
Debbi, one of my dear friends through the blog, will have surgery on Tuesday where the surgeon will open her skull and clamp off a forming aneurysm.
Weston, my niece's son who just had his first birthday has been in the hospital for a nasty virus for more than a week.  We're grateful he's now off the vent, but there is still a lot of healing that needs to happen before he and his mom can fly across the country to go home again.  They had come to say their final good-byes to her mother when he got sick.
Tim and I have an unspoken personal request.
Thanks so much for joining us in prayer.  If there's something we can bring before the Father on your behalf… please let me know below or send me an email.
Thank you for stopping by and taking time to leave your sweet thoughts.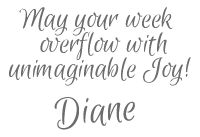 Receive FREE inspiration like this in your inbox!
Sign up Now
I'd be delighted if you'd share the goodness here with your friends.
Click any of the sharing buttons below.