Have you ever come home, expecting that your spouse or your children will be there waiting for you, only to find your house is empty?
Immediately you look for a note.  Where are they?
Your mind goes a million miles a minute and your thoughts dance all over the place with possibilities.  Most not good.
What's the first thing you do?  You pick up your phone. You try to reach them.
If your children are younger…. old enough to stay home alone for a short while… but not to leave the house without your permission… you undoubtedly fly out the door and start searching your neighborhood.  You start calling family, neighbors, friends.
You frantically search for those you love.
Let's change the scenario a little bit.
Let's talk about daily life.
Spring is a super busy time for most families.
If you have kids at home, there is an end of the year school event for every. single. thing. in which your kids are involved.  And then there is the start up of spring/summer sports programs.  Life seems to ramp up with Easter and spring break and then Mother's Day and Memorial Day and last day of school and graduation and Father's Day. Whew!
We spring clean our homes… inside and out… change out our closets and shop for new clothes.
The yard needs to be cleaned… gardens tended and sown… mulch refreshed… flowers purchased and planted… and so on.
The days are longer so we add more to our to-do lists which now also include some fun outdoor activities and places and people to visit.
Spring seemed to come slowly… but you find yourself running around in circles like that hamster you really didn't want to buy, but the kids insisted because he was SO cute.
Everything is good.  Pretty.  And your intentions are all pure and admirable.
In the midst of that tight schedule… several somethings get squeezed into smaller and smaller time slots.
And YOU?  You feel squeezed too.  Frazzled.  Ready for vacation.
Maybe you'll even suggest that the family sleep in on Sunday morning to catch up.  It's the only time slot on the schedule that most of us can choose to push off without getting a push back.
Are you feeling a wee bit guilty?
I could say… don't look at me… no pressure here… my purpose here isn't to guilt you.
The funny thing.
That was essentially what I was going to say.  Actually, I was going to say, "These thoughts are not intended to add guilt to your already heavy load."
And then I realized… sometimes guilt is a good thing.  And we need to own it. (Just know I'm not one of those people going around pushing the guilt button.)
As believers, we hopefully live in the freedom and liberty we have in Christ.
It's easy to think that we're still good with the Lord if we miss church this week.
And maybe we are.
Yet somehow, in the midst of the squeeze of spring, we don't have as much quiet.
Maybe you still stick to your God time ritual.  That's great!  But often what happens in these busy seasons is that we go through the motions.  We read, we pray, and while we do those things our minds race towards all the other things we need to accomplish in the day.
We don't rest in the Lord.  Instead, we become human doings.
There's a small incremental switch.  It's almost imperceptible.   In the busyness, we stop looking to Him.  We stop seeking God.  And worst… we hardly even notice He is missing from our daily endeavors.
Life is full.
And we're tired.  And starting to run on empty.
In the midst of the craziness… you want help.  Rest. Rejuvenation.
Your sanity, your rest, your restoration is waiting for you… 
You don't need to search for IT…. instead… search for HIM.
You will search for me. And when you search for me with all your heart, you will find me! 
Jeremiah 29:13 NCV
God honors our search for Him.  Especially the whole-hearted search.
God doesn't play hide and seek with us… but He also doesn't want our dried out leftovers. He wants us…. all of us… body, mind, and soul.
When we finally find Him… for the first time… or the 20th time… here's how the apostle Peter says it will look…
So you must change your hearts and lives! Come back to God, and he will forgive your sins. Then the Lord will send the time of rest.
We need to get off the hamster wheel and get down on our knees and seek God and ask for His forgiveness.  The wonderful thing is that God delights in our humble contrite hearts and He runs to us… to pick us up… put His arms around us… and hold us close.  It's a beautiful moment and fresh beginning.
Take a look at your schedule.  What are you doing that is a good substitute for God?  Dumb question, I know.  The thing is… we all find ourselves choosing good things as a substitute for God.  It's a daily challenge.
Right now, I'm in a season where I'm not on the hamster wheel, instead, my challenge is my circumstance.  I can focus and dwell on my circumstance and expend a lot of mental energy trying to change my circumstances.  I experience the same things I mentioned earlier that the hamster wheel runners experience with the same outcome.  Squeezing out God.
I've been aware of this for a while.  I've taken small steps towards God.  But, because I need to trust Him wholly and it doesn't look like He's doing anything to help me… I pull back.  I lose in every way possible.
On the other hand, I have been learning the value of corporate worship.
Recently, I began attending a small prayer gathering at my church.  The leader does just a small amount of talking… but the majority of the time is given to corporate worship which in this case is singing led by a guitar player.  I've gone to those gatherings with a heart in search of God.  And each time I've been met.  Each time, God has ministered something special in my heart.
On Thursday night, our church had corporate worship time.  Only a small smattering of the large congregation attended.  Two of the pastors spoke at different times for no more than 15 minutes of the nearly 2 hours of corporate singing.  It was a powerful time.  A time where I was able to praise and pray in power and authority, yet in private. It was a time where I worshiped God with my whole heart and He was with me… and continues to be.
You will worship me with all your heart, and I will be with you.
Jeremiah 29:13 CEV
Let me switch gears just a wee bit here.
Notice that the verse I shared here is the same verse I shared at the beginning of the post.  It's just a different translation.  I'm no biblical scholar, but I have a hunch that the searching we're to do is far beyond what we would do to find our missing spouse or children.  When we find them we rejoice and feel complete.  When we seek God and find Him… not only are we complete, we rejoice… but our celebration is not just in being found… it's in finding forgiveness… it's in finding rest… it's in being restored…  What God has for us is out of this world… He breaks the chains that have restrained us… and prevented us from being all He created us to be.  No matter our age… we are renewed… we are made new again.
God can do all that and more.  But, it depends on us. 
The more we let go of ourselves and allow Him into our lives… the more He can do for us.
If you're a Northerner like me… after winter… you cannot wait for spring and summer.  The anticipation of spring and summer is what keeps me going through the gray and bleakness of winter.
In spring we thrill for all the newness…  new shoots of green… blossoms of color exploding on trees and across fields. It makes my heart sing. As summer approaches, we shed layers of clothing, seek the refreshment of shade, and swim in the cool waters of our lakes and oceans.  These are glorious times of the year… and a foretaste of the goodness God has for us in the life to come.
When we search for God… when we worship Him… it's a bit like spring and summer… it's just the beginning of getting to know God in His beauty, glory, goodness, love, and holiness.
Let's not let the good things of spring and summer
rob us of the better things that God has for us.  
Let's chose to experience our spring and summer in His timing…
living fully and completely in Him.
Let's get off those silly circular wheels and spend our spring and summer on a wonderful adventure of discovery… discovering God's creation… and most of all discovering God in all His fullness.  Let's search to know Him more.
It's JoyDay!
And time to fill up our hearts with joy.
Please join me in thinking back over the past week and counting seven things for which you are thankful.
I'll start…
Thank you God for…
a special time of corporate worship.
the promises in Your Word… all YES in Christ Jesus!
a week of fabulous sunshine… though we really need a good rain.
watching people share their joy of kite flying.
the wonderful place you have in mind for us.
showing me a way out of my sadness.
loving me and give me a hope and a future.
Now…it's YOUR turn!
List your 'seven' in the 'share your extraordinary thoughts' section below.  You'll be glad you did.
Thank you for stopping by and leaving your sweet thoughts.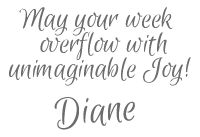 Receive FREE inspiration like this in your inbox!
Sign up Now. 
If you found this post helpful….please pass it on to your friends.
Click any of the sharing buttons at the bottom.