God is good!
That's the comment that many make when something good has happened in their life or in the life of another.
We know that goodness is one of God's characteristics.
God IS good.
All. The. Time.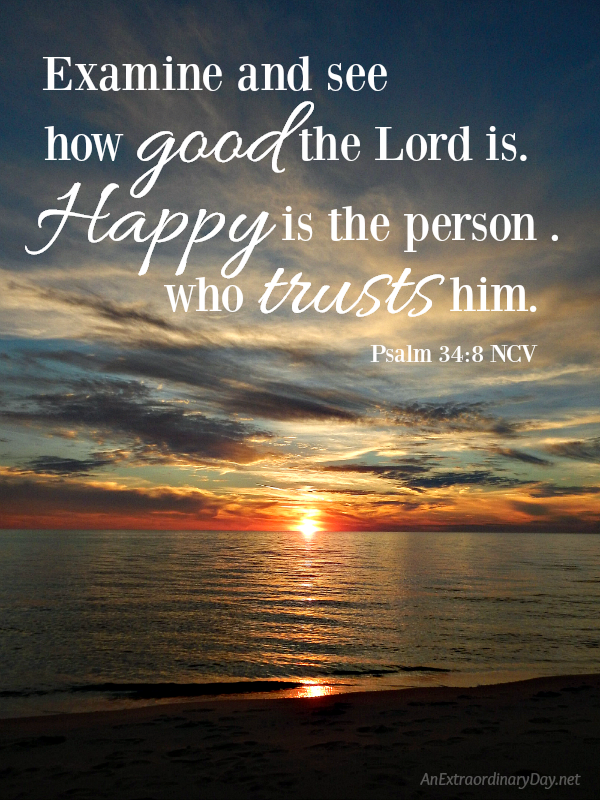 Examine and see how good the Lord is.
Happy is the person who trusts him.
Psalm 34:8 NCV
It's interesting to me that the psalmist is suggesting that we examine and see how good the Lord is.
You might be more familiar with the verse in another translation.  It's more commonly translated this way.
Taste and see that the Lord is good;
Psalm 34:8a NIV
When was the last time you tried a new food or a new recipe?
Do you remember slowly allowing your tongue to capture all the flavor and nuances of that bite of food?
Did you contemplate what the seasonings might be?
Note the melding of the flavors and textures?
And hopefully enjoyed more tastes and savored the experience?
That's what the psalmist is suggesting we do.
Give the Lord a chance to show you how good he is.
Great blessings belong to those who depend on him!
Psalm 34:8 ERV
When was the last time you gave God a chance to show his goodness?
I have no idea what that might look like for you.
But, let me challenge you to do that.
Lately I've been coming to grips with the concept that God is at work on our behalf.
Not as in an employer/employee relationship but more like someone doing something for us that we can't do for ourselves.
Now if you're a self-sufficient person like me… you might struggle with that.
Especially if you've grown up with the phrase, "God helps those who help themselves."
We often decide that God's goodness in our lives is relative to our goodness.
But, it's not.
For many of us God's goodness for US is a hard concept to wrap our minds around.
We need to remember… God delights in his children.
And… in everything… God is at work on our behalf.
This week I discovered once again, that God, in his goodness, will take a very difficult challenge in our lives and use it to direct us.
It was in the midst of that pressure that the Holy Spirit gave me a little nudge.
I followed up on it and shared it with Tim…. and it was the highlight of his year… yes, this was huge. (I wish I could tell you more. Later, okay?)
Had life been going along in normal fashion I doubt very much this would have happened.
We tasted the goodness of the Lord.
It was a bitter first bite that yielded to a wonderful nugget of sweetness.
The second part of the same verse… in two translations reads:
Happy is the person who trusts him
or…
Great blessings belong to those who depend on him!
Learning to depend on God is not something that comes naturally to most of us.
But when we do… God gives us his peace, his joy, and his amazing blessings.
Today I am so very grateful for God's goodness worked out in my life.
God's word tells us he is good.
His goodness comes in the midst of the good and the not-so-good.
He's always waiting for us to trust him and depend on him so he can work for us.
If you want to see God's goodness you've gotta trust him.
If you want happiness… you've got to trust God.
And now you know the secret to happiness, too.
I'd love to hear some ways you've experienced God's goodness recently.
It JoyDay!
Please join me in counting "seven" from the past week.  "Seven" things… good and not-so-good that you will be thankful for.  It really will make a difference.  I dare you.
I'll start…
Thank you God for:
knowing you Lord are working on my behalf… just because you love me and find joy in it.
a totally unexpected glimmer of hope for my husband
well-meaning people who are totally clueless… yes I forgive them
unbelievably wonderful October weather… sunshine for my soul
this unplanned time and place and how you care for us
my friends who pray at the drop of a text.
your faithfulness Lord… your mercies never end.
Now it's YOUR turn!
Please join me by tapping in your 'seven' in the 'share your extraordinary thoughts' section below.
Thank you for stopping by and taking time to leave your sweet thoughts.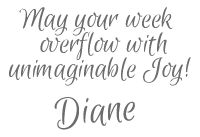 Receive FREE inspiration like this in your inbox!
Sign up Now.