Today we had the first sunshine in what seems like a week.  At least.
Oh how I missed the sunshine.
To say I was elated to see sunshine in the forecast was an understatement.  I wanted to spend my entire day outside, soaking in every single ray of light and warmth from that huge orb in the sky.
However, at a whopping 13 degrees… even at 11 o'clock in the morning… I just looked out the window.
Fortunately the temps quickly rose to the high twenties by mid afternoon and I made the most of it. Outside.
As the day came to a close, we stood on frozen ice soaking in the beauties of the setting sun illuminating white mountains of frozen waves and small ice bergs floating on the calm lake.
I did not take for granted this spectacular event.
There we were, on the viewing deck of God's theater.  We were there to see the final and one-time-only show for the day.  We were there to see our Creator paint on His magnificent canvas of lake and sky.  As the sun descended below the horizon, God painted colors I cannot describe (nor can my camera capture), nuanced by the change of light and angles.
As we stood in awe of this movement of color it was like standing on holy ground.
In those moments we felt small.
Time stood still and simultaneously turned from day to night in what seemed like a blink.
After a week of hard days our spirits were lifted.
Despite being nearly frozen to the core, our hearts were strangely warmed.
Our walk home was expectant.
Somehow in those moments our hearts were renewed and filled with the knowledge that God IS.
God is…
Greater than all the hard days.
Greater than all our fears.
our Comforter, our Deliverer, our Provision.
our Hope, our Peace.
Bigger and more Powerful than anything we have or will encounter.
Loving, Faithful, and Ever Present.
Home again, we keep looking out the window while making supper.
Our hearts longed to stay outside to see the intensity of colors mingling as twilight approached.
We shivered, still frozen from the cold, and yet in delight.
The wisps of clouds were no longer white, but dripping with the deepest shades… pink tinged ever-so-slightly with a slight purple tinge.
Our encounter with God filled us with wonder.
Our spirits touched the essence of God's beauty and creativity.
Our hearts were filled with JOY!
A deep wellspring of joy… bubbling up… over and over… to overflowing.
Our hearts could not stop exclaiming… "God you are amazing… good… loving… !!"
Overwhelmed with gratitude we prayed…
"Thank you Lord for this day.  This moment.  And for creating this sunset for your glory and our enjoyment."
"Thank you!  Thank you!  Thank you!"
Those who live at the ends of the earth
stand in awe of your wonders.
From where the sun rises to where it sets,
you inspire shouts of joy.

It's JoyDay!
Out of my heart overflowing with JOY… I'd love for you to join us in community here and count…. just seven.  
Take a quick (or careful) look back over the past week and find seven things for which you are thankful… the good and yes, bad… and list them here with a thankful heart.
You don't have to be feeling grateful for the not-so-good stuff to include those things/times in your list.  I believe that something happens in our spirits when we recognize the hard and choose to give thanks.  It's in the doing… true gratitude begins to grow.
Won't you try it?
Please join me in counting just seven…
I'll start!
Thank you God for…
the sunset and that moment where we felt heaven touched earth.
my husband.  So grateful to celebrate him on his birthday.
releasing my SIL from her fight with pulmonary fibrosis.
my friend who is faithful to pray for others in spite of her own trying circumstances.
being my healer.  I am trusting you to heal that incessant discomfort in my arm.
a ray of hope to a long prayed prayer.
sunshine.
Now it's your turn!
Scroll down to the "Share your Extraordinary Thoughts" box below and tap in your 'seven.' When you do, you'll find the corners of your mouth turn up and the joy meter in your spirit rise.
Thank you for stopping by and taking time to leave your sweet thoughts.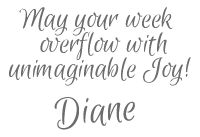 Receive FREE inspiration like this in your inbox!
Sign up Now
I'd be delighted if you'd share the goodness here with your friends.
Click any of the sharing buttons below.