Today I hurried out on an errand, not wanting to be late.  At my final destination I had to stop at a desk.  The woman there greeted me warmly and I responded in my usual fashion.   But, I was surprised when she said.  "You're one of those positive people, I can see it in your face, too."
I had been 'zooming' all morning and here it was 11:45 already.
The task at hand was one for which I was grateful, but on the other hand, I so wished that it wasn't necessary.  Really, I can't say that I was 'feeling' all that positive.
And then I pretty much put it out of my mind.
Until this evening.
As I was walking up the stairs to my writing space, the one I share with the "Pet Taxi," clothes drying on the portable hanging rack, leftovers of past blog projects, and a few felines, I had an ah-ha moment.
The joy of the Lord is my strength.
That is it.
That was it.
That's what the lady saw in my face.
My face that has become lined from 5 years of unexpected stress.
My face that bore no make-up, so I could save the mascara for more important appointments.
My face that despite 5 years of disappointment and waiting, wears not mineral foundation, but a spiritual foundation of  joy.
Joy.
I may be scraping the corners of the eye-shadow container every Sunday morning, but I never have to scrape up joy.
I can't even take credit for the joy.
It all comes from God.
What I can take credit for is the willingness to eat it, drink it, and wear it.
When I hunger and thirst for God's righteousness I am filled up with his joy.
When I decide to think his thoughts that are higher than my thoughts I wear joy.
Joy can be an inside outside kind of thing.
But, generally, no one can see our joy on the outside if we never fill ourselves with it or wrap ourselves in it.
The joy of the Lord is our strength.
As I was walking up the stairs this evening, an old chorus came to mine, "The joy of the Lord is our strength."  Do you know it?  Actually all I can remember is that single phrase and its tune.   That's okay….I really don't need to know more.
In the book of Nehemiah in the Bible it says…
Ezra:  Go back to your homes, and prepare a feast. Bring out the best food and drink you have, and welcome all to your table, especially those who have nothing. This day is special. It is sacred to our Lord. Do not grieve over your past mistakes. Let the Eternal's own joy be your protection!  Nehemiah 8:10 The Voice
In brief…God's people had been in exile for a very long time for their disobedience.  Their city had been destroyed while they were away and they had come home to restore its walls.  This restoration was no easy feat; with one hand a man labored and with the other he held his weapon.  During the rebuilding they found the Torah which had been lost.  When the wall was finally completed, all the people were called together to hear God's Word read.  They had not heard it in what seemed like forever.  It was a great day of rejoicing.   So much so that they were told to prepare a feast and share their food with all.   It was because of their stubborn prideful hearts that they lost so much….even their scriptures.  But…they were not to dwell on the past.  Instead…they were commanded to let the joy of the Lord be their strength.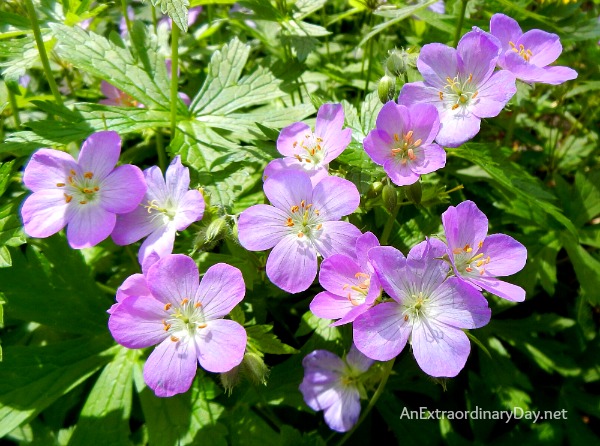 What difficulty or challenge are you facing today?
You can grit your teeth, suck it in, and pull yourself up by your bootstraps.
Or…you can fill yourself with God's Word and his Holy Spirit.
That my friend is where we find our joy and resulting strength.
If you're struggling…
It doesn't take gutting it up to be positive.
Or even wearing a smile you "paste" on your face.
Or even deciding to "fake it 'til you make it."
All it takes is a willing heart to make a place for God's Word to dwell.
And a little time.
Grab a Bible and open it to the Psalms, or the book of John, or to your favorite passages.
Open it up and read and meditate on a few passages every day.
Do it regularly and don't be surprised if someone says to you, "You're one of those positive people, I can see it in your face, too."
What they're really seeing is, the joy of the Lord is your strength. 
Today is Joy Day!
Want joy?  Giving thanks is one of best ways I know to get joy.  In addition to filling up on God's Word…giving thanks is surely a way to take an ordinary day and make it an extraordinary day. 😉
Join me in looking back over the past week and counting 'seven' –
both the good and the not-so-good.  
I'll start…
Thank you God for…
your faithfulness.
a mostly patient helpful husband who really tries to make things easier for me.
getting the "go" from BlogHer after a 6 month wait.
for the plans you have for Tim and me…

 plans for peace and not disaster, plans to give us a future filled with hope.

these extra pounds around middle; they remind me I've had plenty of food to eat.
a wonderful walk and more wildflowers to capture with the camera.
your Word that dwells in me richly.
Now it's YOUR turn!!
Join me in counting 'seven.'
Scroll down to the comment section…Share Your Extraordinary Thoughts….and list your 'seven.'
I dare you!
Want even more joy?  Take the Joy Dare here.

Thank you for stopping by today.
I appreciate you and your sweet comments make my day.
Joyfully!
Diane
To receive FREE bits of inspiration like this
in your inbox or reader, subscribe now.
Let's connect!  Facebook  ::  Pinterest  ::  Google +  ::  Shop-Longaberger Lifestyle
I'd be delighted if you'd share the goodness here with your friends.
Click any of the sharing buttons at the bottom.