Many of us are going through something right now.  
If we aren't, then most likely someone we are close to needs our support.  That something might be a job loss, a physical or emotional illness, a challenging relationship or a break in a relationship, finances, even death.  The journey is difficult.  And my words sometimes seem empty.
One thing I know for sure…..
…the joy of the Lord is your strength!
Nehemiah 8:10
This is true….
 The JOY of the Lord IS our strength.  
It's not in our doing, striving, reaching, or any other effort.
It's HIM…all Him.
The best way I know to get the joy of the Lord is…
to take my eyes off myself and my circumstance…. to praise him, and give thanks in all things.
It's a crazy thing.  I can't explain it.
It works.
And it makes all the difference.
That's why we take time for

Joy Day!
One day that we think back over our week and count seven.  Seven things…some which are easy to give thanks for….somethings we might wish had never happened…yes, we give thanks for those things too.
Please join me in counting seven.  It is the way to get "the joy of the Lord."
I'll start…
I'm grateful for:
finally getting relief from a relentless throat irritation and cough
a week where I had to choose joy
a day of sunshine
my servant husband
laughter… oh how I need to laugh more
a car that badly needs repair… and a mechanic who said we can wait
Your promises that are all YES in Christ Jesus!
Now it's your turn!
Scroll down to the "Share your Extraordinary Thoughts" box below and tap in your 'seven.' When you do, you'll find the corners of your mouth turn up and the joy meter in your spirit rise.
Thank you for stopping by and taking time to leave your sweet thoughts.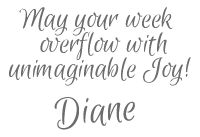 Receive FREE inspiration like this in your inbox!
Sign up Now