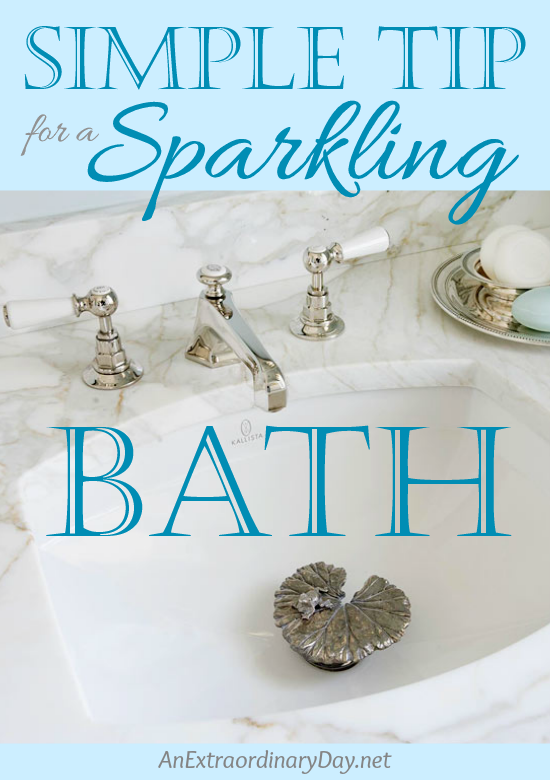 You might roll your eyes at this super easy tip.  It's like, Duh!
Ah… but don't be so quick.
I didn't learn this tip until I'd been keeping house for close to ten years.
One day I was in the office and a volunteer popped in.  She said she was off to clean someone's house.  It wasn't something she usually did, but the pay was amazing and the job was easy.  She went on to say that the lady of the house evidently wiped down her bathroom sinks every day, so they were quick to clean.
I'm sure you wipe down your bathroom sinks every day.  Right?
Well, that wasn't the case at my house.
My sinks got cleaned every week (hopefully) when I sprayed them with foaming bubbles because the bubbles did all the work so I didn't have to, or something like that.
The volunteer left and I sat there in silence thinking about what she just said.
My mom was a career nurse.  My dad or I usually cleaned the bathroom.  She used her free time to read or create fun things for me to wear.  We never talked about how to keep the bathroom sink sparkling, or even how to clean a toilet. (I learned the later when I was on work/study in college… cleaning the bathrooms in my dorm's lobby.  Yuck!)
That night I went home and sprayed foaming bubbles all over my sink and towel dried it until it sparkled.
And that was the beginning.
The next morning after the two of us got ready in the bathroom, I splashed water around the sink and counter and over the toothbrushing spittle on the faucet and grabbed the face towel hanging there and gave everything a quick dry and polish.  The towel was hung to dry elsewhere and I went off to work.
It felt good to leave behind a sparkling sink.
It would be just as easy to do the same thing with paper toweling.  Keep a roll under the sink for just that purpose.  Whether you have a wipe-up towel in the bath, handy for sink polishing, or use a paper towel, teaching everyone in the family who uses the sink to wipe it down after they use it is a game changer.  Once everyone gets used to having the sink free of gunk and spittle, they'll want to keep it that way.  Especially because it is so easy.
If you use a paper towel and are feeling ambitious, once you've wiped down the sink area, take that damp towel and wipe down the ledges in the tub area, and then the top of the tank and other surfaces around the toilet.
That whole process won't take 3 minutes.  It's amazing.
I like to keep a bottle of glass cleaner handy and spritz the mirror and then the sink area and move on from there.
It's amazing how the bath can stay looking great in mere seconds.
Sometimes I feel so good about the clean feeling that I take the toweling and dust down the baseboards, etc.
If my week is super busy I can, on occasion, skip cleaning the bathroom other than the toilet and floor because I keep up every day.
Maybe you already do this… but for me those few words spoken in passing were like the best tip ever.
Today I do okay at the housekeeping thing.  But, believe me, it just didn't happen overnight.  I'm grateful my husband never seemed to be bothered by my herky jerky housekeeping habits.  I'm also very grateful that he will do whatever I ask him to do and we make a pretty good cleaning team.
My mom taught me how to do the laundry (I missed the stain removal session), how to make a pie crust, how to can peaches and tomatoes, and how to sew.  The rest of the stuff… I picked up along the way.  Whenever I went to my aunt's home, I eagle-eyed everything she did.  I wanted to have a home that was perfect like hers.  Plus, I studied magazine photos and dreamed my home would look like those glossy images.
My dad gave me an etiquette book for my sixteenth birthday, but no one ever gave me a book on how to keep a house.
Donna Rosen Interiors via House of Turquoise
If you're like me, still learning and perfecting your homemaking skills,
you'll love to know that….
though you'll get those for sure!
You'll also get the following resources at your fingertips:
DIY/Homemade… fun and frugal ways to express your personal style
Devotionals and Faith… take a break from the daily grind to renew yourself
Finances… build a budget that works
Cooking & Meal Planning… serve easier, tastier meals in less time
Holidays & Special Events… brighten up old family traditions and create new
Homeschooling… homeschool with grace and ease
Marriage… heat up your marriage
Motherhood… find peace, balance & joy in mothering
Organizing… conquer the clutter and simplify your life
Pregnancy & Babies… enjoy a healthy pregnancy and prepare to nurture your baby
Health & Wellness… soothe aches & pains with natural remedies
Working from Home… hone your talents, live your passions and earn money to help your family
Cleaning… create a healthy, toxin-free home
For a short time the Ultimate Homemaking Bundle…

a complete library of:
76 eBooks
6 eCourses
1 audio download
2 online conferences, and
14 printable packs
…99 carefully selected resources designed to help you nurture the beauty and productivity in your home and family relationships… is only $29.97. (A total value of $984.74.)
That breaks down to 30 cents per book.
You get a 30-Day 100% Satisfaction Guarantee
PLUS… there are Bonuses…
No Ultimate Homemaking Bundle would be complete without the generous, inspiring gifts donated by companies that understand homemakers like you and me. Every gift is yours to keep and enjoy.
Now It's Your Turn
The proven, simple, and effective skills you need to transform your house into a home are all waiting for you in the Ultimate Homemaking Bundle.
This is your chance to get all the love, support, guidance and inspiration you need to nurture the beauty and productivity in your home and family relationships with proven, simple, and effective tools that really give you a boost as a homemaker.
Time is running out! The Ultimate Homemaking Bundle will only be available from 8:00 a.m. EST on Monday, April 20 until 11:59 p.m. EST on Monday, April 27.
Click here for more info or to buy now.
Happy homemaking!

Receive FREE inspiration like this in your inbox!  Sign up Now. 
Read the fine print about this bundle and read the answers
to frequently asked questions about the bundle.
Disclosure: I am an Ultimate Bundle affiliate and will earn a commission
from sales of the bundles. Thank YOU!
Sharing at with these extraordinary friends:
Imparting Grace : Living Well Spending Less