I'd love for you to Pin or share this image on Facebook or Instagram.
One thing I find myself doing more this time of year is cooking.
I'm sure it's because of the plentiful harvest of some of my favorite fruits and vegetables.
Now, I confess, I'm more of an eat-to-live gal, than a live-to-eat gal.
I'm totally in awe of those of you who are wonderful and creative cooks.  But, having said that, I can cook.  And yes, it even tastes pretty good. [wink]
These days I'm enjoying some new recipes assembled by my friend who not only loves to cook, but is a terrific cook.  When she first tasted this salad at a wedding reception she knew she had to make it.
Here's the recipe for a salad that's perfect for Fall….
Crunchy Grape Salad


Salad Ingredients

3  pounds of Seedless Grapes (mixed varieties)
2  8 ounce blocks of Cream Cheese (softened)
1  Cup Sour Cream
2  Tablespoons Brown Sugar
2  teaspoons Vanilla

Topping Ingredients

2  Cups roughly chopped Pecans
2  Tablespoons Brown Sugar

Instructions

For the salad:

In a large bowl, blend softened cream cheese, sour cream, sugar, and vanilla with a mixer until smooth.
Wash grapes, remove from stems and dry.  (Do NOT cut grapes.) Carefully fold grapes into the sweet cream cheese mixture.
Spread in one 9×13 Baking Dish or two 8×8 Baking Dishes.

For the topping:

In a medium mixing bowl blend the nut and brown sugar together until nicely mixed.
Sprinkle nut and sugar mixture on top of the grapes and cream cheese mixture.
Update:  a reader suggested glazing the nuts with sugar.  Or you could make or purchase candied pecans for your topping as well.  Yum!

Serve

Immediately, or chill to serve later.
Refrigerate.

And though this is called a salad…you could serve it as a dessert.
It would be perfect after a heavier meal.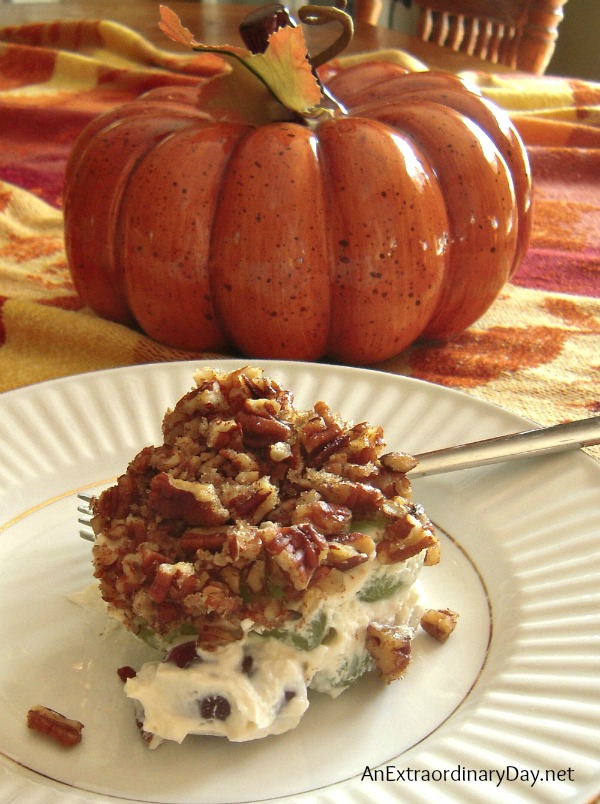 Who's going to give this salad a try?
Do you have a favorite Fall salad?
#InspiredFallNesting isn't just about putting out gourds and pumpkins and throwing a few leaves around.  It's about creating an atmosphere of warmth and peace and comfort.  It's about inviting friends in for food and fellowship.  It's about sharing our blessings and blessing others.
So…if you've done a bit of Fall fluffing….call up a friend or two….make something special or order in pizza….and enjoy some good conversation, food, and games.  You might even serve a Crunchy Grape Salad.
Wishing you An Extraordinary Day!
Diane
I'd be delighted if you'd share the extraordinary goodness here with your friends
by clicking any of  the sharing buttons at the bottom.
Receive FREE bits of inspiration like this in your inbox, subscribe now.