Do you need a safe place?
Maybe the better question to ask is, "What does a safe place mean or look like to you?"
When we had cats, we used to take them to the vet in a picnic basket.
A picnic basket is cute and handy for short trips.  But, once we started moving, we purchased official cat carriers for those long state-to-state trips.
I'm not sure why, but our cats liked their carriers.  If we were to leave the carriers somewhere in the house, with the doors open, they would go there to take naps.
Whenever we had an open house or outdoor parties or needed a repairman, we would place our cats in their houses er carriers.
As you might guess, whenever we took them to their safe place, they gladly hopped in.  And when we returned, we opened the carrier doors and expected the cats to be in a hurry to come out.
On one particular day after spending a few hours in their carriers, the cats were in such a state of peaceful happiness we had to coax them out.  Except for Taylor.  He refused to leave his tiny house.  When I checked on him over the next several hours he was still sitting curled up in his open carrier as content as could be.  As snug as a bug in a rug.  Eventually, he exited his safe place. Popping into the nearby room as if he were Cosmo Kramer (from Seinfeld) to say, "Hello!!"
We all look for different kinds of security… physical, emotional, spiritual.  Is there one that causes you more concern than another?
Though our handsome Taylor is now forever asleep, I cannot forget how he preferred to rest in his place of security over anything else.
What is your place of safety?
So many times, I attempt to temporarily create a safe place.
But, why do I do that when I can go to the God of the universe?
Why indeed.
Those who go to God Most High for safety
    will be protected by the Almighty.
I will say to the Lord, "You are my place of safety and protection.
    You are my God and I trust you."
The Lord says, "Whoever loves me, I will save.
    I will protect those who know me.
They will call to me, and I will answer them.
    I will be with them in trouble;
    I will rescue them and honor them.
I will give them a long, full life,
    and they will see how I can save."
God is so kind and loving.  He doesn't require me to jump through a bunch of hoops when I finally decide that I want my security and protection to come from HIM.  He only asks that I love him.
Have you ever noticed how it's easier to trust someone whom you love?
Hmm…  The more I choose to love God, the more I can trust him.
And the easier it is for me to say, "You are my place of safety and protection.  You are my God and I trust you."
What is God's response to my love and trust?
I will save you, protect you, answer you, be with you, rescue you, honor you, and give you a long, full life. (See Psalm 91:14-16)
I will say to the Lord, "You are my place of safety and protection. You are my God and I trust you."
Psalm 91:2
Just as my cat was contented to snooze in his "house," I can be secure and content in God.
The more I spend time with God, the more I love him, the more I can trust him, and the more secure I feel.
And like Taylor… I don't want to leave God's place of safety.
Do you love God?  Do you trust him?
He wants to be your one and only really safe place.  
He really does.
It's JoyDay!
I love JoyDay!  There isn't anything better than each of us sharing the good things God has done in our lives this week.  Both in the happy and in the challenges.
Will you join with me in counting 'seven' from the past week?
I'll start!
Thank you, God for…
my furry friends and those treasured moments I now hold in my heart.
being my place of safety.
a little time off for Tim and all the fun we had together.
new bikes and feeling the wind in my face. 
sunshine and sunburn and air conditioning on these beastly hot days.
Your healing that I'm so looking forward to enjoying in all its fullness.
lavishly loving and protecting us.
Now it's your turn!  
Please join me by tapping in your 'seven' in the 'share your extraordinary thoughts' section below. I dare you!
Thank you for stopping by and taking time to leave your sweet thoughts.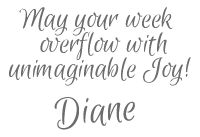 Receive FREE inspiration like this in your inbox!
Sign up Now.