While on Facebook, of all places, I was prodded to change my outlook.
I read a phrase that stuck with me.
Forget talking about your troubles.
Talking about our troubles is a bad habit for most of us.  It's what we do.
So if we can't talk about our troubles…what do we do?
Celebrate our joys!

I have a good friend that I chat with irregularly via email.  At this time in our lives it's the best form of communication.  It's efficient.  When we get the chance to talk on the phone….it's a looooong talk.  And we usually don't have time to do that very often.
Today I did something I don't usually do.  I emailed her something that had encouraged me, because I knew it would make her happy to learn of this wonderful word I received.
Because my friend and I have been long-term prayer partners and have gone through big challenges together, what I often find myself doing is sending her a quick email asking her to pray for something.  And sometimes I might even whine a little about a certain predicament.  But, not today.
After I shared the words that encouraged me, I asked, "Tell me the good things that happened in your week."
Later her response to me contained new plans for a little family getaway. The last time we spoke they weren't going to make any plans or do anything special for their time off from work.  I felt led to pray about that, for God to work something out for them.  So when she shared her plans I was so blessed to learn God answered my prayer for my friend.  Yay God!
She went on to share several more good things that happened or encouraged her heart this week.
And my heart was rejoicing along with hers!
This may not seem like a big thing.  But, it's these little things we can do that change the trajectory of our days, our weeks, our life.
Since day one here, I have been asking you to join me in counting 'seven' each Sunday.  JoyDay! has become like an institution on the blog.  Each week we count seven things from the past week….the good and maybe not-so-good things and give thanks.  For many of us counting gifts has become a regular discipline and sharing them in community here has been a blessing.
Something really big happens when we speak.  
Our mouths are powerful.  They can be a weapon or a blessing.  
I vote for blessing.
They can even prophecy the future.  (I recently learned of a man in jail, who was told growing up that he would never amount to anything and would spend time in jail.)
So why not use our mouths and our electronic communications to tell the good things, to celebrate joys.
Why not!
As I was praying, asking God to direct me to scripture for this post, he showed me this….
I am faithful to you, and you can trust me.
    I will sing and play music for you, my God.
I feel wide awake! I will wake up my harp and wake up the sun.
I will praise you, Lord, for everyone to hear,
    and I will sing hymns to you in every nation.
Your love reaches higher than the heavens;
    your loyalty extends beyond the clouds.
May you, my God, be honored above the heavens;
    may your glory be seen everywhere on earth.
Just reading these words, my heart sings!
Don't they make you want to start singing of God's goodness and greatness?
This verse jumped out at me…
I will praise you, Lord, for everyone to hear,
What a difference it makes to celebrate our joys.  When we share them out loud, we are singing God's praises.  And God is blessed when we sing his praises beyond the doors of our homes.
When we do this, we bless each other, we bless God, and we encourage each other to think and speak in ways that not only please God, but are truly life-changing.
So let's forget about talking about our troubles when we see each other.  Instead, let's ask and tell each other about the good things in our lives.  
I'm thinking there will be some real benefits to this such as…
Better sleep
Better relationships
Deeper conversations
More praying
More answers to prayers
Impacting our world…
If you think of more…share them.
Are you ready to praise the Lord for everyone to hear?
It's JoyDay!
Thanks for popping over today.  Please join us in community and count 'seven.'  We take a minute to breathe in grace when we look back over the past week and count the gifts and blessings from the week.  I hope you take the challenge.  Some gifts aren't exactly pleasant (don't I know).  Yet, in all things we are to give thanks.
Please join me in counting just 'seven' from the past week.
I'll start…
God, I am grateful for…
free Starbucks drinks to share with a friend and our heart-to-heart time together
seeing the very large and old great blue heron fly low across the lake
being able to pray big prayers because you honor big prayers
my laptop that keeps going, despite the frustration of a barely functional touch pad and letters skipping all over the screen as I type
the amazing colors and beauties you create for us to enjoy
my dear friends whose love and compassion are beyond measure
forgiveness and do-overs and Your amazing grace I so badly needed

Now it's YOUR turn!!
Join me in counting 'seven.'
Scroll down to the comment section…Share Your Extraordinary Thoughts….and list your 'seven.'
I dare you!
Thank you for stopping by and taking time to leave your sweet thoughts.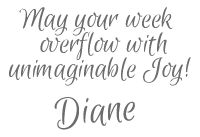 Receive FREE inspiration like this in your inbox!
Sign up Now.