Sometimes we just need a little perspective…
Just as the heavens
are higher than the earth,
my thoughts and my ways
are higher than yours.  
Those days when things aren't going my way… this is a good verse to ponder. It simply reminds me that I don't know the whole story… see the whole picture… or have the wisdom to know what's best for that situation.  What I need to do instead… is trust God.
You have looked deep into my heart, Lord,
    and you know all about me.
You know when I am resting or when I am working,
    and from heaven you discover my thoughts.
You notice everything I do and everywhere I go.
Before I even speak a word, you know what I will say,
and with your powerful arm
    you protect me from every side.
I can't understand all of this!
    Such wonderful knowledge is far above me. 
God is intimately interested and involved in every detail of our lives. Nothing escapes His eye.  How many times have I've been totally unaware of His protection? It's wonderful and mysterious.  It's mind-blowing to grasp how the Creator of the universe cares so deeply for you and me. And yet… He does.
I pray that Christ will live in your hearts by faith and that your life will be strong in love and be built on love. And I pray that you and all God's holy people will have the power to understand the greatness of Christ's love—how wide and how long and how high and how deep that love is. Christ's love is greater than anyone can ever know, but I pray that you will be able to know that love. Then you can be filled with the fullness of God.
When everything is said and done, there is just one thing that matters… Christ's love for us and our response to His love.  When we finally receive it, it's as if another world is opened up to us.  One that is beyond imagination.  One where we are invited to spend our lives discovering this amazing love, relishing it, and giving it away.
Today was one of those days when I needed to stop the striving… the wrestling so I could rest in the Lord and meditate on His word.  I hope these verses, which are so meaningful to me, remind you that God loves you more than you can imagine.  That He's always good, faithful, and near.  And that you never need to fear because He is always with you.
It's Joy Day!
Today is the day we take some time to look back over our past week and count the gifts and blessings from the past week.
I'm reminded that some gifts aren't exactly pleasant.  Yet, in all things we are to give thanks. Somehow, in the midst, joy comes and fills our hearts.
Please join me in counting just 'seven' from the past week.
I'll start…
God, I'm so thankful for…
Your word and how it breathes life into me.
the miracle of bud bursting open into bloom.
my dear precious friend.
working out a situation I was so stressed out over.
a fun shopping trip and lunch with a new friend.
the hope you've placed in my heart.
tonight's glorious sunset and enjoying it quietly with my loving husband.
Now it's YOUR turn!!
Scroll down to the comment section…Share Your Extraordinary Thoughts….and list your 'seven.' I dare you!
Thank you for stopping by and leaving your sweet thoughts.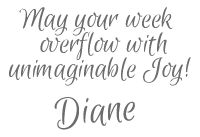 Receive FREE inspiration like this in your inbox!
Sign up Now.