Something happened on Good Friday.
I was preparing my Facebook posts for the An Extraordinary Day page… it wasn't something I wanted to do… I was just going through the motions… and then I found myself going from being detached… to totally desiring to speak and share Truth.  God's Truth.  Jesus' sacrifice.
Something happened to my heart in the midst of writing and preparing those posts.
Our church had a Good Friday service which we attended.  For several weeks I had struggled to join in the corporate singing.  But that night, I easily sang those songs.  I sang Truth.  And worshiped.  Really worshiped from the depth of my heart.
Something happened as I prepared and wrote those posts.
So when I read this verse in my readings… I just had to share it with you.
Praise be to the God and Father of our Lord Jesus Christ! In his great mercy he has given us new birth into a living hope through the resurrection of Jesus Christ from the dead, and into an inheritance that can never perish, spoil or fade. 
Speaking Truth… and praising the Lord is heart-changing.
But even more… this message of God's mercy… of Christ's resurrection… new life for us… and an amazing future that is ours… is the ultimate truth.  It's why we worship.  It's why we celebrate Easter.  It's why Jesus' resurrection rocks our world.
There's no more hoping things will be better… because our ultimate Hope is Jesus!
When He carried the cross… when He was pierced for our sin… when He went to hell for us… when He overcame death and came to life again… everything changed.  Forever.  Period.
This Truth is so amazing… so humbling… that it took my angry, stubborn heart and caused it to rejoice.
Whatever it is that's going on in your life… turn your focus from your situation to Jesus.  Look at Him and His sacrifice for you. Let it sink in.  And then… humbly… let gratitude flow from your heart.
Did my situation change because I changed my focus?  No it didn't.
What did change was the heaviness of my cares.
Jesus said…
"Come to me, all of you who are tired and have heavy loads, and I will give you rest. Accept my teachings and learn from me, because I am gentle and humble in spirit, and you will find rest for your lives. The burden that I ask you to accept is easy; the load I give you to carry is light."
When we focus on God's Truth…
and praise and worship and express our gratitude…
rest comes to us.
All of this is possible because of Jesus' sacrifice and resurrection.
As you celebrate Easter… take God's great mercy expressed through the death and resurrection of Christ…
and choose this new life offered by our living HOPE — Jesus.
It's heart-changing and refreshing.
Rejoice my friend… put on the garment of Hope… put on Jesus.
And be blessed.

It's JoyDay!
JoyDay! is a weekly practice here at An Extraordinary Day! where we take time to look back over the past week and count seven things in gratitude.  We count the good and the not-so-good… in community…. please join us…
I'll start…
Thank you God for…
Your gift of Jesus and this incomprehensible love and sacrifice.
the gift of additional time and knowing YOU are our HOPE.
two sunny days that were just what I needed.
drawing me to you.
your faithfulness in our lives.
my very sore, hurting, and tired hands.
all Your promises which are YES in Christ Jesus.
It's YOUR turn! Scroll down to the comment section and add in your "seven."
Happy Easter!
Thank you for stopping by and taking time to leave your sweet thoughts.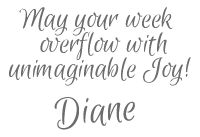 Receive FREE inspiration like this in your inbox!
Sign up Now.