My week was hard.
It was one of those weeks I don't ever want to remember.
The culmination was to hear untruths spewed out about my relationship with my mother (who died 11 years ago) by someone who has absolutely no idea.  Talk about a kick in the stomach.
So what do I do when my head is spinning and things seem totally out of control?
Drive to the big lake to see big waves.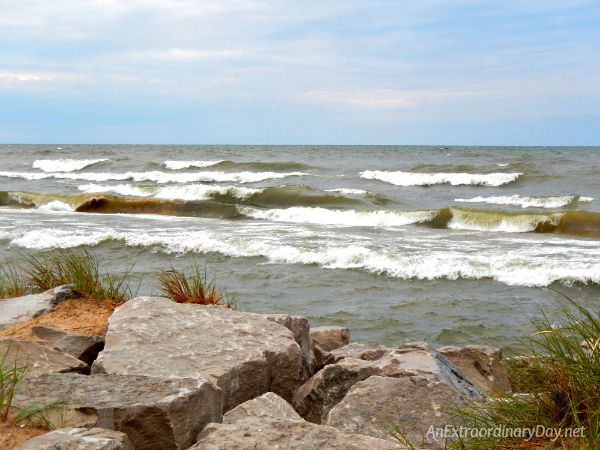 And stay until sunset, that in spite of the heavy gray skies, sprang forth with great brilliance.
Or on another day, go to a lakeside park with a bag of tortilla chips and salsa and sit at a picnic table to enjoy a silly, but tasty, substitute for a real supper.  And watch a new mama dip her baby in and out of the water and hug and love on her sweet pea.
Or walk the Lake Michigan beach and have fun watching the sandpipers skitter along and peck for something delectable and the seagulls dive and fight over sticks and a tiny plastic fragment tossed by the waves.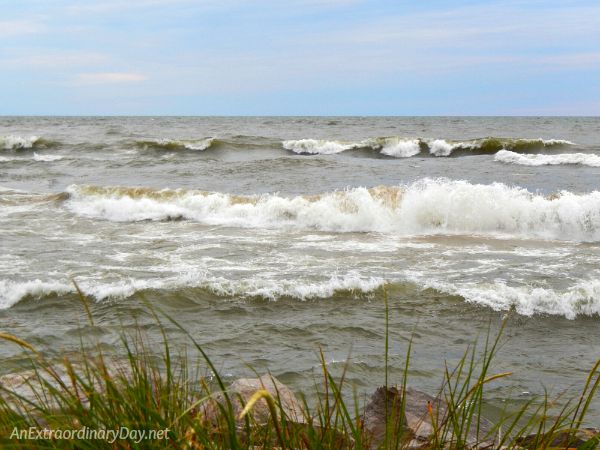 There's something almost magical about those moments.
You see in those moments we are totally alive…
We are fully engaged.
We are in the present.
Not the past.
Not the future.
Just this moment in time.
And in this moment in time… we touch eternity.
You see… whatever is past is past… it's a frozen piece of time… there is no life in the past… it's merely a memory.
And what about the future?
The future is unknown… it's rife with dread and hope and worries and expectation… all so far from reality.
Reality is now.  In this moment.
And in this moment… this is where we live.
This is where joy resides.
This is where we fully experience life.
Where do you live?
In the past?  The future? Or the present?
Some days we can get so caught up dwelling on what happened in the past and looking to the future that we totally miss the here and now.
We get caught up in not living.
We are joy-less.
Today, my devotional contained this verse…
"These things I have spoken to you, that my joy may be in you,
and that your joy may be full."
John 15:11
It grabbed my attention.
I KNOW this verse…
But today… I was joy-less.
And I wasn't just hungry for joy…. I was starving.
You see… I was guilty of dwelling (allowing my thoughts to be consumed) by things of the past and the unknowns of the future.  Allowing my mind to go to both of those places was paralyzing.  Maybe we could say I was frozen (past) in fear (future)… and I missed the present entirely.
How about you?
Do you ever find yourself caught up in the past or the future?
Where does it get you?
I want the joy of the present.
And not just a little joy…. I want my joy to be full.
Remember my little escapes to the lake?
Those were escapes to the present.
Escapes to joy.
Escapes to God.
There on the lakeshore my spirit was renewed.
Why?
Because there I am awed by the waves, the details, the colors, the wind, the birds, the reflections, the bubbles in the sand, and the setting sun all created by a God who extravagantly paints the skies and the tiniest details in a bird's feather.
There… life is bigger.  Greater.  Grander.
There my spirit is renewed.
There I find myself giddy with joy.
Do you need a lakeside escape in order to live in the present and be filled with joy?
No.  You don't.   But… if it's available… do it.  Or walk in the woods, or out in the fields, or garden, or anywhere outdoors.  Marvel at God's creativity and his creation.
Whether or not we have a nature escape into the present we all have an opportunity to LIVE in the present…
"I have loved you the same way the Father has loved me.
So live in my love.  If you obey my commandments, you will live in my love.
I have obeyed my Father's commandments, and in that way I live in his love.
I have told you this so that you will be as joyful as I am, and your joy will be complete.
Love each other as I have loved you.
John 15:9-12
Living in Jesus' love and expressing that love to each other is the best reality.  It's the most present present and it's the best present we have been given and the best present to give away.
To live in Jesus, loving each other with the love he's given us, is complete joy.
It's even better than the most beautiful sunset or the most exquisite mountain flower.
Those moments when we are fully alive in Christ… when we're living completely in the moment… those are the moments that our joy is full and complete… and those moments are most like eternity… they actually touch eternity. It's a perfect communion with God.  No wonder Jesus commands us to live in his love.
He didn't do it to put a burden on us… causing us strain.  Instead… it's the very opposite.  He has given us a way to live… fully… beautifully… joyfully…. in the present.  Because there… the past doesn't matter… nor does the future.
You know what? If I'm not careful, I can spend too much time with one foot in the past and one in the future that I miss living… I miss out on joy.
Our situations may not change.  But… that really doesn't matter does it?  Yes… I want my situation to change and you do too.  But, since living fully in Jesus, loving others, we will find joy.  And our current situation might just be the most joy-filled place to be.
Hmmm….
Speaking of JOY…
It's JoyDay!
I'm so glad you're here to join me for JoyDay!  I love it when we take time to share the good things God has done in our lives.  Both the good and the not-so-good.
Will you join with me in counting 'seven' from the past week?
I'll start!
Thank you God for…
this time to be near the lakeshore.
knowing that in spite of how things seem… you are always with me.
being in the details of life no matter how complicated things get.
being our provider. Every single thing comes from your hands.
a picture perfect night at the lake… a balm to open wounds.
your word that encourages and uplifts our hearts.
praying friends.
Now it's your turn!
Please join me by tapping in your 'seven' in the 'share your extraordinary thoughts' section below. I dare you!
Thank you for stopping by and taking time to leave your sweet thoughts.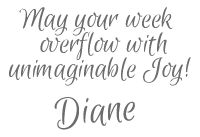 Receive FREE inspiration like this in your inbox!
Sign up Now.