It's Sunday!
Easter Sunday!
The day we celebrate the most transformational event in history…  Jesus Christ rising from the dead.
If you think about it… there were no believers… no Christians on Good Friday.
Sure, Jesus had plenty of followers up until that time… but then… most of them like Peter fled.
In fact, after the crucifixion of Jesus… Peter and Jesus' other followers hid in secrecy.  They thought they would be next.
But Jesus.
Jesus did something totally mindblowing…
After he conquered death and rose from the grave, he went to where his followers were holed up and slipped into that secret room to greet them and make himself known to them.  But they thought he was a ghost.  And because they were doubters, Jesus had breakfast waiting for them when they came in from fishing, and later walked with a group of them along the Emaus road where he was first mistaken for the gardener.
He helped them to see that HE WAS ALIVE!
He helped them to process all that had been said before that terrible day… that he was who he said he was and that he did what he said he would do.
It was amazing.
Their world was turned upside down during those days.
They were Jesus' witnesses.  it is because they personally saw, ate with, touched, and walked with Jesus that made it imperative to them to tell the whole story… so we… WE could know and believe Jesus, too.
It can be a lot to take in.
One thing we know for sure… God the Father loves us so much that he went to great lengths to demonstrate his love and mercy towards us.
We have two options… to respond in gratitude… or to respond in contempt.
For me, there is only ONE viable option.
To respond with humble gratitude and great joy.
Peter, at the end of his life, penned these words which to me say it all on this Resurrection Sunday…
Celebrate with praises the God and Father of our Lord Jesus Christ, who has shown us his extravagant mercy. For his fountain of mercy has given us a new life—we are reborn to experience a living, energetic hope through the resurrection of Jesus Christ from the dead. 
1 Peter 1:3
If you'd like to remember the first part of this verse, feel free to download this 8×10 scripture art printable.  Click here for your copy *for personal use only* then print it and slip it into a frame to enjoy.
Now that Easter services and dinner are over… will you continue to celebrate this extravagant demonstration of mercy?
Please join me in giving thanks below.
It's JoyDay!
JoyDay! is a weekly practice here at An Extraordinary Day! where we take time to look back over the past week and count seven things in gratitude.  We count the good and the not-so-good… in community…. please join us…
I'll start…
Thank you God for…
Your gift of Jesus and this incomprehensible gift of love and sacrifice.
the gift of additional time and knowing YOU are our HOPE.
all Your promises which are YES in Christ Jesus.
my dear friend and the joy of working together… especially on the challenging days.
all the unexpected sunshine we had today.
knowing YOU are our healer… please heal Tim completely.
all the blessings you pour out on us… I don't take one for granted.
It's YOUR turn! Scroll down to the comment section and add in your "seven."
Happy Easter!
Thank you for stopping by and taking time to leave your sweet thoughts.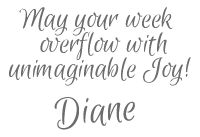 Receive FREE inspiration like this in your inbox!
Sign up Now. 
If you found this post helpful….please pass it on to your friends.