Download this 4×6 PRINTABLE  for personal use HERE.
1 Corinthians 13 is known as the love chapter.
It's often quoted and probably used more than another scripture for weddings.
This love chapter is full of "what if's."
What if I could speak all languages of humans and of angels?
What if I could prophesy and understand all secrets and all knowledge?
What if I had faith that moved mountains? (from 1 Corinthians 13 CEV)
What if?
Our what if's could go on forever.
So, no matter what I say, what I believe, and what I do, I'm bankrupt without love.
Love never gives up.
Love cares more for others than for self.
Love doesn't want what it doesn't have.
Love doesn't strut,
Doesn't have a swelled head,
Doesn't force itself on others,
Isn't always "me first,"
Doesn't fly off the handle,
Doesn't keep score of the sins of others,
Doesn't revel when others grovel,
Takes pleasure in the flowering of truth,
Puts up with anything,
Trusts God always,
Always looks for the best,
Never looks back,
But keeps going to the end. (from 1 Corinthians 13 MSG)
This is what perfect love looks like.  But, we're not perfect and we live with other imperfect people in an imperfect world.
We only have a glimpse of perfect love.  We've experienced it to some degree when we received God's gift of love, Jesus.  Truly and completely experiencing this real love in this dark and broken world is not fully possible.  When we finally see Jesus, then we will see, taste, and feel it like never before.
We don't yet see things clearly. We're squinting in a fog, peering through a mist. But it won't be long before the weather clears and the sun shines bright! We'll see it all then, see it all as clearly as God sees us, knowing him directly just as he knows us!
But for right now, until that completeness, we have three things to do to lead us toward that consummation: Trust steadily in God, hope unswervingly, love extravagantly. And the best of the three is love. (from 1 Corinthians 13 MSG)
So in the meantime… we have something to do that will help us to experience God's amazing love.
Actually THREE things.
Trust God no matter what.
Hope unswervingly – in HIM.
Love extravagantly.
Most days, I do my best to trust God and hope in Him.  But, I'm not so sure that I give much thought to loving extravagantly. Do you?
I think that's the kind of love that Francis Chan refers to as crazy love.
So what is extravagant love?
First I decided to look up the definition of extravagant in the Merriam-Webster online dictionary.
The Simple Definition of Extravagant
: more than is usual, necessary, or proper
: very fancy
: very expensive and not necessary
I looked a little farther at some of the synonyms and their definitions…
Excessive, immoderate, inordinate, exorbitant, extreme… going beyond a normal limit. excessive implies an amount or degree too great to be reasonable or acceptable <excessive punishment>. immoderate implies lack of desirable or necessary restraint <immoderate spending>. inordinate implies an exceeding of the limits dictated by reason or good judgment <inordinate pride>. exorbitant implies a departure from accepted standards regarding amount or degree <exorbitant prices>. extreme may imply an approach to the farthest limit possible or conceivable <extreme shyness>.
I think we're called to love God and each other  excessively, certainly without restraint, and definitely way beyond what anyone would ask or expect.  Yeah… that's crazy love for sure.
What would our little spheres look like if we loved God and each other that way?
So these three things continue forever: faith, hope, and love. And the greatest of these is love.
I dare you to love extravagantly this week.
Will you take the dare?

JoyDay! 
I love JoyDay!  There isn't anything better than each of us sharing the good things God has done in our lives this week.  Both in the happy and in the challenges.
Will you join with me in counting 'seven' from the past week?
I'll start!
Thank you God for…
Your amazing wonderful unbelievable love.
a wonderful new possibility.
the opportunity to meet with a dear sweet friend.
this bitterly cold weather.
seeing the lake change daily and "ice up" in ways we've never noticed.
homemade chicken soup…. I never tire of it.
these difficult days and knowing You're walking with me through each one.
Now it's your turn!  
Please join me by tapping in your 'seven' in the 'share your extraordinary thoughts' section below. I dare you!
Prayer update on baby Weston…  Weston and his daddy made the trip home to AZ on Wednesday and he had another check up on Friday and he is doing really well.  Thank you so much for your prayers.
My unspoken request remains…. but know God is at work.
Thank you for stopping by and taking time to leave your sweet thoughts.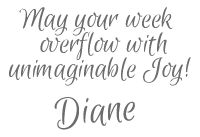 Receive FREE inspiration like this in your inbox!
Sign up Now.