A little over a week ago I went to a butterfly event at Meijer Gardens.
Walking through an indoor tropical garden hoping to see a few fluttery creatures was the perfect way to spend an end-of-winter afternoon with a friend.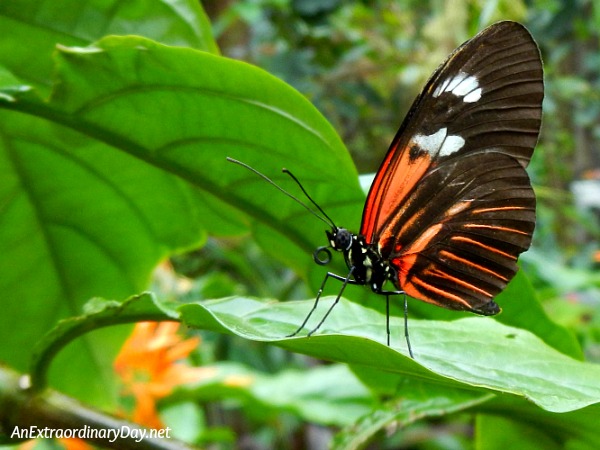 Butterflies are beautiful creatures, but have you ever wondered what the purpose is to their existence?
We know that they feed on the nectar of flowers and similar to bees they are helpful to the pollination process of the flowers.  It isn't a pleasant thought, but as caterpillars, they provide food for creatures higher up on the food chain and to some degree as well when they have morphed into beautiful winged creatures.
They are so exquisite there has to be something more.
After all, we are so in awe of butterflies and their beauty and fleeting movements that we create special areas in our gardens to invite them to come.  Conservatories even host butterfly events in the winter to celebrate the colorful, live works of winged art, we call butterflies.
When you notice a butterfly, does your heart not leap for joy? Isn't it just an amazing treat to watch butterflies flit from flower to flower?  Don't we wait with great anticipation to see the plain "brown" butterfly open its wings and show off its exquisite blue colors that only show in flight?  Our spirits soar and children dance in delight at the sighting of these magnificent creatures.
Their very existence glorifies their Creator.
That's what God wants for us, too.
Whatever you do—whether you eat or drink or not—do it all to the glory of God!
1 Corinthians 10:31 (The Voice)
Do you realize that even the most basic things you do each day bring glory to God?
This week a young woman who attended our former church went home after a 14 year fight with cancer.  My Facebook feed was filled with people telling how she pointed them to Christ by the way she lived so beautifully, fully, bravely, and courageously before her children and with her husband, in spite of a stage 4 diagnosis.  She was the brightest of lights in a dark world.  And she did it all, the good and the bad, to the glory of God.  She wore beautiful butterfly wings.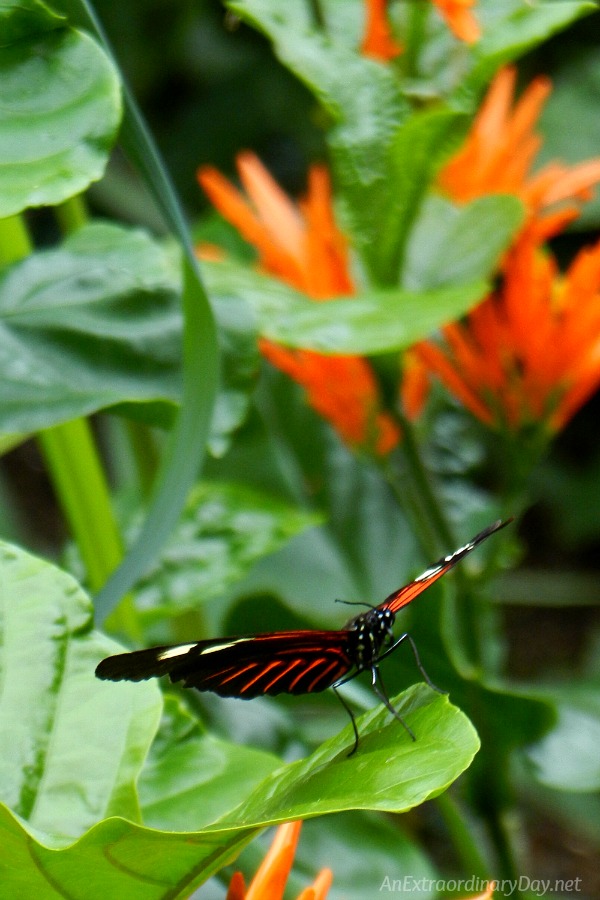 So how do we glorify God with butterfly wings?
Love God: 'Love the Lord your God with all your heart, with all your soul, and with all your mind.' Matthew 22:37
Trust God: But Abraham never doubted or questioned God's promise. His faith made him strong, and he gave all the credit to God.  Romans 4:20 CEV (full context: Romans 4)
Be thankful to God: Whatever happens, give thanks, because it is God's will in Christ Jesus that you do this. 1 Thessalonians 5:18 GW
Obey God: Let your light shine before men in such a way that they may see your good works, and glorify your Father who is in heaven. Matthew 5:16 NASB
When we do these things we glory God with butterfly wings.
Those intricately colored, beautifully patterned, joyful wings.
God is honored by the way we live.
And people who observe us also take joy in how we live.
That's the way our friend Kristie lived.  And now, even in her death, she continues to glorify God.
When we love God, trust him, thank him, and obey him, we will have beautiful butterfly wings.
We can go through life as caterpillars.  Or we can choose to follow Jesus… choose to love God, trust him, be thankful, and obey him.  That choice is the chrysalis of our faith.  From that choice we give birth to a new life… no longer to do we crawl… but instead we find life and the freedom of butterfly wings (life in Christ).
Do you have butterfly wings?
If not… talk to God… tell him you believe Jesus is his son… ask him to forgive you for all the bad things you've done… and tell him you want to follow him completely.  And if you've never done that before… tell someone.  I'd love to know too.
Let's glorify God with butterfly wings.
It's JoyDay!
The day we take time to look back over the past week and count 'seven'… our joys and our sorrows… and give thanks.
There's something wonderful that happens when we practice this counting.  We start to see things in our day differently, we live with more joy and expectation.  And peace.
Please join me in counting 'seven.'
I'll start!
Lord, thank you for…
melted snow and being able to walk more miles
your encouragements through scripture and friends
that you are so worthy of my trust
the most glorious sunset I can remember
seeing the my first two robins… finally!  Such a late arrival
a sweet friend generously sharing her talents
hope
Now, it's YOUR turn!
Scroll down to the "Share your extraordinary thoughts" below and tap in your 'seven.'  You'll be glad you did.

Receive FREE inspiration like this in your inbox!  Sign up Now. 
Let's connect!  Facebook :: Pinterest :: Twitter :: Google + :: Instagram :: Longaberger Lifestyle