Earlier this week I was sharing my life story.
I concluded my monologue with the words, I have hope and HOPE does not disappoint us. 
Do you have hope?
This week we hit a few new challenges in our journey in the "in between."
Frankly, aside from trusting God, I could throw up my hands in despair.
In sharing my story I realized that I am living in hope.
My hope is not the kind you can conjure up.
It's not hope based on positive thinking….though I do believe we need to choose a positive outlook.
It's simply based on knowing God and believing that he is my hope.
After I wrote those concluding words, I had to find the source.
I couldn't remember where in the Bible I had read them.
So, I Googled Bible Gateway with the phrase and voila! I found the verse.
The verse actually reads…
And this hope will never disappoint us, because God has poured out his love to fill our hearts. He gave us his love through the Holy Spirit, whom God has given to us. 
It's from the Book of Romans in the Bible.  Chapter 5 verse 5.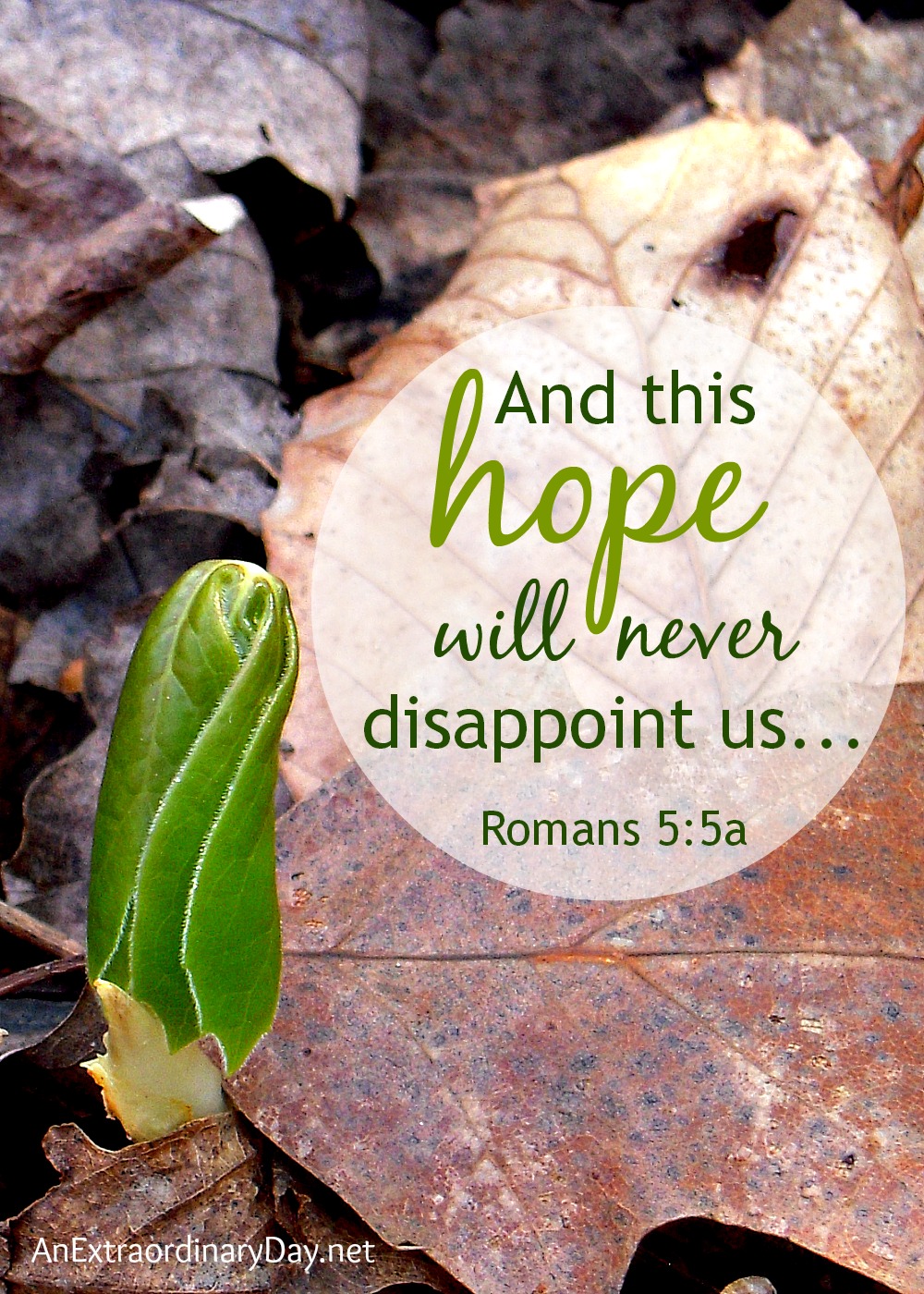 This past week, I have been slowly making my way through the Book of Romans.
Don't you love how God's word gets tucked away in the recesses of your heart and mind as you read the Bible?
I am so grateful for the work of the Holy Spirit, applying God's truths to my everyday life.
As I went back and read the verse in context of the chapter everything came together.
Here it is…
Since we have been made right with God by our faith, we have peace with God. This happened through our Lord Jesus Christ,  who through our faith has brought us into that blessing of God's grace that we now enjoy. And we are happy because of the hope we have of sharing God's glory.  We also have joy with our troubles, because we know that these troubles produce patience.  And patience produces character, and character produces hope.  And this hope will never disappoint us, because God has poured out his love to fill our hearts. He gave us his love through the Holy Spirit, whom God has given to us.  
                                                                Romans 5:1-5  New Century Version
I love how the passage confirms the confidence we have in God because of the choice we made to become a follower of Jesus.
It also speaks to the difficulties that come from living in this very fallen world.
And even more, the silver lining, so to speak, that comes from or through these difficulties.
Who would guess that our troubles would produce patience, which in turn builds character, which in turn gives us hope.
Not a pie in the sky hope either.
A hope that will never disappoint us.
Wow!  Never disappoint us.
Lots of things have disappointed me.
I'm pretty sure that I've disappointed my family, friends, and co-workers, as well.
What's the security deposit for this hope?
God's love.
Through the gift of the Holy Spirit.
What is it that is causing you to be discouraged?  Even hopeless?
You have every reason to hope.  Every reason to look ahead with expectation.
Every reason to live in victory.
Sure…we still may have those troubles.
But, those troubles are producing patience, character, and hope.
And hope trumps all.
Now when you say you have hope, you know why.
When you doubt and think you are without hope…read Romans 5:1-5.
God gave you his love and secured it with the Holy Spirit who is your comforter and guide.
Go live in this extraordinary hope…
Today is Joy Day!
I've been hearing it from so many.  Joy Day! seems to be the day you look forward to.  I am so blessed that you would join me each week…looking back over the past week and join me in counting the gifts and blessings from the week.  I'm reminded that some gifts aren't exactly pleasant (but many produce hope).  Yet, in all things we are to give thanks.
Please join me in counting just 'seven' from the past week.
I'll start…
God, I'm so thankful for…
seeing my favorite Great Blue Herons this week.
birdsong and seeing Red Winged Black Birds, Chickadees, Nuthatches, Sand Cranes, Cardinals, and Robins.
hope you placed in my heart and sealed with the Holy Spirit.
your promises….all YES! in Christ Jesus!
the fun of decorating a cake for the first time with my friend.
creativity that I thought left me.
knowing you really do "give us this day our daily bread."

Now it's YOUR turn!!
Join me in counting 'seven.'
Scroll down to the comment section…Share Your Extraordinary Thoughts….and list your 'seven.'
I dare you!
Want even more joy?  Take the Joy Dare here.
Thank you for stopping by today.
I appreciate you and your sweet comments make my day.
Joyfully,
Diane
To receive FREE bits of inspiration like this
in your inbox or reader, subscribe now.
Let's connect!  Facebook  ::  Pinterest  ::  Google +  ::  Shop-Longaberger Lifestyle
I'd be delighted if you'd share the goodness here with your friends.
Click any of the sharing buttons at the bottom.

Sharing at these Extraordinary spots:
Boogieboard Cottage + I Should Be Mopping the Floor + Create with Joy + Uncommon Designs + A Life in Balance + Carrie this Home + The Wellspring + The Dedicated House + A Holy Experience + Time Warp Wife + We are THAT Family + Polka Dots on Parade + Mums Make Lists + Katherine's Corner + Imparting Grace + My Freshly Brewed Life + The View From Right There