Have you ever felt like you were on the cusp of something new and big?
That's how I feel right now.
I can't exactly explain it, but this week God got our attention with some scripture verses that he put in neon lights so we wouldn't miss them.
And God is able to bless you abundantly, so that in all things at all times, having all that you need, you will abound in every good work. 2 Corinthians 9:8

 God is the One who gives seed to the farmer and bread for food. He will give you all the seed you need and make it grow so there will be a great harvest from your goodness. 2 Corinthians 9:10
We've been mediating on chapter 9 all week and these verses specifically.
Right now if we are to look at our lives with our small-minded human eyes those verses almost seem irrelevant to where we are right now.
And that's the thing.  We are often quick to dismiss our scripture reading.  We know it's God's word, it's good stuff, but sometimes we just don't see what the passages have to do with us and our current state.
Maybe that's why God turned on the floodlights so that we would SEE the passages.
Because we have been mediating on those passages from God's word all week… God was using them to mold our hearts.  He is the potter… we are the clay.
When we chose to be stubborn we aren't malleable. We make it impossible for God to shape and form us.  Reflect on that.  Are you open to God's guidance and shaping?  Or are you a tough dry hunk of clay?
Given our current situation I have no idea how God will use us.  Really that shouldn't be my concern.  Instead, I need to assess my heart. Am I willing to let God mold and shape me?
What I do know is that because we chose to infuse ourselves with the scriptures he drew us to him.  When a situation presented itself later in the week we didn't need to say, "Oh wait! I need to pray about this."  We knew what we were to do. God had already been preparing us.
So tell me… have you ever had some verses or a chapter in the Bible jump off the page at you?  Were you impressed to immerse yourself in it?  What happened because you did or didn't?
I truly believe that God is beginning a new thing in us.  I don't know what this new "thing" will look like.  But, I do know that when it's time I will totally know what it is.  God is in the midst of preparing us for it now, so that when the "opportunity" is presented, we will have no doubts.  It will be like Peter walking on the water… we're just going to want to follow Jesus.  In the mean time, we need to keep our gaze on Christ so that like Peter we don't falter and sink.  The good thing is… everything we need to stay the course is available to us in Christ Jesus.  God doesn't call us to do things we can do in our own strength.  He calls us to do things that require our leaning hard on him.  It's in those God-sized things God is glorified.
We're still meditating on 2 Corinthians 9… and will continue to do so for some time.  And as we do, I have no doubt God will direct us to other scriptures which will also jump off the page and grab our attention.
So today… there's no picking apart the scripture or life-application lesson.  Instead, this is an encouragement to be open to God and his word and his timing.  To be open to his leadership and guidance.  To take time to chew on the passages he shows you.  And most of all, to quit trying to make your own way.  We need to remember that God's ways are higher than our ways.
What's God showing you in his word?
What are you sensing God is leading you to do because of it?
It's JoyDay!
Always be joyful.  Never stop praying.  Whatever happens, give thanks, because it is God's will in Christ Jesus that you do this. 1 Thessalonians 5:16-18 
One of my favorite things of the week is JoyDay!  I look forward to this time where we give thanks in community…. for the good and the no-so-good.  It's an amazing way to re-set our compasses for the week.  To encourage one another.  And most of all to make our "joy-meters" soar.
Won't you join me in thinking back over the last week and counting just 'seven'  from a whole week's worth of opportunities for gratitude?
I'll start!
Thank you Lord for…
incredible pink sunrises and sunsets
a fun, thoughtful, and totally unexpected surprise
a renewed creativity
your amazing provision
your word that is alive and life-giving
getting to spend time with my dear friend
your power at work in my fellow "pray-ers."  Praying together in community and across the miles.
Now it's YOUR turn!
Please join me by tapping in your 'seven' in the 'share your extraordinary thoughts' section below.
Thank you for stopping by and taking time to leave your sweet thoughts.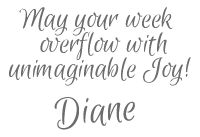 Receive FREE inspiration like this in your inbox!
Sign up Now.