Have you noticed how our hope can waver?  In the midst of winter and the never-ending gray… hope seems tentative.  But… come a blue sky sunny day… hope shines bright!
If you're floundering, there is ONE thing YOU CAN DO to find your HOPE again!
On those days when you feel hopeless, you're not alone.
Lamentations… the book filled with laments reflects those feelings we sometimes share…
I'll never forget the trouble, the utter lostness,
    the taste of ashes, the poison I've swallowed.
I remember it all—oh, how well I remember—
    the feeling of hitting the bottom.
Lamentations 3:19-20

It's okay to lament.  I think if that were not the case God wouldn't have included a whole book of laments in the Bible.
We may lament for a time… even a season… but each lament should be followed by a BUT…
Like this…
But there's one other thing I remember,
    and remembering, I keep a grip on hope:
God's loyal love couldn't have run out,
    his merciful love couldn't have dried up.
They're created new every morning.
    How great your faithfulness!
I'm sticking with God (I say it over and over).
    He's all I've got left.
Lamentations 3:21-24
Whatever it is that you have been lamenting… stop for a minute and remember.
REMEMBER…..
God's love never runs out…
His mercies never end…
every morning they make a fresh appearance… for YOU!
I'm sticking with God (I say it over and over).
This is what we want to keep in the forefront of our minds….
Each day our amazing generous and faithful God gives us His limitless love, grace, and favor.
Each day. Sunday. Monday. Tuesday. Wednesday. Thursday. Friday. Saturday.
And it starts over again 52 times in a year.
And when you slip… remind yourself…
I'm sticking with God (I say it over and over).
We need to renew our minds… remind ourselves… that our hope is God and He never gives up, He never goes away.  His love is constant and His mercies are new again every day.
How do we renew our minds?
We follow the path of the psalmist….
I will remember your great deeds, Lord;
I will recall the wonders you did in the past.
I will think about all that you have done;
I will meditate on all your mighty acts.
It's not unlike the counting we do each week for JoyDay!
We start by remembering the big things we know about God that we have read in the Bible and keep thinking of each one including all the ways God has shown His love and grace in our lives down to the smallest detail.
When we do… when we give Him praise and honor and glory for all of those things…
We open the door WIDE for Hope.
REMEMBER!
May God, the source of hope, fill you with all joy and peace by means of your faith in him, so that your hope will continue to grow by the power of the Holy Spirit.
It's JoyDay!
And time to get our joy meters soaring!
Please join me in thinking back over the past week and counting seven things for which you are thankful.  This simple exercise of counting and giving thanks together in this space is something we do each week to reset our compasses and put our eyes back on the Lord.
I'll start…
Thank you, God for…
Your never-ending love, grace, and mercy… even when I take it for granted.
a gray, gray week…. and unseasonably warm temperatures for January!
helping me make that hard phone call and the kind officer.
Your provision.  
a burst of creativity and helping me make something from nothing.
my little community of prayer and support.
being our Hope… every. single. day.
Now…it's YOUR turn!
List your 'seven' in the 'share your extraordinary thoughts' section below.  You'll be glad you did.
Thank you for stopping by and leaving your sweet thoughts.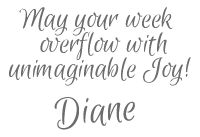 Receive FREE inspiration like this in your inbox!
Sign up Now. 
If you found this post helpful….please pass it on to your friends.