Welcome to Day 26 of 31 Extraordinary Days to Be…  Or…simply: Be…
Together, we will learn to Be… to live fully and beautifully in our "skin"
and in our homes and beyond.  If you missed The Introduction or you'd like
to follow the entire series, you can find each post listed here.
"We are not called by God to do extraordinary things,
but to do ordinary things with extraordinary love. "
Jean Vanier
Day 26 Challenge:  Because God loves us with an extraordinary love, we too can love others with that same love.  The freedom to be and do comes from receiving his love.  Have you received his love?  Are you freely lavishing that extraordinary love on others?
 ~    ~    ~    ~   ~    ~    ~    ~    ~    ~    ~    ~   ~    ~    ~    ~    ~    ~    ~    ~   ~    ~    ~
Catch up on all that's Extraordinary…
this week at An Extraordinary Day: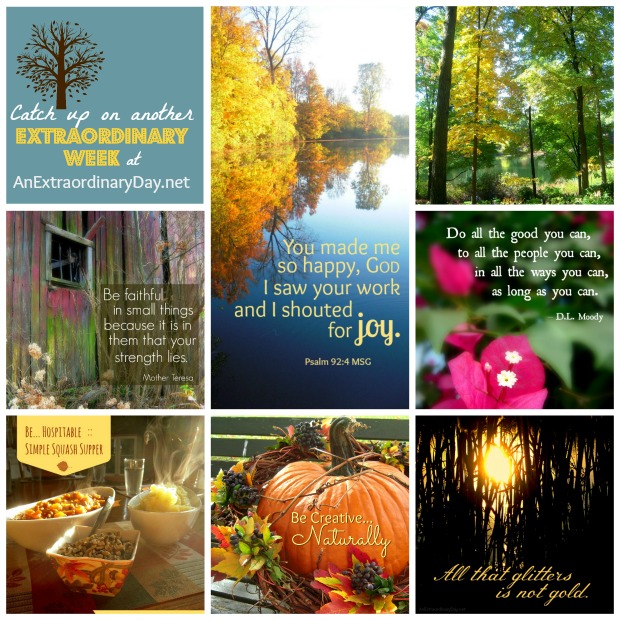 Here's a rundown of  this week's posts…
It was another Extraordinary Week on the blog!
This week began with some pretty amazing photographs.  It's not so much that I'm a good photographer…it's that God paints some amazing pictures for us to capture digitally.  Day 21…The squash dinner was really amazing.  I hope you're able to make it too.  Day 22…Some secrets are so fun to have…this one sure is.  Day 23…We all love pretties don't we?  Day 24…I am pretty happy with my wreath.  The freezing temps have drawn a lot of moisture from the leaves, but they're still look good on the wreath.  Day 25…The photo I used for the Mother Teresa quote was a fascinating old barn.  Many times I would take photos there.  Shortly before I moved the barn was torn down to make way for a new house.  Glad I was able to 'save it' digitally.
I'm still collecting ideas on how to be encouraging.
I'd be thrilled if you'd pop over here to add yours: 51 More Ways to Be Encouraging.
We have about 20 More Ways…on our way to 52!
Would you pop over to the post and leave a few of your suggestions?
Humbled and blessed. What a lovely blessing to have been featured at these lovely link parties:
Do Small Things With Love    ~    Imparting Grace    ~    DIY by Design   ~   Carolyn's Homework
Please be sure to pop over to these extraordinary spots!!
On a Personal Note.
Brrr…it's been a cold week!!  I 'm so grateful when the sun shines.  It makes the cold so much more bearable.  I know we'll get used to it, eventually.  The first cold blasts and flurries are always an adjustment.  Then again…any flurries stretch me. [wink]
For those of you who are praying…the first step was positive….now we're playing the waiting game again.  Wouldn't it be lovely if we're able to move by Thanksgiving?
Since I lost AdSense, I haven't much income on the blog.  My fingers are crossed that I'll have the dollars I need to pay for another year of hosting and my domain name.  If you're so inclined…there's a donate button on the side bar….thanks!!!!!
Wishing you an Extraordinary weekend!
Diane
I hope you'll consider visiting each day during this #31Day series
All the posts in the series will be added to this page each day of October.
If you would like to receive more inspiration in your email inbox,
subscribe now.
What a wonderful adventure this will be as we journey together to Be…
Let's connect!  Facebook  ::  Pinterest  ::  Google +  ::  Shop-Longaberger Lifestyle
Sharing with these Extraordinary spots:
Someday Crafts + Rose Chintz Cottage + From My Front Porch to Yours + A Delightsome Life + No Minimialist Here + Stone Gable + Live Laugh Rowe