Do you remember how God rescued the Israelites from the Egyptians by way of the Red Sea?  You would think that the people would have worshiped God continuously and trusted Him with every single thing.  Instead, they complained.  A lot.
They complained against God and said to Moses, "Did you bring us out of Egypt, just to let us die in the desert? There's no water out here, and we can't stand this awful food!"  Numbers 21:5
As I read this, I thought, how could these people have been so ungrateful.  Every day God provided them all they needed to eat for that day. He completely met their needs… even their clothes never wore out.
In spite of the ingratitude, God did hear their cries for water… As they continued on their journey, led by Moses, they came to a place called Beer, a well is there where the Lord said to Moses, "Gather the people and I will give them water."
That's also the same well the Israelites sang about in this song: Let's celebrate!  The well has given us water. With their royal scepters, our leaders pointed out where to dig the well.   Numbers 21:16-18
Finally!  They responded to God's provision with praise.
How many ways has God provided, healed, directed, nudged, or protected you and you just continue on your way without even so much as an acknowledgment?  Yeah.  Me too.
I attempt to practice an attitude of gratitude… but there are plenty of minutes and hours in the day when I barely skip a beat and keep on… even though God has done something for me.
When I realize it… I immediately need to seek forgiveness.
It frustrates me that I can be like that.  I'm pretty sure it frustrates God too.
This week I read a devotional meditation that encouraged me to make a practice of praising God.
The next morning I met a friend for "coffee" early in the morning and mentioned it to her.  She too mentioned that she needed to improve in that area.  And it was a challenge because the enemy was using a past experience to make the practice of praise difficult.  Later that morning I went to prayer group and the leader read the very same devotional passage that Tim and I had read at bedtime the night before on praise.
We have been in a spot where we needed God to move.  God was certainly directing me to simply praise Him and trust Him to work things out.  In fact, I believe that our praises were the very place that caused our well to erupt in answers and provision.
This verse speaks to Jesus' coming, but it also speaks to how streams of God's goodness will flow into our lives after our times in the desert.
Water will gush out into the desert, and streams will gush out into the wilderness.
Then the hot sand will become a pool, and dry ground will have springs.
I'm not going to tell you that the way out of the desert is praise, because like me, you may be in the desert for 7 years.  But, I will tell you that you can experience streams of life… an oasis… if you praise God while in the desert.
Recently our pastor reminded us of a portion of scripture in the Book of Ezekial, chapter 47.  As a prophet of God, Ezekial heard from God through a vision.  In this particular vision, God showed him water flowing out from under the doors of the temple and out the gates getting deeper and deeper until no one could walk through it as it was over their heads.  The water streamed farther until there was so much and so deep that it gave life to everything in its path… even the Dead Sea.
When we praise God… it's like opening God's life-giving waters.
We're filled with joy.
God's works in new ways.
And those places where our hearts and souls have felt dry or dead… they come to life again.
Remember my friend whom I met for coffee?  She picked up a date book at the store and started listing her praises.  Today, she mentioned in a text, "this new attitude of praise sure is freeing and fun!"
God wants us to experience the refreshing, life-giving waters that He has waiting for us.
The best way for us to tap into those waters is through praise.
Whether it's in writing a journal, or praying your praises, cultivate a heart of gratitude of praise and adoration for your Lord and watch to see how He works on your behalf.
Do you practice praise?
How do you practice praise? What benefits have you discovered from your practice?
Or… possibly you have struggled in this area.  What's your stumbling block?  What will you do to kick that block out of the way?
Let's work together this week to practice praise!
It's JoyDay!
And time to fill up our hearts with joy.
Please join me in thinking back over the past week and counting seven things for which you are thankful.
I'll start…
Thank you God for…
special times with my dear friend.
squishing my toes in the sand.
the prayers of Your saints.
Your faithfulness, love, and grace.
a really big answer to a prayer.
being able to stand in the sand at midnight and watch lightning flash behind the clouds in colors of peach and blue.
giving us fresh hope.
Now…it's YOUR turn!
List your 'seven' in the 'share your extraordinary thoughts' section below.  You'll be glad you did.
Thank you for stopping by and leaving your sweet thoughts.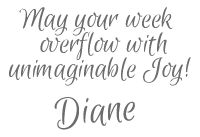 Receive FREE inspiration like this in your inbox!
Sign up Now. 
If you found this post helpful….please pass it on to your friends.
Click any of the sharing buttons at the bottom.