What do you do when you are going through a rough patch?
Do you go to bed and curl up in the fetal position?
Or…do you carry on praising God as if you're having the best of days?
If you would like to download this encouraging 8×10 image click here.  It's free!  For personal use only.
Okay…I confess…
I might not do the first.  But, this week has been extremely difficult and I surely haven't done the second, either.
I'm not suggesting that you must do the second.  But, it seems that Paul thought that we needed to have joy-filled hearts.  All. The. Time.
Except for the fact that Paul was in shipwrecks, in prison, in chains, stoned, and in a host of other not-so-fun events, I'd think he took the having a good attitude business a little too far.  At least this week it's seemed pretty unattainable.
Look at what Paul says…
Always be joyful in the Lord! I'll say it again: Be joyful!  Philippians 4:4 GW
It's interesting, The Message, Peterson paraphrased Paul's words this way...
Celebrate God all day, every day. I mean, revel in him!   Philippians 4:4
Every week I tell myself and you that God it totally trustworthy.  Because he is.
I remind us that he can do exceedingly abundantly more than we can ask or imagine.   I believe it.
I remind us that God loves us with an everlasting love.
You might even remember me telling you that all God's promises are YES! in Christ Jesus.
And those are just a few of the things I write for you….and me.  (Because I need the reminder, too!)
Yet, this week, I wondered why God was so silent.
Why everyone was so silent.
You surely have noticed that I've been silent.  The blog has been quiet.  And I haven't been writing replies to your grace-filled comments (Though I read each one carefully.).  I'm sorry for the last one.  Please forgive me.
How often do you hear that God comes in and saves the day at the last minute, the eleventh hour, or just in time?
He also tests us and lets the eleventh hour come and go and go and go and go and go.   I know.
And we wait.  Anticipating.  Expectant.  Weary.
What are we to do when it seems that there is nowhere to turn and nothing is going as we hope and pray?
Be joyful in the Lord.   Always.
[sigh]
It was a little easier today once the birds' nests I'm making for Easter dinner were finished.
Sinking my teeth into delicious leftovers (not having to cook!!) for supper helped.
And later…when a very tired girl went tramping through the hills and meadows with her guy on a hunt and came home with an armload of pussy willows…there was joy.  And happiness, too.
Little things.  Each one.
They are gifts from the Giver of every perfect gift.
Why are we still waiting?  I don't ask that question.
Instead…I circle (Have you read
The Circle Maker
* by Mark Batterson?).  And pray.  And pray more.
And wait.  And give thanks for homemade birds nests, leftovers, and pussy willows.
* An Extraordinary Day is a participant in the Amazon Services LLC Associates Program, an affiliate advertising program designed to provide a means for sites to earn advertising fees by advertising and linking to amazon.com.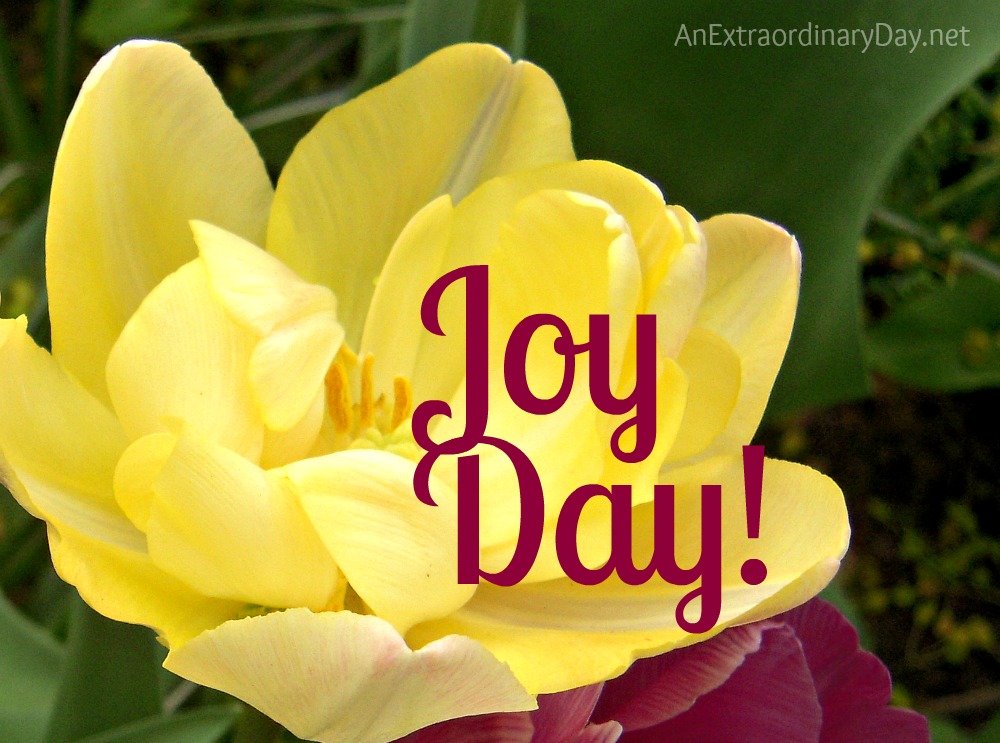 Today is Joy Day!
You have no idea how grateful I am to have you come here and join me in counting gifts/blessings/whatever you want to call them.  There's something wonderful about looking back over the past week and acknowledging the good things God has done and counting just 'seven' of them.  We're supposed to give thanks in/for all things.  That includes things like my not-so-good week, too.
Will you join me in counting just 'seven' from the past week.
I'll start…
God, I am grateful for…
a hard, hard week.
springtime and warmer temps and seeing the newness of spring. (If it were still winter…it would be too much.)
making us wait.  And wait.  And wait.
preserving my husband from a reckless driver as he walked alongside the road.
"the found" in nature to make "something" from.
pussy willows.  And not just a few.
a wee cat who wakes us up at 3:40  and 4:30 and 5:50 AM and sleeps peacefully by my side as I write, now.

Now it's YOUR turn!!
Join me in counting 'seven.'
Scroll down to the comment section…Share Your Extraordinary Thoughts….and list your 'seven.'
I dare you!
Thank you for stopping by today.
I appreciate you and your sweet comments make my day.
Joyfully,
Diane
To receive FREE bits of inspiration like this
in your inbox or reader, subscribe now.