What's your favorite sweet treat?
If you're like me and a gazillion others… there isn't much better than a chocolate chip cookie.  Unless it's a chocolate chip cookie with a cup of cocoa.
Recently on Facebook I shared a recipe that looked really good and one of our An Extraordinary Day readers mentioned that she had a similar tried and true recipe that she LOVED.  I asked if she might share it with me.  Last night I whipped up a batch and shared them with friends and they were a hit.
And because I can't keep all good things to myself… I had to share it with you.  Thankfully, Jen approves. 😉
Better get a napkin… because just looking at these cookies makes me drool!  Yup!  They are that good.
I know you were hoping for the recipe….
Light and Delicious Chocolate Chip Cookies

Ingredients:

1 Cup (2 sticks) Butter softened… NOT melted.
2 Eggs
1/4 Cup White Sugar
3/4 Cup Light Brown Sugar
1 teaspoon vanilla
1 package Vanilla Instant Pudding Mix (3.4 oz) Or 6.8 tablespoons of pudding mix.
2 1/4 Cups Flour
1 teaspoon Baking Soda
1 10 oz. package of Dark Chocolate Chips

Method: 

Preheat Oven to 375 degrees.
Mix butter, sugars, eggs, vanilla, and pudding mix until light and creamy.
Mix flour/soda mixture into creamed mixture.
Fold in chocolate chips.
Drop rounded tablespoon of dough onto cookie sheet (or light roll into a ball)
Bake at 375 degree for 8-10 minutes
Makes approximately 3 dozen.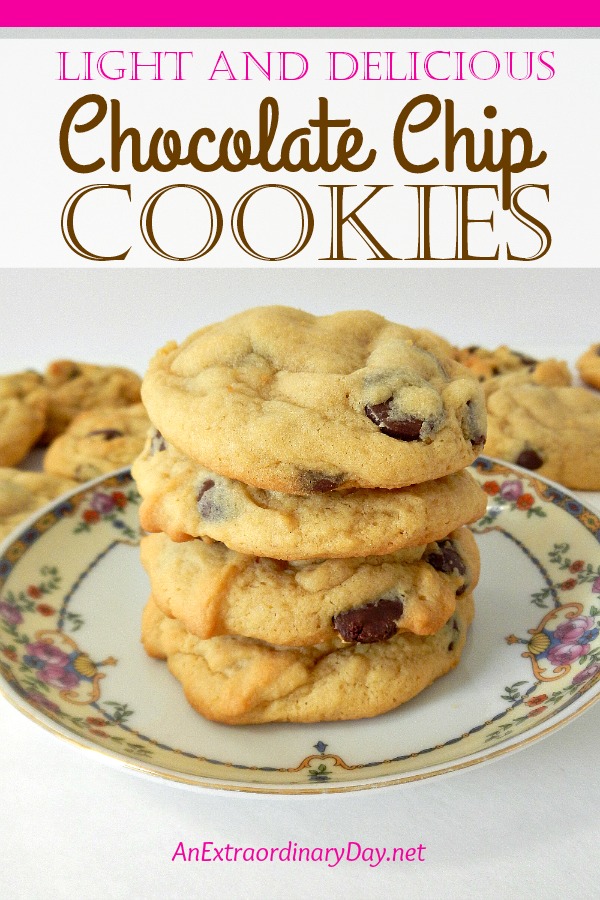 Pin this Image to Remember and Share
Enjoy your light and delicious chocolate chip cookies warm with a glass of milk or cup of cocoa.
For an extra fun treat, place a small scoop of vanilla or chocolate ice cream between two cookies. Mmm… good!
And be sure to invite me over to indulge in the deliciousness with you.


Receive FREE inspiration like this in your inbox!  Sign up Now. 
Let's connect!  Facebook :: Pinterest :: Twitter :: Google + :: Instagram :: Longaberger Lifestyle