What colors elicit the feeling of Spring for you?
Yellow is one of my favorite colors, so when the Daffodils begin blooming, it's like I see happiness popping up all over my world.
Several years ago as I was going through my parents' cupboards….you know the way-up-high kitchen storage that once an item goes up there, no one ever sees again?   That's where I found this yellow Crocus planter.  As I was trying to decide what to put together without spending a dime, I remembered that bright yellow pot I had taken home with me.  It was the starting place for this yellow, blue, and white tablescape.
I love the mix of modern and vintage, here.  The Crocus planter looks very contemporary, yet, I'm guessing that it is from the 40's, maybe earlier.  My dinnerware is Longaberger Woven Traditions, the vintage flatware was my grandmother's, the cobalt goblets
were a special discovery, and the provincial styled table linens
came from my favorite small shop in Grand Haven, Michigan, back when I lived in the mitten state.  A very eclectic mix.
What makes it all work is the color theme of yellow, blue, and white.
A vintage doily holds down the centerpiece and is encircled by a light and airy wreath in our color scheme.
In the center of the Crocus pot, which I filled with small river pebbles, are some silk Daffodils.  Instead of flowers poking up through the small outer holes I decided to do something a bit more whimsical.   Blown eggs in white and dyed blue are set on the openings.  (Just to make sure they don't fall off, I used a bit of sticky tack to secure them.)  Isn't it fun?  Perfect for the season.
You'll notice that on top of each napkin is a miniature cobalt blue covered chicken dish
.  One of these is vintage.  The other I picked up for just a few dollars when I lived in Indiana.  I have no idea which is which any longer, nor do I know if the tops and bottoms are properly married.  Oh well.
I think it would be really fun to have a large version of the cobalt covered chicken dish
to use in a centerpiece.  Wouldn't it be stunning with the miniatures?
Since we live a long way from family, I have set this rustic work table for just the two of us in the sunroom.   We save the traveling for summer when we can enjoy wiggling our toes in the sand and walking along the shores of the Big Lake.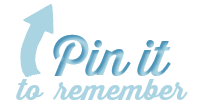 Since I am on a spending freeze, I am challenged to create a pretty table setting for Spring and Easter with what I have in my stash.  Yes, I am grateful to have some very lovely things.  Yet, how many times do we find ourselves putting together a table setting thinking that we need fresh flowers, or this or that little cute thing to make it perfect?   I want to encourage you to play with what you have and see just what you might be able to put together without running off to the store.  If you do end up at the store…that's fine.  The exercise is in working creatively with what we have, first.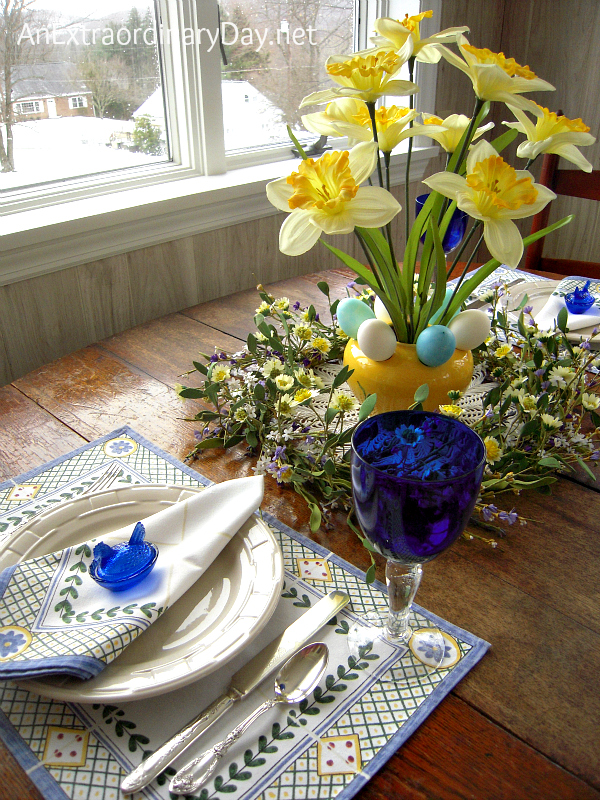 Yellow, white, and blue.  One of my favorite color combinations.  Cheerful, bright, and crisp…with a handful of whimsy thrown in for good measure.
Look! The winter is past.
The rain is over and gone.
Blossoms appear in the land.
The time of the songbird has arrived.
The cooing of the mourning dove is heard in our land.
Song of Solomon 2:11-12 GW
What are you doing to get ready for Spring and Easter?
Thanks for stopping by today.  Your sweet words make my day when you take time to leave a few.   If you enjoyed this post, would you please hit one or more of the sharing buttons to the left or below and let your friends know they too can have An Extraordinary Day!  Thank you!!
Happy Spring!
Diane
To receive bits of inspiration like this in your inbox or reader,
subscribe now.

More Inspiring Tablescapes
Tablescape :: Vintage Mason Jars & Book Pages
White and Blueberry Tablescape for Summer's End
Spring Tablescaping | Bird's Nest Themed Easter Table