I hate this place where I am right now.
I have a secret.
Secrets are hard to carry around.  Some of you know my secret… but really I don't want anyone to know.  It's humbling.  Embarrassing. And I wouldn't wish it on anyone.
I'm a blogger who blogs about creating a beautiful home and doesn't live in her own home.
No… I'm not renting.  I'm living with another family.  Another family who loves me like family.
It's what happens when a job is lost and there's no unemployment and work doesn't come no matter how many times you apply or where you apply. Smart, successful, educated people can end up homeless.
My too much stuff sits in storage units in another state.
Yes… my husband did get a job… working for a great dealership selling cars.  Commission sales.  Almost half his income has gone to repair our car…. so he could make the drive to work.
We've got a big mountain ahead… to save enough to get our own place, get our stuff out of storage, and all the costs involved in starting again.
I'm weary.  Constantly I am praying and asking God to hurry and get me to my next spot.
And then I read something today that was like a slap in the face.
My discontent has prevented me from seeing that this place is the most wonderful place I could be.
You see… it's here that I have to rely fully on God.
It's here that I need to drink from his endless fountain.
It's here I'm challenged and grown.
It's here my thirst is quenched.
I NEED God.  I NEED everything he has to offer.  He IS the source of all life to me.
I've missed understanding that.
You see… if all my ducks were in a row…
If I was sitting in my own pretty house with everything the way I wanted it….
If my life was going the way I planned…
I wouldn't need to constantly be at God's fountain.  I would be running my own water.
And if I were… I would be getting less than second best.
What God has for me is so amazing, so wonderful, so sustaining… nothing can compare.
Why in the world would I not realize that this "place I don't want to be" is the place where most would love to be… only they don't know it… and I haven't appreciated it.
You see… the "stuff" of life is just that… stuff.
Where we live… what we wear… even having a home or clothes or not… it's stuff.
God does not want us to focus on that.  He wants us to focus on him and the life he has for us.  He wants us to fill ourselves up with HIM.
John Piper wrote… "God is a mountain spring, not a watering trough. A mountain spring is self-replenishing. It constantly overflows and supplies others. But a watering trough needs to be filled with a pump or bucket brigade.

If you want to glorify the worth of a watering trough you work hard to keep it full and useful. But if you want to glorify the worth of a spring you do it by getting down on your hands and knees and drinking to your heart's satisfaction, until you have the refreshment and strength to go back down in the valley and tell people what you've found."
God has placed me at the mountain spring.  I need to drink and drink and drink from it.
And when I have been refreshed… in his timing… I'll be in that next place.
And in that next place I won't be stuck on the stuff (I hope), instead I'll be stuck on him and will be able to live in such a way that I can show others the way to the mountain spring as well.
Have you found the mountain spring?
"Whoever drinks the water that I will give him will never be thirsty.
The water that I will give him will become in him a well of life that lasts forever."
Jesus
from John 4:14 NLV
Are you drinking in all that God has to offer you?
Don't be like me… sitting next to the spring but wishing you were somewhere else.
Instead… refresh yourself at God's mountain spring.
Drink deep.
And then don't forget to let others know about how your thirst was quenched.
It's JoyDay!
I'm so glad you're here to join me for JoyDay!  There isn't anything better than each of us sharing the good things God has done in our lives this week.  Both in the happy and in the challenges.
Will you join with me in counting 'seven' from the past week?
I'll start!
Thank you God for…
rain and the moments in between to walk in your refreshed world.
a picture perfect day and that moment of exquisite light on the lake.
hummingbirds and their frenzy at the feeder.
being my source… all I am and have comes from You.
my limping along laptop with letters flying randomly around the screen as I type.
sitting in the bookstore and soaking in the inspiration.
a new week ahead and all the promise it holds as we keep our eyes fixed on You.
Now it's your turn!  
Please join me by tapping in your 'seven' in the 'share your extraordinary thoughts' section below. I dare you!
Thank you for stopping by and taking time to leave your sweet thoughts.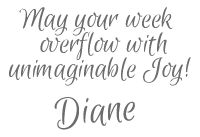 Receive FREE inspiration like this in your inbox!
Sign up Now.