We talk about living with joy here at An Extraordinary Day.  All the time.
But, it doesn't always happen, does it?
What do you think is your number one joy stealer?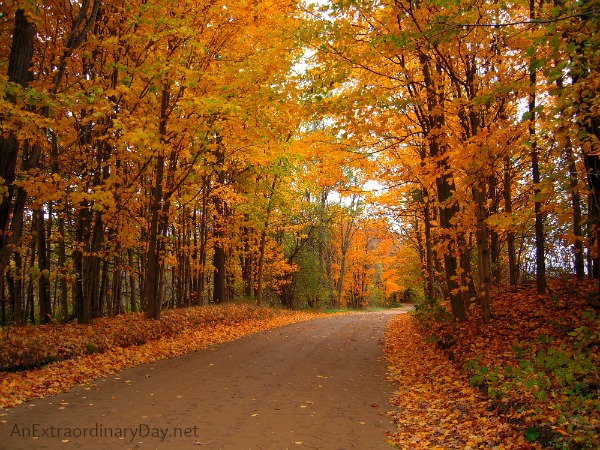 Fretting!
Let's stop for a minute and think about this.
If you find yourself stewing on something, fretting about it, trying to figure out how something will or won't happen, you are expending a lot of mental energy.
Wasted energy.
Fretting does not produce anything other than more worry.
All the fretting in the world doesn't change the outcome of a problem.
Fretting is a real joy stealer.
God knew we would have a problem with it too.
Thanks why he tells us in the Bible…
Don't fret or worry. Instead of worrying, pray. Let petitions and praises shape
your worries into prayers, letting God know your concerns. Before you know it,
a sense of God's wholeness, everything coming together for good, will come
and settle you down. It's wonderful what happens when
Christ displaces worry at the center of your life.  
Philippians 4:6-7 (The Message)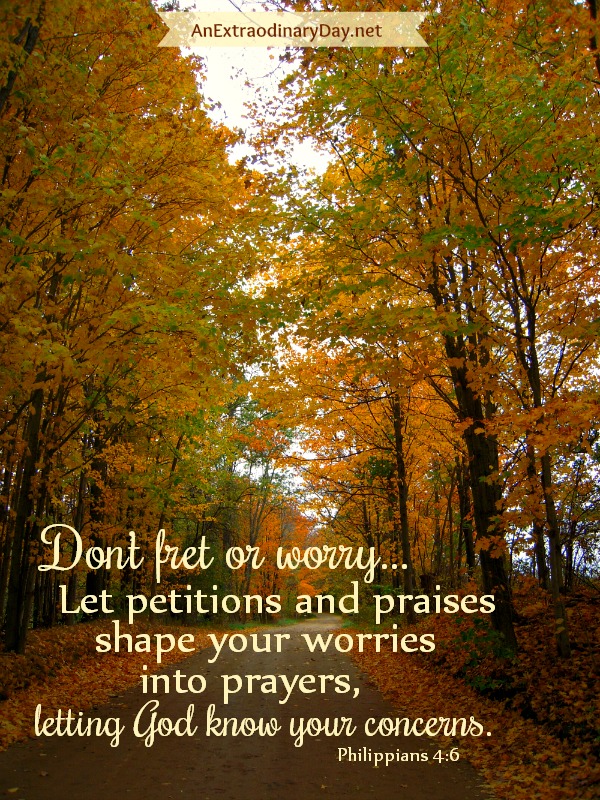 Please … "Pin-it" – Share it on Facebook – Stumble it!
One of the best ways we can honor God and give him glory is to let him solve our problems for us.
We need to make praying, asking him for wisdom, spending time in his word, recognizing he is our provider, leaning on him wholly, and trusting him fully… our lifestyle.
It may not be easy… but oh it is so worth giving up that heavy burden.
Jesus said…
Walk with me and work with me—watch how I do it.
Learn the unforced rhythms of grace. I won't lay anything heavy or ill-fitting on you.
Keep company with me and you'll learn to live freely and lightly."
Matthew 11:29-30 (The Message)
I recently had a realization about fretting.  It's sin.  And it's an open door for the enemy to turn our lives upside down, if we spend any amount of time entertaining those anxious thoughts. In Matthew 6:25-34, Jesus very specifically tells us not to worry or fret.  He created us and he knows how we function… therefore he knows what's best for us.  He wants us to come to him for every. single. little thing.  He wants to be a part of every decision we make… every step we take.  To be fully integrated in our thoughts… no matter the circumstance.  When he is… we experience his grace and peace and JOY!   And when we can have that, why would we want to let the number one joy stealer steal God's best for us?
 How about we make a pact this week to purposely live with joy!

Let's quit fretting?
Joy Day!
We all need more joy in our lives.  In addition to giving up on fretting… giving thanks is a great way to get more joy.
Take a few minutes to look back over the past week and see God's hand at work.  (He really does work all things together for our good… in spite of ourselves.)
Let's count our blessings and give thanks in all things.
Won't you join me in counting just seven?
Your joy meter will rise.  Guaranteed!
I'll start…
Thank you, God for…
your timing!
your hand of healing, working in me.
people who pray for us.
for an easy fix for our car.
your amazing everlasting love.
the "new" Pinterest and the increased traffic from it.
faithful loving friends.
Now it's your turn!
List your 'seven' in the share your extraordinary thoughts section below.
You'll be glad you did… I dare you!
Want even more joy?  Take the Joy Dare here.
Thank you for stopping by today.
I appreciate you and your sweet comments make my day.
If you enjoyed this post….please pass it on to your friends.
Click any of the sharing buttons at the bottom.
Joyfully!
Diane
To receive FREE bits of inspiration like this
in your inbox or reader, subscribe now.
Let's connect!  Facebook  ::  Pinterest  ::  Google +