Fourth of July is probably my favorite holiday to celebrate.  More likely, it's the height of summer and I want a reason to party and celebrating our country's independence is the perfect excuse.  Then again, what other holiday has flags to wave…  or even a theme, design, and colorway all its own?
Today I thought I would put together a few ideas to help you throw your own 4th of July bash… simply, beautifully, and easily.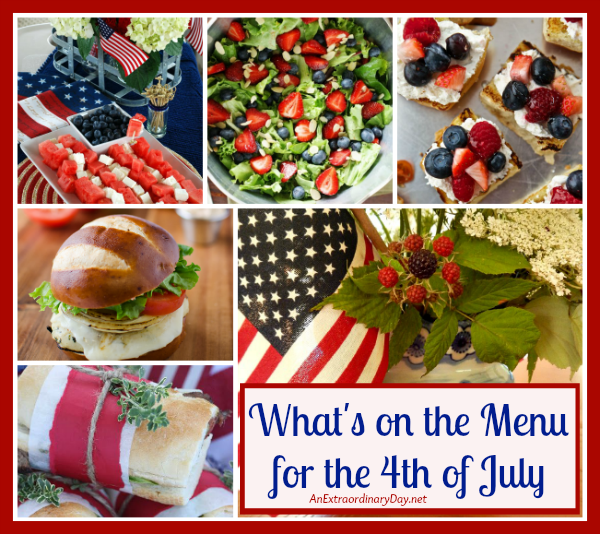 Most parties are all about the food.
But, I confess… I am usually about the presentation.
The two can easily be melded together.  The key is to have fun prepping for your party but not to spend oodles of time and money on table decor and other decorations.
Let's get our party together!
Table Decor
This time of year, Queen Anne's Lace is making an appearance across the fields.  A wildflower that's white and always in abundance is perfect 4th of July decor.  Whether you mix it up with other flowers or as I did here with some wild black and red raspberries, be sure to add a few American flags to your bouquet.  Here I used a blue and white container, but a mason jar would be a wonderful container as well.
Casual Simplicity :: Patriotic Tablecape
I think American flags in a variety of sizes are the perfect decor for a 4th of July gathering.  Plus, you can stick them in jars, flower pots, and more.
If you're entertaining outdoors, skip the disposable plates and glasses and napkins.  I love this easy, practical, and colorful way to set out drinking glasses, napkins, and silverware.  With this arrangement, nothing gets blown away and it looks fabulous on your serving table, or even at individual place settings.
If you've been wondering about what to put on the menu for the 4th of July, you're in for a treat!  I've put together a wonderful selection of yummy foods to make it super easy for you.
Appetizers
A Watermelon, Feta, & Blueberry Flag appetizer will be a flash to prepare and it almost serves as table decor with its flag design.  I LOVE that!
This Sweet Berry Bruschetta with Cream Cheese already has me drooling.  You too?
Marla Meredith – Family Fresh Cooking
Main Dish Sandwiches 
Instead of the usual burgers… why not try these Flank Steak Sandwiches on baguettes. They are filled with delicious grilled flank steak, gruyere cheese, roasted red peppers, fresh garden butter crunch lettuce and a pesto mayonnaise.
This Roasted Red Pepper & Provolone Grilled Chicken Sandwich on a Pretzel Roll is a great alternative to burgers and dogs for summer grilling.  In fact, you could grill this chicken up ahead of time.  When it's nearly time to eat… fill a tray with bun bottoms topped with chicken and provolone and slide them under the broiler to warm and melt and then quickly top with the fixin's.  Easy!!
How would you like to have a 4th of July party without grilling?
We went for several years without a grill.  Actually, we had a Weber grill which we never unpacked at our last move.  Grilling isn't for everyone.  And that is okay.  If you'd like to skip the grill why not make a big pan of these Baked Ham and Swiss Sliders.  Tons of flavor and super easy to create in quantities for your gathering.
There isn't any reason you must serve hot sandwiches.  If you'd got a favorite cold sub sandwich… go with it. In fact, if you live near a Wegman's their sub sammies are amazing.  A tray of those will be a hit for sure.
Salads & Side Dishes
A simple fresh salad is always welcome…
Doesn't this Strawberry, Blueberry & Greens Salad with Honey Vinaigrette look festive?
Everyone expects potato salad for a cookout.  Surprise your family and friends with a fun yet unexpected twist to a perennial favorite with this Summer Veggie Potato Salad.
I love corn than hasn't been cooked to death.  It's so sweet and crunchy and full of flavor.  When I discovered this salad… I just knew it needed to go on our menu.
Surprise the veggie lovers in the crowd with Grilled Veggie Kebobs.  There's nothing like roasting vegetables to intensity their flavor and sweetness.  Veggie kebobs are so colorful, plus isn't it fun to get food that's served on a stick?
Beverages
Hydration is always important during the summertime… so be sure to have plenty of beverages.
Personally, I prefer water.  Why not freeze some fruit for adding to your water or other sparkling beverages.
Dessert
No party is complete without dessert!  For those attempting to go sugar-free… this dessert is really an abundance of fresh fruit arranged in a stars and stripes pattern with yogurt covered pretzels for the white stripes.  So clever!
I've always been a fan of floats and this one, made with black cherry soda, not only looks patriotic, but would be mouth-watering delicious!  Raise your hand if you'd like one right now.
On Monday…. I'll be back with a dessert that is absolutely perfect for 4th of July.  
It's beautiful… it's art for your table… it's easy… and delicious!
Stars and Stripes American Flag Pie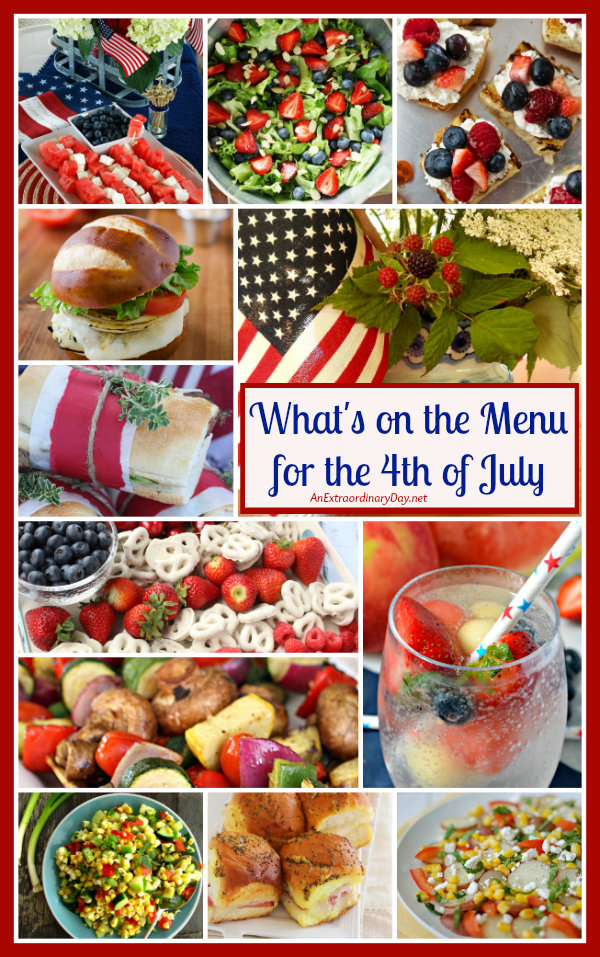 I hope you're just about set now for your 4th of July celebration.  
I've tried to cover most of the bases to help make your special gathering… extraordinary!

Receive FREE inspiration like this in your inbox!
Sign up Now. 
Click the Image for More Ideas to Make Your 4th of July Spectacular!