This week was a double header.
No there wasn't any baseball involved.
However, I did enjoy two celebrations in one week.
And a really big one too.
Tuesday was my birthday and then five days later we celebrated our anniversary.  It's a big milestone kind of anniversary.  One for which you gather your friends for a party or take a cruise or celebrate by purchasing a new fun car.
I'm sure you know our budget isn't capable of  even thinking of such extravagances.  So we did little things… like split a yummy pretzel sandwich and soda at cute little bakery cafe downtown on my birthday, spend a few hours at the beach,  and enjoy an amazingly delicious Margherita pizza for our anniversary dinner. (Both meals were courtesy of an unexpected $25 appreciation gift certificate.)
And so we celebrated because the Lord had indeed worked miracles for us.
In times past we would have gone on a weekend getaway for our anniversary, but this year, we took advantage of what God so graciously provided…. including perfect weather and a glorious sunset.
We might not have a penny to our name anymore… but we are rich.  How grateful we are for good health, happiness, and 40 years of almost bliss. [wink]
So… today's post is simply an expression of humble gratitude.
Everything comes from him;
Everything happens through him;
Everything ends up in him.
Always glory! Always praise!
Yes. Yes. Yes.
All the images were taken during our time at the lake.  They are a bit random and yet express the joy of my heart.
It's JoyDay!
And time to get our joy meters soaring!
Please join me in thinking back over the past week and counting seven things for which you are thankful.  This simple exercise of counting and giving thanks in community is something we do each week to reset our compasses and put our eyes back on the Lord.
I'll start…
Thank you, God…
for my husband and his loving faithfulness.
for our beach and the way we forget our cares and relax when we're there.
for renewing our hope.
another year of living and following you.
my dear friends and their birthday blessings.
for knowing YOU are at work, fighting for us.
for future grace… keep us strong as we wait on You.
Now…it's YOUR turn!
List your 'seven' in the 'share your extraordinary thoughts' section below.  You'll be glad you did.
Thank you for stopping by and leaving your sweet thoughts.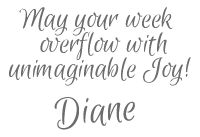 Receive FREE inspiration like this in your inbox!
Sign up Now. 
If you found this post helpful….please pass it on to your friends.