Living on the edge of the woods with all that natural beauty inspires me in my Christmas decorating.  This year I purchased a skinny tree and filled it with rustic farmhouse Christmas tree decorations I made.  It's easy and inexpensive to create ornaments using the bounty of nature.
Remember the 31 Days of Handmade Christmas Ornaments that we were so inspired by back in October?  We enjoyed it so much that my friend, Mary Beth and I invited the group back for our First Annual Extraordinary Christmas Trees Tour.  Not everyone could join us, but we have 13 gals for a fabulous 3-Day line up of extraordinary Christmas tree inspiration for you.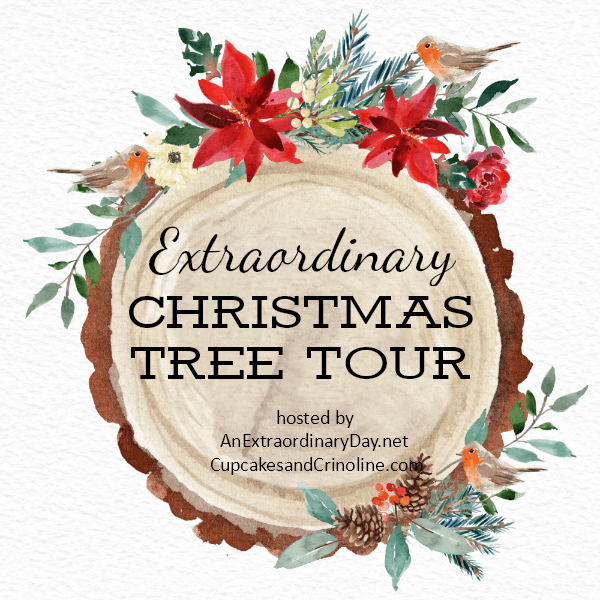 It started with this ornament.
This handmade birch and pine cone ornament was the impetus for creating and styling a nature inspired rustic farmhouse tree. One particular comment about that ornament convinced me to visually tie all the decorations together with black and white buffalo check ribbon and black and white bakers' twine.
My entire tree is decorated with handmade ornaments which I made and fresh winterberries that I picked, except for the burlap Merry Christmas ribbon garland.
By the time the tree was decorated, I was inspired to makeover my bedroom which I will be sharing with you later this week.
Can you guess what my theme is?
I love the tree at night.  It gives my bedroom such a warm and cozy feeling.
There's something uniquely special about using almost all natural elements for Christmas ornaments.
You might find this humorous, but after the tree was trimmed with the Merry Christmas ribbon and the freshly handpicked winterberries were tucked in among the tree branches I felt that the tree was done and I could very easily have lived with it decorated with just those two items.
However, that really didn't fit my plan and I had already started making ornaments, so I moved ahead, adding the birch pine cone flowers I created earlier this fall.
Most of my ornaments are neutral earth tones or black and white, so the Michigan holly branches or winterberry branches provide that pop of color that brings the tree to life.
The first photos show the berries bright and plump.  I debated placing the stems in florist's water vials, but decided to gamble on the berries looking good.  My apartment is a little bit dry, so they are drying out and darkening. It's not all bad.  But, if you decide to decorate with fresh stems, be prepared to place them in water vials or have them dry out.
I fell in love with Cami's snow-covered pine cones and created my own with a little twist and some cute buffalo check ribbon.
Cami has a fabulous tutorial however, I made mine a little differently and discovered a couple of fun tips.  So, hopefully, I'll be sharing a tutorial for you about that, soon.
These are my favorite ornaments on the tree.  I love how the frosted pine cones give a black and white appearance that provides that necessary repetition of color and pattern.
None of the ornaments I made were difficult to do and all pretty much could be described as quick and easy. I do not have the bandwidth to putz around with fussy detailed ornaments.
Having said that, my advent tags couldn't have been easier to create.  Look for a quick tutorial on those too.  Their simplicity and simple words set the tone for the reason for decorating a tree.
Many years ago, my aunt gave me some fabric balls that her mom created.  They were in various shades of chambray blue, cut from her farmer husband's worn shirts.  She had intended to weave the strips into rugs.  Those old fabric balls were my inspiration for adding some farmhouse charm to my Christmas tree. Mine look too perfect compared to the originals, but I think the small black and white buffalo checked fabric really makes them pop on the tree.
This is the quickest and easiest Christmas ornament you can make.  And they are cheap too!
Grab a bag of walnuts at the grocery store and some tiny eye hooks from the hardware store, and your favorite string and in minutes you can have a bunch of ornaments for your tree.
You could make it a bit more time-consuming by painting the hooks like I did if you wish.  It's the little things that make a difference in my world, so I got out my artist paint brushes and black craft paint and painted the hooks after they were screwed into the walnuts.  It takes a few minutes for them to dry.  Attach a hanging string and you have decor for your tree!
I wouldn't store them away for next year, I don't want to attract bugs.  Maybe you can crack and enjoy them as you undecorate your tree.
There were two grapevine decorations that I fell in love with on our 31 Days of Handmade Christmas Ornaments.  Patti created some super cute kissing ball ornaments that I wanted to make, but in my small town I could not find the small grapevine balls for less than $4 a piece, plus they were much larger and I only found a couple.  I should have planned ahead and ordered them online.  However, they inspired me to put my own variation on the simple grapevine ornament wreaths that my friend Kristin made.
Here's a short GIF I put together.  As I made ornaments and added them to the tree, I snapped a picture so you could see the tree come to life.
Every year I look forward to decorating for Christmas.  You can always be sure that I will use natural greens, pine cones, and berries somehow in my home decor.
This is the first year that I have ever created all the decorations for my tree and focused almost entirely on using elements from nature.
Every time I walk into my bedroom I get a big smile on my face. All the rustic farmhouse Christmas decorations evoke such a wonderful feeling of warmth and coziness.  I couldn't be happier with the result.
Are you loving the cute Trim the Tree pillow sitting on the chair next to the tree?  I just happen to know where you can get one.  Actually, I know you'll be smitten with ALL the pillows from Tandem For Two.  My talented friend, Jennifer, creates the most amazing designs and has a wonderful little team of ladies who assemble all her products. Everything is made to order, so when I'm not working on the blog, you'll find me up at the workshop busily putting together all our custom orders. I'd love for you to check out Tandem for Two and keep in mind that you can get 10% off your order when you put in code AED.
My sewing machine has been buzzing this week.  Be sure to stop back later to see how I fluffed my bed and decorated the rest of the bedroom for Christmas.  It's so cozy.  PLUS… I'm working on another Christmas tree in a totally different style.  You do not want to miss it either.  Be sure to subscribe so you don't miss a single post.
I hope you've been inspired, today.
Be prepared for even more extraordinary Christmas tree ideas.  You just might need to get a second or third tree.
For more extraordinary Christmas tree inspiration, please visit these lovely blogs…
Day 1
An Extraordinary Day  |  My Uncommon Slice of Suburbia |  Petticoat Junktion |  The Crafting Nook
Day 2
Lovely Etc.  |  Celebrating Everyday Life  |  Stone Gable  |  Sweet Pea  |  Atta Girl Says
Day 3

I Should be Mopping the Floor | What Meegan Makes | Remodelando la Casa | Cupcakes & Crinoline
If you enjoyed this post, please use the sharing buttons
to let your friends know and "pin it," too.

Receive FREE inspiration like this in your inbox!
Sign up Now.