On a scale of 1 to 10… how would you rate your week?
Some weeks are really hard.
If you rated your week closer to 1 on the scale would you still be able to say God is good?
In the midst of the good and the bad I've been learning…
Regardless of my circumstances, God is good.
All the time.
I want that for you. 
But I trust in your unfailing love.  I will rejoice because you have rescued me.
I will sing to the Lord  because he is good to me.
Psalm 13:5-6 NLT
What a great verse to meditate on when you're in a difficult circumstance.
It's especially good if you rated your week closer to 1 than 10.
I'm guessing you're wondering why I would say that.
It's come about because I've been leaning it is imperative we speak truth into our minds and hearts.
Try reading this verse out loud.
But I trust in your unfailing love.  I will rejoice because you have rescued me.
I will sing to the Lord  because he is good to me.
By doing so, you are speaking truth to yourself, and praising God, not only for what he has done…
but for what he will do.
I love how personal and intimate this same verse is in The Message:
I've thrown myself headlong into your arms—I'm celebrating your rescue.
I'm singing at the top of my lungs, I'm so full of answered prayers.
Psalm 13:5-6
I'll be honest.  My current situation may not exactly look like God has rescued me.
All my prayers may not be answered….
Still I will say God is Good.
BUT I am full of answered prayers.  Several were answered before I even prayed.
Yes…God is good.  All the time!
Several weeks ago, a dear lady in the An Extraordinary Day community needed to have open heart surgery.  She lives in Arkansas and the surgery was to be in Austin, Texas. Alone, either of those are more than challenging. Betty needed to put her complete faith in God and trust him for the outcome. I offered to pray and invite our community to pray, as well.
Until last night I had not heard from Betty.  Believing with her for a successful outcome I eagerly awaited a good report.
I was elated to hear from Betty and so grateful she posted her surgery story on the An Extraordinary Day Facebook page for me and all to see.
What caught my attention was her statement, God is so good. 
When I woke up in recovery I knew immediately that the surgery outcome was different this time. For the first time in fifteen years I could not feel my heart beating or hear it beating in my ears. The doctor told me that the doctors in Little Rock had done an amazing job on the inside of my heart but that was not where the problem was coming from. The doctor went through my neck to reach the outside of my heart where he isolated the horizontal and vertical veins. But there was still a problem and he didn't know where it was. Then God took over!! God had my heart stop beating completely and when it stopped the doctor was able to see the problem and isolated the left atrium appendage, shocked me to restart my heart and my heart was in sinus rhythm and has been since the surgery. God is so good. He is the only one who could stop my heart from beating at exactly the right time. He will never cease to amaze me.
There is no coincidence that Betty was at the right place at the right time and it was no coincidence that God stilled her heart at the precise moment for the doctor to see the problem.  God's timing is always perfect.
God is good.  All the time.
Are you in the midst of a difficult situation?
Do your problems seem insurmountable?
Does it seem like there is no possible solution?
That is the precise moment that God wants us to trust him.
But I trust in your unfailing love.
Psalm 13:5

If you're in that difficult spot, I so identify with you.
For too many years we kept hitting the wall.  My husband applied for countless positions within his area of calling and came back empty handed.  It was hard.  It became an unending unexpected journey.  It's still hard.  Choosing to follow God in ministry and giving up his business was a big thing to do.  Being let go from a church when you're leading a successful ministry is a huge blow. Finally having a potential employer give him a job offer is big deal.  Yet, selling cars seems so inconsequential compared to leading children and families to love, follow, and live for Christ.
(I am not suggesting that ministry positions are more important than secular jobs.  Without a doubt, many secular jobs are more important and significant to the kingdom. Probably what makes selling cars seem less meaningful than ministry to me is that we left behind businesses, our forever house, and family to follow God's call in ministry.  And we know God has not removed his call for Tim.)
The point I want to make is that through these hard times I learned to trust God.
And because of that… I will say God is good. 
We have a big uphill climb to get on our feet again now that my husband is finally working full-time.  We will continue to lean heavily on God.  There is no doubt that God wants us to be in the position of fully trusting him for every. single. thing.  As a commission salesman, Tim will do his very best to serve his customers.  But, ultimately, he has no control over who and how many people walk in the showroom door and whether they make a purchase or not.
I believe Tim will be very successful in his new endeavor because he has learned that he needs to trust God and lean on HIM, every step of the way.
We will face more challenges as we climb out of this pit.  Actually we face one right now.  As we're working to scrape together every penny to get our things out of storage and secure a house, my laptop, the place where An Extraordinary Day comes to life, is seeing blue screens, letters are jumping all over the screen as I type, a mouse pad that hardly works, a new wildly erratic external mouse, and a fan that died months ago. We want a band-aid solution, but it's becoming apparent that a band-aid will be not be a sufficient solution.
Still I will say God is good.
We have friends who have bravely faced cancer and believed God would heal them… right up to the very end.  We don't understand why God didn't heal them in this life… but their family members will tell you, "God is good."
Each of us walks through the day encountering good and bad.  Whatever comes our way…. still… God is good.  All the time.
I've thrown myself headlong into your arms—I'm celebrating your rescue.
I'm singing at the top of my lungs, I'm so full of answered prayers.
Psalm 13:5-6
This verse is perfect for our friend Betty.
It's perfect for my friends who are now free from cancer.
And it's perfect for me.
God has been good to me.
I might not have chosen this leg of the path, or even a few previous legs, but God has been with me, every step of the way.  He is most blessed when I lean hard on him, and I am most blessed when I trust him.
Good or bad days, weeks, months, or years… God is good.  All. the. time.
Wherever you fall on the scale of 1 to 10 tomorrow… can you join me in saying, still I will say God is good? 
I hope you're able to answer with a YES!
If your answer is No… let me challenge you to meditate on Psalm 13:5-6
But I trust in your unfailing love.  I will rejoice because you have rescued me.
I will sing to the Lord  because he is good to me.
No, I haven't fallen off my chair and hit my head.
I want you to know that something happens in our hearts and our spirits when we choose to believe and receive our rescue or our answers even when things look impossible.
That's trust… that's believing… that's knowing God is good.  All the time.
It isn't some silly pie in the sky thing.  It takes real faith to put one foot in front of the other and thank God even when we see no possibility.
We have a big answer to a big prayer.
A job.  A job that has lots of potential. No, it isn't what we desired or even believed that it should be.  But, we will trust God to make it something meaningful, something significant.  Something we wouldn't even think to imagine. Because…. Glory belongs to God, whose power is at work in us. By this power he can do infinitely more than we can ask or imagine. Ephesians 3:20
It's JoyDay!
I love JoyDay!  There isn't anything better than each of us sharing the good things God has done in our lives this week.  Both in the happy and in the challenges.
Will you join with me in counting 'seven' from the past week?
I'll start!
Thank you God for…
a long holiday weekend to enjoy with my husband whom I see very little now
the fragrance of late-blooming lilacs
a brief impromptu time with a dear friend
an afternoon for browsing magazines to my heart's content at Barnes & Noble
the first car sale
a "new" heart for Betty
that You, God, are trustworthy and always good…. all the time
And isn't it a funny thing that I could hardly stop at 'seven.'  I wanted to keep tapping in more goodness of the Lord.
Now it's your turn!  
Please join me by tapping in your 'seven' in the 'share your extraordinary thoughts' section below. I dare you!
Thank you for stopping by and taking time to leave your sweet thoughts.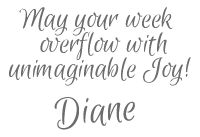 Receive FREE inspiration like this in your inbox!
Sign up Now. 
CLICK TO SHOP An Extraordinary Day's favorites on Amazon and watch for the latest editions.